Welcome to Gear Talk
Gear Talk is an email newsletter for music retailers focused on all music gear and accessories available from Hal Leonard. It covers recent releases and our sales specials on related products for:
Guitar - Bass Amps - Ukulele & Other Folk Instruments - Keyboards - Electronic Drums -
Mobile Interfaces for Instruments - Related Gifts and Accessories
NOTE: If a specific colleague should be receiving this email, please forward it to them, and be sure we know their email address. Send these requests to your
Hal Leonard sales rep
.
Stock It Today & You Won't
Have to Pay 'Til 2019!

September 2018 - In This Issue: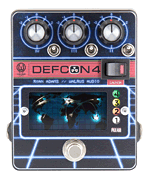 Preamp/EQ/Bass Pedal from Walrus Audio
From the mind of Ryan Adams comes a new guitar utility with more tricks up its sleeve than a 1980s supervillain. The Defcon4 works as a preamp and EQ to meticulously craft your guitar's sound. Bring peace time to your tone and avoid tedious amp tweaking during a set by using the Defcon4 to easily switch from single coil to humbucking instruments with a quick twist of the rotary knobs.
Bundle the JM4 and Wally+ looper pedals with the Hal Leonard Looper Pedal songbook. Ask your sales rep for details.
Looper Pedal Songbook
JM4 Looper Effects Pedal

Line 6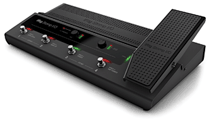 USB Pedalboard Controller from IK Multimedia
iRig Stomp I/O is a pedalboard controller with integrated audio/MIDI interface for iPhone, iPad and Mac/PC. Connect & control your virtual rig with ease with 4 assignable stomp switches, a built-in expression pedal, 2 expansion jacks and full MIDI I/O, to let you control your rig your way whether live on stage on in the studio. Enjoy pristine audio quality with a 24-bit, 96 kHz audio interface, with Neutrik combo jack for instruments & microphones, switchable phantom power, adjustable input and output volume and both 1/4 balanced and headphone output. The iRig Stomp I/O also comes packed with over $800 worth of apps and software, including AmpliTube 4, 5 T-RackS processors, VocaLive and Mic Room iOS, and Ableton Live 9 Lite.
00275361 - MSRP/MAP $299.99 - now in stock!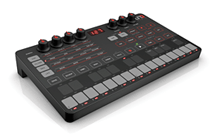 True Analog Synthesizer from IK Multimedia
UNO Synth is the ultimate portable, monophonic, true analog synthesizer and IK Multimedia's entry in the hardware synthesizer world. It's a no-compromise instrument with massive analog sound that's also easy to use, with hands-on programmability and advanced features at an unbeatable price. Seasoned synth professionals and beginners alike will love UNO Synth's high-quality, pure analog audio path and its ultra-compact form factor. With both classic and modern synth sounds instantly at hand, UNO will put a smile on the face of synth fans of every musical genre. All this in a synth module that can be easily carried anywhere. Electronic music lovers or first-time synth users will get instant satisfaction from this affordable, easy-to-use instrument even if they are new to analog synths or synth programming. Thanks to its onboard presets and easy-to-play keyboard with selectable scales and arpeggiator, UNO Synth is the perfect gateway into the synthesizer world.
Control almost any app that has footswitch, keyboard or MIDI control with AirTurn's most comprehensive Bluetooth switch. Fully customizable with AirTurn Manager on iOS, Android and Mac. Over the air upgradeable so you always get the latest and greatest features. Now in stock!
BT-200|S

2-Switch Wireless Foot Controller

BT-400|S

4-Switch Wireless Foot Controller
For those that sell and ship into California, the revised California Prop 65 regulation requires product manufacturers to provide "clear and reasonable warning" on products containing chemicals that may cause cancer or reproductive harm. Although the responsibility to sticker the product is with the manufacturer, everyone involved in the logistics of bringing the product to market - including the distributor and retailer - are responsible for getting this message in front of the consumer.
Hal Leonard conducted a TechTALK Masterclass event in Nashville. Hosted by Grammy-award winning engineer/producer Craig Bauer, the attendees included about 30 students, retailers who were attending the NAMM show, manufacturer reps, and Hal Leonard staff. Co-sponsors included Avid, Blue Mics, and iZotope in addition to instrument manufacturers. Craig broke down the process and described his approach to building a mix. Hal Leonard continues to have Master Class events throughout the nation and always has a retailer involved.
This video features the following instruments and accessories available from Hal Leonard: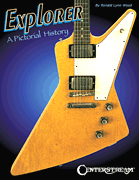 In the mid '50s, Ted McCarty, Gibson's new president, set out to further set Gibson apart from Fender. He wanted to create new designs that did not conform to the basic guitar shape. He wanted something new, something different. Together with a local artist, McCarty worked on guitars that were made up of straight lines, and three new guitars were born - the Moderne, the Flying V and the Explorer. This book delves deep into the history of the Explorer through a myriad of color photos of its versions over time.
2019 Fender Custom Shop Mini Wall Calendar
With all new photography each year, the often one-of-a-kind guitars are photographed at Fender's Custom Shop before they are sent, literally, to the four corners of the Earth.
2019 Electric Guitar Classics Daily Desk Calendar

Richly detailed text by Walter Carter, an expert on the history of electric guitars, accompanies exquisite, full-color photographs. Guitars include Fender, Gretsch, Jackson, Ibanez, Parker, PRS, Rickenbacker, Vox, and dozens more!
These classic tin lunch boxes featuring officially licensed artwork are the right size for lunch or for holding your gear.
Major League Baseball's regular season is winding down, and the teams listed below are in prime position to make an exciting playoff run in October. Root for the home team with officially licensed music gear like the items shown here.
Instant Rebates & Special Offer
Offers valid through September 30, 2018
Instant Rebates
00122094
- DL4 - MSRP $349.99/MAP $239.99 -
$75 rebate
00750463
- Relay G30 - MSRP $419.99/MAP $199.99 -
$30 rebate
00001709
- Relay G50 - MSRP $559.99/MAP $349.99 -
$50 rebate
00123023
- Relay G55 - MSRP $629.99/MAP $449.99 -
$50 rebate
00001594
- Relay G90 - MSRP $838.99/MAP $599.99 -
$100 rebate
Bundle Pack Special Offer
Sales restrictions to some countries may apply. All prices listed in U.S. funds.
Reproduction in whole or in part without written consent of the publisher is prohibited.