| | |
| --- | --- |
| Volume 13, Issue 37 | September 12, 2018 |
Celebrate the 20th Anniversary of our National Center on Grandfamilies and Release of our 2018 State of Grandfamilies in American Report!
Save the Date for
Wed., Oct. 10, 5 PM - 7 PM
, when we celebrate 20 years of working on behalf of grandfamilies and we also release our 2018 State of Grandfamilies in America report. The event takes place in the
Dirksen Senate Office Building, Room G-11, 50 Constitution Ave NE, Washington, DC
.
More details to follow. RSVP HERE!
Generations United in the News
The Villages Daily Sun reported on Florida's grandparents raising grandchildren without long-term rights. The article which, shouted out Grandparents Day, quoted Donna Butts. Read the story.

POZ magazine reported on grandparents raising grandchildren who lost their parents to HIV. The article quoted Jaia Peterson Lent. Read the story.

The Arroyo Monthly reported on grandparents raising grandchildren because of the opioid epidemic. The article quoted Donna. Learn more.

The Daily Independent highlighted Grandparents Day! The article also cited our National Center on Grandfamilies and our 2015 State of Grandfamilies report. Learn more.
Grandparents Day - Intergenerational Immigration Story
Love Through Generations and Across Oceans
Jacqueline Corsatea Metz
, of Bowling Green, OH, shared her
intergenerational
immigration story about her grandmother/Buni who left Romania to start a new life in the U.S. That life is now extended by five generations.
Read Jackie's story
.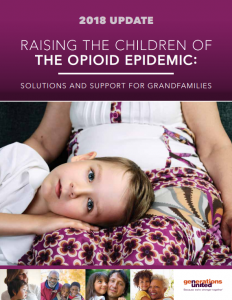 Children Placed in Foster Care Because of Substance Use Now More Likely to Go to Relatives than Non-relatives, A Report Finds

The recently updated report from
Generations United
,
Raising Children of the Opioid Epidemic: Solutions and Support for Grandfamilies
, shows that -- overall -- foster care systems are relying more on grandparents and other relatives to care for children when their parents cannot. The report includes recommendations on how to connect grandfamilies to the same supports and services that traditional unrelated foster families receive.
Read the release
, then
see the updated report
.
A Huge Thanks to Our Members and Supporters
Larry Cooper Awarded 2018 Child Welfare Champion Award!

The award honors those whose advocacy makes a positive impact on the lives of Florida's youth and their families.
We are extremely proud of our long-time friend and colleague, Larry Cooper (Children's Home Network's chief of Intervention and Preventative Services)! The presentation took place at the 2018 Child Protection Summit by the Florida Department of Children and Families.
Missed our Twitter Chat with FRAC?
Leading up to Grandparents Day,
Generations United
and the
Food Research & Action Center (FRAC)
held a Twitter Chat on why SNAP matters to seniors, including those raising children.
Check out the recap
.
Culture United
Want to Know How to Live Forever?

Encore.org CEO Marc Freedman has the answer in his new book,
How to Live Forever: The Enduring Power of Connecting the Generations
. Hint: Uniting the generations is what young people want and need, and it's the surest route to happiness and well-being in later life. Reserve your copy at
HowtoLiveForever.org
before the Nov. 13 publication date to get access to three powerful video trainings designed to help you make the most of your encore years.
Culture United highlights films, books, music and TV shows with an intergenerational theme. Do you have any suggestions? Share them with us and we'll share in the weeks and months to come. We welcome responses or reactions. We'll possibly feature them on our blog. See disclaimer.
| | |
| --- | --- |
| | |
| Gia and her grandfriend, Tony (a centenarian), enjoying Ice-cream. | |
Cool Ideas
Kids4Seniors
A DISNEY commercial inspired Giavonna Antonucci to make a change in her community. With her mom being an Alzheimer's Specialist, Gia saw the impact she made when she visited with seniors. She invited her after-school club to join and
Kids4Seniors
was formed. The program was highlighted in the
SunSentinel
.
Read the news article
, then
learn more
about Kids4Seniors.
Got something cool you tried that was successful? Why not tweet your cool intergenerational ideas to
#cooligideas
? You can also post them to our
Intergenerational Connections
Facebook Group. We want to highlight innovative age-optimized programs and practices through our blog, social media and weekly e-newsletter!
Share the inspiration
.
Think Intergenerational - Funding Opportunities
Pop Up Rapid Response Grants.
The Pop Culture Collaborative have grants ranging from $5,000 to $30,000 for organizations working to build movements, drive campaigns, produce stories, and leverage media and entertainment
mediums
to drive positive narrative and social change in popular culture. Funded projects must impact, support, or engage people of color, immigrants, refugees, or Muslims. Deadline: on a rolling basis. Learn more.
Sponsoring Conference Participation Grant.
Through a Request for Proposals, the New York State Health Foundation will sponsor community-based organizations, health departments, and other low-resource organizations to attend and present at local, state, and national conferences related to supporting healthy communities, consumer empowerment and veterans' health. Deadline: on a rolling basis. Learn more.
If you have - or know of - any intergenerational funding opportunities, please send them to
aking@gu.org
Think Intergenerational - Great Resources
Research and Resources
All In Together: Creating Places Where Young And Old Thrive.
This new report from Generations United and The Eisner Foundation
includes the findings of two national surveys, profiles of model programs and recommendations for how we can increase the number of intergenerational shared sites
.
Learn more
.
Supporting Young Children Experiencing Separation and Trauma.
ZERO TO THREE worked with the National Child Traumatic Stress Network and the Alliance for the Advancement of Infant Mental Health on this directory. The resources help families and caregivers working with very young children who have experienced trauma as well as connection to specialized mental health professionals who understand the needs of very young children.
Learn more
.
Intergenerational Programming in Senior Housing: From Promise to Practice.
This report describes findings from a year-long study on the nature and extent of intergenerational programming in senior housing that was conducted by Generations United and LeadingAge, with support from the Retirement Research Foundation.
Learn more
.
Events

20th Global Intergenerational Conference.
Generations United and Bridge Meadows. Portland, OR. June 12-14, 2019. Learn more.
Explore New Territory.
ZERO TO THREE.
Denver, CO. Oct. 3-5, 2018. Learn more
.
National Caregivers Conference.
The Family Resource Network.
Iselin, NJ. Oct. 11, 2018. Learn more.
Aging in America Conference.
American Society on Aging.
New Orleans, LA. April 15-18, 2019.
Learn more
.