Goldstein Hall is excited to announce the expansion of our legal services to the North of New York City up through the Hudson Valley to Albany! This expansion came about to further address the wide ranging and growing needs of our diverse client base, as well as to expand our services to reach new businesses and organizations. Goldstein Hall will be providing our full range of Practice Areas including: Real Estate and Community Development, Faith Based Community Development, Construction Law, Real Estate and Commercial Litigation, Commercial Leasing, Nonprofit Formation, Governance and Counsel, Corporate Governance, Banking and Finance and Cooperative and Condominium Law.
Our new office address is:
Goldstein Hall PLLC – Hudson Valley Office
175 Huguenot Street, Suite 229
New Rochelle, New York 10801
Tel: 914.940.4359
For additional information go to our website at: www.goldsteinhall.com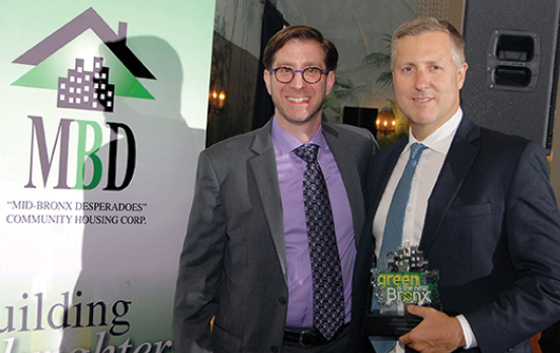 Goldstein Hall was presented with MBD Community Housing Corporation's Private Partner Leadership Award on June 10th, 2015 at the NY Botanical Gardens.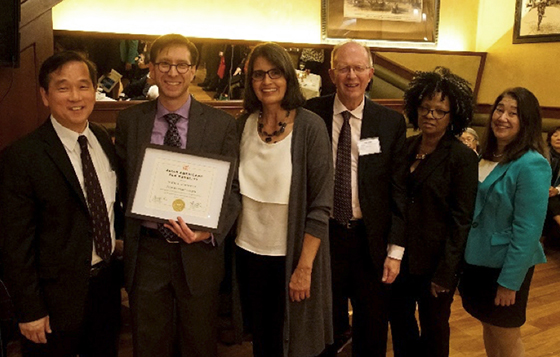 On October 1st, David Goldstein was awarded with a Pioneer Spirit Award by Asian Americans for Equality at their 8th Annual Community Development Conference and Awards program.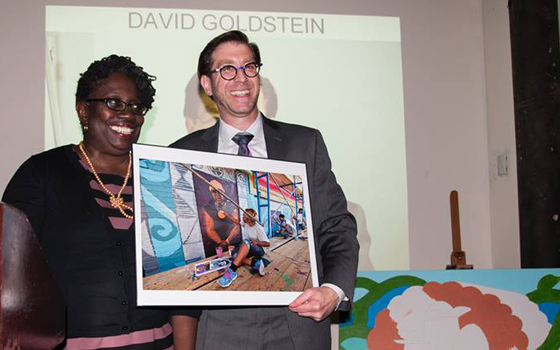 On October 20th, 2015 David Goldstein was presented with a Leadership Award by Groundswell at their 2015 Annual Art Benefit Auction held at The Wythe Hotel in Brooklyn. David has served on the Board of Groundswell for ten years and acted as Board Chair for the past four. Groundswell is a 19-year old nonprofit organization based in New York City which brings together artists, youth and community organizations to use art as a tool for social change.

On October 9th, GH Associate Jason Labate was a presenter at the 2015 Neighborhood Preservation Coalition of New York State's Conference in Albany on the subject of 'Crossroads: Re-Envisioning the Future of Nonprofit Governance'. Click here for more details.
On October 12th, GH Partner, David Goldstein conducted a training seminar on 'Deal-Making, Partnerships and Joint Ventures' as part of ANHD's Workshop Series. Click here for more details.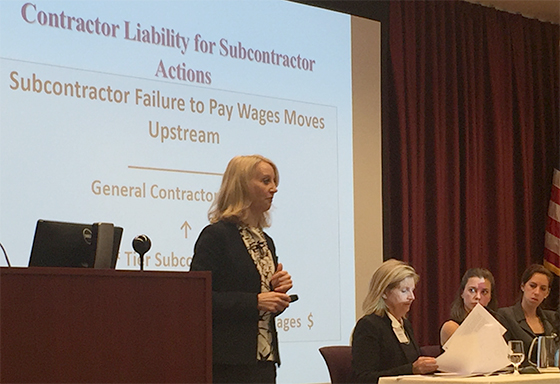 On October 20th, Goldstein Hall partnered with NYS Association for Affordable Housing and Thatcher Associates to conduct a panel on 'Affordable Housing Best Labor Practices' at Baruch College, with GH Counsel Jennifer Redmond presenting (above).
On October 21st, GH Associate Jason Labate was a panelist speaker at Brooklyn Borough President Eric L. Adams' Faith-Based Development Initiative Forum entitled 'Building Brooklyn Right' at Borough Hall.


On November 12th, Goldstein Hall will be partnering with Community Housing Improvement Program (CHIP) to conduct a seminar on 'Adjoining Construction in New York: What a License Agreement Can Do For You' Elebash Recital Hall at CUNY Graduate Center at 34th and Fifth Avenue in Manhattan from 9 am – 12 pm. Speakers include Juan Restrepo, Associate at Goldstein Hall PLLC and Nouredine Benabdelhak, P.E., Alnour Consulting Engineering, P.C with moderator Joseph Condon, Counsel at CHIP. For additional information, please contact GH's Juan Restrepo at jrestrepo@goldsteinhall.com or call (646) 768-4100.
Goldstein Hall will run a seminar on November 12th at 9:30 am – 12 noon at the GH office 80 Broad Street focusing on Faith Based Community Development issues to educate religious leaders and lay members and their associated institutions. For more information please contact Julia Chang, Office Manager at jchang@goldsteinhall.com or call (646) 768-4110.
Keep an eye out for registration information for NYSAFAH's breakfast seminar series with NYCHA's President and CEO, Shola Olatoye sponsored by Goldstein Hall on NYSAFAH's website at: www.nysafah.org for December 4th, 2015 at 8 am at the Yale Club. For additional information, please contact Julia Chang, Office Manager at jchang@goldsteinhall.com or call her (646) 758-4110.

For more information on our upcoming seminars, visit our website and Facebook Page.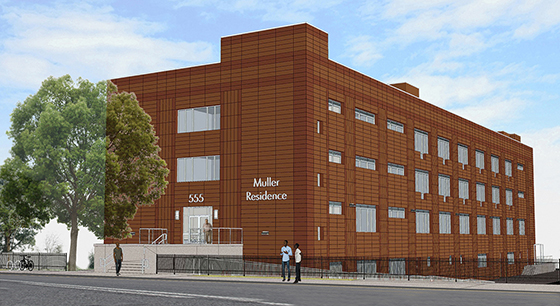 Muller Job Training Facility QLICI of the Year Award
On September 14th Novogradac & Company announced the winners of the 2015 Community Development QLICI's of the Year Awards, which recognizes community development entities that made exceptional qualified low-income community investments in the past year. Goldstein Hall served as co-counsel representing Metro Winner, The Doe Fund, Inc., in the development of an occupational training and transitional housing facility for homeless individuals entitled Muller Job Training Facility. The project was financed utilizing New Markets Tax Credits. Goldstein Hall assisted The Doe Fund, Inc. in the acquisition, construction and financing of the project, negotiating the construction contract and various project and loan documents.
St. Stephen & St. Martin's Episcopal Church project
Goldstein Hall successfully negotiated and crafted a joint-venture agreement between St. Stephen and St. Martin's Church and CMC Development Group LLC as part of GH's Faith Based Community Development practice area. The project consists of a combination of market rate homes and a new 11,000 square foot church facility to replace a deteriorated, 100+-year-old church on Jefferson Avenue in the Bedford Stuyvesant section of the Bronx. The agreement provides for the division of the Church's property into two tax lots, allowing for the creation of market-rate housing and the new church facility. Key to the deal is the provision of equity from the sale of the newly created lot to allow the church to construct the new facility. The Church will perpetually own the lot and will receive the full financing necessary to construct the facility at the construction loan closing. Goldstein Hall negotiated and drafted the joint-venture agreement, the contract of sale, gained Diocesan and Court approval for the sale and development, and will continue to advise its client until the project is completed.ject and loan documents.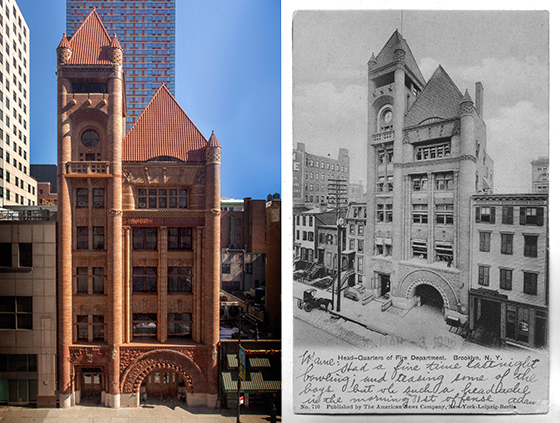 365 Jay Street Firehouse
Goldstein Hall acted as project counsel for the joint venture partnership between Pratt Area Community Council and MDG Design + Construction on this landmarked Old Brooklyn Fire Headquarters located at 365 Jay Street, Brooklyn, New York. The property had been converted for residential use in the 1980's, but over time fell into significant disrepair. Using a mix of private debt financing, HPD subsidy, grant funds from NYS Office of Parks, Recreation and Historic Preservation, and historic tax credits, PACC and MDG conducted major repairs to the building's 18 units and collapsed tower roof to restore this historic landmark while the property is occupied by seven of the original tenants.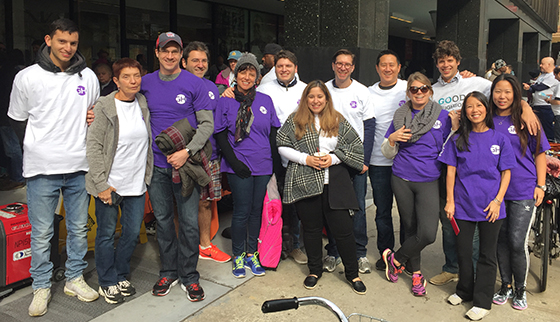 The Good Neighbor Walk through Community Access – October 24, 2015
Goldstein Hall staff recently participated in 'The Good Neighbor Walk' as a fundraising event for the New York City nonprofit organization Community Access. The proceeds raised from the walk help the organization to continue their efforts in trying to end homelessness, transform the lives of individuals recovering from psychiatric disabilities, people who have been homeless, young people aging out of foster care, individuals living with HIV/AIDS, veterans, and victims of trauma and abuse.