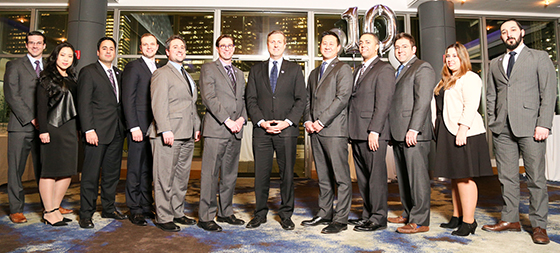 2016 marks our 10th Anniversary. We are proud to celebrate our accomplishments over the last decade and to continue to enhance our reputation as a smart, reputable, and responsive firm that believes our achievements are deeply rooted in the community and in your success.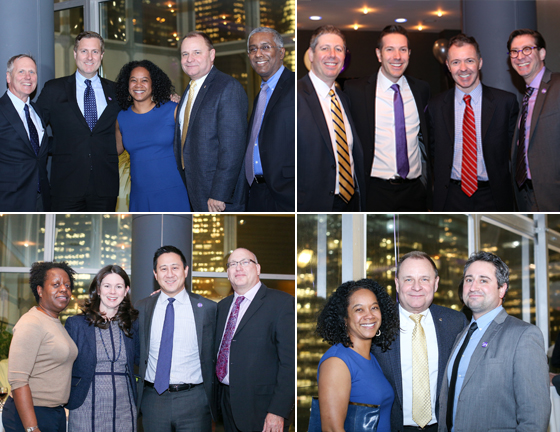 We'd like to thank all our clients for making our anniversary year so special. Special thanks to all those who joined us at our 10th Anniversary celebration event on February 11th at View of the World Terrace Club. It was a great night for our firm and we were glad to share our milestone with you all!

This March we were pleased to promote Jason Labate to Senior Associate. Jason began working with Goldstein Hall as a law clerk in 2012, becoming an Associate in 2013. During his three years at the firm he practiced in the areas of not-for-profit law, affordable housing and community development, faith-based development, banking and finance, and general real estate law. Please join us in congratulating Jason.

Click here for more on Jason's background.
Goldstein Hall PLLC is pleased to announce the addition of new Counsels who will enhance our work. Please welcome Steven Interrante and Max Rayetsky as Associates to our firm. Steven's focus is on affordable housing and community development, banking and finance, corporate governance and transactional real estate matters including residential, commercial and multifamily housing transfers. Max will be working on commercial, construction, corporate, and real estate litigation. Additionally, Max represents business entities and private individuals in their residential and commercial landlord-tenant matters. For additional background on our new Associates, please click on their names.

On January 27th, GH Partner Matthew Hall hosted an office panel on Faith Based Affordable Housing Development with Jonathan Beuttler, NYC HPD Director of Mixed-Income Programs and Lawrence G. Hammond, Vice President, Mortgage Officer, The Community Preservation Corporation.
On March 8th, Niki Tsismenakis, GH Senior Associate, hosted an office Roundtable panel on NYC Development Under Housing Development Corporation's Mix & Match Program with Ronald Schulman, Founder and Principal of Best Development.
On March 17th, Senior Associate, Jason Labate, hosted a Career Panel at Goldstein Hall for the NYC Urban Fellows Alumni Association. The Urban Fellows Alumni Association (UFAA) is a non-profit organization for former participants of the New York City Urban Fellows (UF) Program, including former fellows and supervisors of fellows. They are committed to sustaining an active network of alumni who support each other socially and professionally. To learn more about the organization, please visit the NYCUFAA website at: https://nycufaa.wordpress.com/
On April 7th, GH Partner Matthew Hall spoke on a panel about Joint Venture Partnerships in Affordable, Supportive and Market-Rate Housing for SOBRO's and National Standard Abstract LLC conference at The Bronx Museum. The panel covered a relevant discussion among for-profit, non-profit developers, lenders, lawyers and syndicators working in New York's real estate industry. As joint-venture partnerships evolve, our panelists will share best practices, experiences, trends and advice. For more information on this event click here.
On April 11th, GH Managing Partner David Goldstein, served as a panelist at ANHD's Annual Conference for their Development Workshop entitled The Future of CDC Development in New York. Panelists also included Michelle de la Uz, Executive Director of Fifth Avenue Committee, Elizabeth Zeldin, Program Officer at Enterprise Community Partners, Walter Roberts, Executive Director, Hope Community Development, Harry DeRienzo, Executive Director of Banana Kelly Community Improvement Association, John Reilly, Executive Director, Fordham Bedford Housing Corporation and Chris Cirillo, Executive Director of Lott CDC. The panel was moderated by Sam Marks, Executive Director of LISC NYC.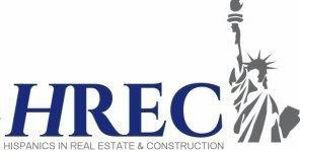 April 23rd: Be a part of the discussion by attending the seminar on Religious Organizations Revitalize Affordable Housing Market and learn from professionals how to improve the current state of housing affairs by working with religious leaders. Religious and faith based representatives, Affordable housing developers, Banking Representatives, Government Housing Agencies, and MWBE Construction firms are encouraged to attend. The event will take place at LaGuardia Community College in Long Island City from 8.00am to 3.00pm, and is sponsored by Goldstein Hall, The Fontanes Group and Evenhar Group - Pine Builders.
Click here more information and to RSVP.

May 11th: Sign up today for NYSAFAH's Annual Conference on May 10th and 11th at the Marriott in NYC and hear GH Partner Matthew Hall moderate the panel on Energy Resources & Solutions: Planning for the Urban Energy Future at 2:30 pm on the 11th. Panelists will include Ben Mandel from the NYC Mayor's Office of Sustainability, Laura Slutsky from NYC HPD, Leia Sims of KOW Consulting, Samuel Biele-Fisher from Brightpower and Con Ed.
Click here more information.

On March 9th Goldstein Hall was quoted in
this Vox Article
on "
Meet the small businesses turning karma into cash
" where GH Senior Associate Jason Labate comments on why Goldstein Hall has adopted B Corp status - a designation that holds GH accountable to standards beyond just profit.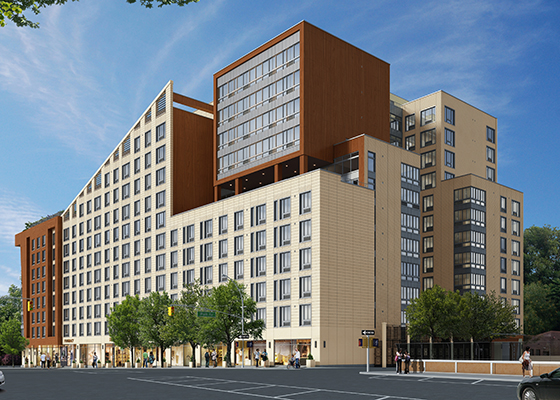 Tremont Renaissance in the Bronx
Goldstein Hall is currently working on a new construction development called Tremont Renaissance on several lots of a privately owned site in the East Tremont neighborhood of The Bronx. GH is working with Mastermind Development LLC, a seasoned developer in The Bronx, on the development of the project at 4215 Park Avenue, which will contain 256 residential units and large commercial space. Over 60 units of the development will be characterized as Inclusionary Housing units. Project Partners include: NYC HDC, JPMorgan Chase Bank, N.A., NYC HPD, Bronx Borough President Ruben Diaz Jr. and NYC Council Capital Funds from Council Member Hon. Ritchie Torres, and Hudson Housing Capital LLC.
Goldstein Hall represented the parties as Borrower's counsel involved in the pre-development, acquisition and construction financing, as well as the tax credit syndication. Additionally GH drafted and negotiated the term sheets, conveyance, loan, syndication and regulatory documents. GH also collaborated with the participants to structure the project under HDC and HPD's "Mix and Match" program guidelines.
This project will provide affordable housing low to moderate-income individuals and includes approximately 40,000 square feet of commercial space. The development of the project is expected to create approximately 300 construction jobs and 225 permanent jobs. The building is also seeking LEED Silver accreditation. For additional information click here.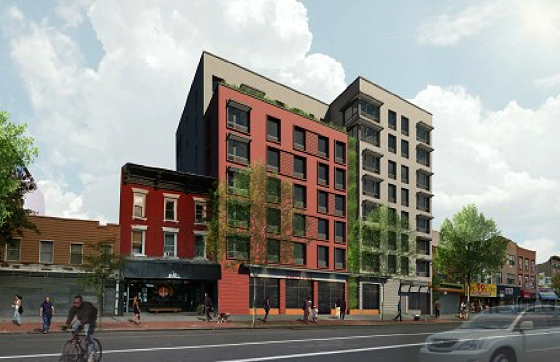 695 Grand Street, Williamsburg, Brooklyn
695 Grand Street, located in the East Williamsburg section of Brooklyn, is a 51-unit affordable housing project that will have a mix of studios, 1, 2 and 3 bedrooms, with 41 units set aside for low- to moderate-income families. 8 of the units will be designated as Section 8 housing for very low-income tenants, with rents not exceeding more than 40 percent of the household's income. The project is slated for occupancy by the end of 2017. The developer is St. Nick's Alliance, a non-profit serving low- to moderate-income North Brooklyn. 695 Grand Street was financed, in part, though a private construction loan and the sale of federal low income housing tax credits.
Goldstein Hall represented St. Nicks Alliance Corp. as developer's counsel in connection with the new construction of fifty-one units of affordable housing and approximately 20,578 square feet of commercial space in the East Williamsburg neighborhood of Brooklyn. 10 of the 51 residential units are designated as inclusionary housing, which will remain permanently affordable under New York City's Inclusionary Housing Program.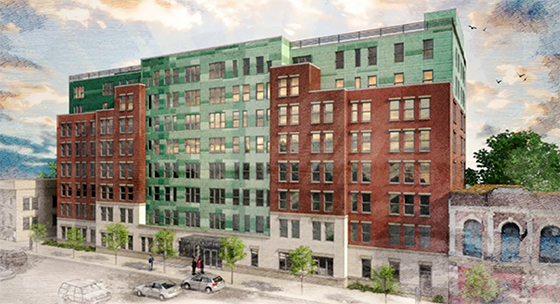 1345 Rogers Avenue, East Flatbush, Brooklyn
1345 Rogers Avenue is an 8-story affordable rental building located in the East Flatbush section of Brooklyn. The Doe Fund Inc. constructed and currently manages the 116 units of supportive and affordable housing. The project was financed through a combination of financing, in part, through the issuance of tax-exempt bonds from the New York City Housing Development Corporation and the sale of federal low-income housing tax credits and loans from the Department of Housing Preservation and Development's Supportive Housing Loan Program and the Homeless Housing Assistance Corporation.
Goldstein Hall represented The Doe Fund, Inc. as developer's counsel in connection with the new construction of 123 units of supportive and affordable housing in the Flatbush neighborhood of Brooklyn. All the units will be rented to households whose annual household income does not exceed 60% of the NYC Area Median Income ("AMI"). Additionally, 115 of the units will receive project-based Section 8 vouchers from NYCHA. 41 of those units will be occupied by tenants referred from their waitlist, and 69 units will be set aside for formerly homeless tenants with HIV/AIDS referred to the project by the HIV/AIDS Services Administration ("HASA"). The remaining 5 of those units will be set aside for formerly homeless tenants referred to the project from the NYC Department of Homeless Services.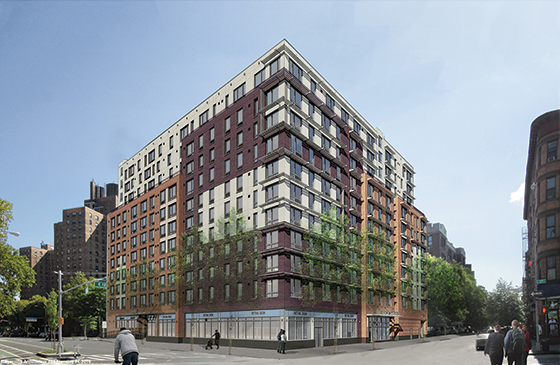 Acacia Gardens, East Harlem
This East Harlem project is a development in an urban "hot zone" where New York City Mayor deBlasio and Council, as well as other government officials and community boards, are actively involved and invested in the outcome and impact of the project. This is the first of the City's new program called "Extremely Low and Low-Income Affordability" (ELLA). East 120th Street's site is a mixed-income, mixed-use new construction project which will consist of a 12 story building with 179 units of affordable housing. The development will include a community facility space, a commercial space on the ground floor, and 30 surface level parking spaces. Additionally, the project will provide a roof deck with lounging area and an activity space for the residents. The project partners include: Acacia Network, NYC Council Speaker Melissa Mark-Viverto, NYC Housing Development Corporation, NYC Housing Preservation and Development, Capital One, Hudson Housing Capital, LISC NYC, Lettire Construction, MAP Architects, Federated Title, Bright Power, Steven Winter Associates and NYC HRA.
Goldstein Hall acted as counsel to the developer, a not-for-profit organization, in the pre-development and development of the project, along with the acquisition, construction and syndication closing. In addition to drafting and negotiating terms sheets, conveyance, loan, syndication and regulatory documents, GH worked with the client on legal and financing structuring of the project to comply with the various funding and regulatory requirements. The deal structuring required a master lease arrangement between two different entities during the construction period. For permanent conversion, GH will create a condominium structure for the transfer of the master leasehold interest to a condominium ownership. At the permanent conversion, the ownership of the project will be set up as condos to the different owners. This structure is necessary to maintain that the project complies with tax-exempt bond rules.