(Photo: Janice Branham)

Generations United launches multi-year initiative to elevate voices of African American and Native American grandfamilies

The project, supported by the W. K. Kellogg Foundation, is designed to promote culturally appropriate practices, supports, and services to African American, American Indian and Alaska Native grandfamilies.

As part of this project, we are recruiting applicants to our GrAND Voices network of select grandfamily/kinship caregivers from across the country who raise their voices in shaping policies, programs and strategies that impact them. We are recruiting applicants who have experience and knowledge that will especially equip them to give input into the initiative. If you know of someone who may be a good fit for the network, please reach out to Adam Otto at aotto@gu.org to receive an application. The deadline is January 19, 2018.
---
TODAY Show
In October, the TODAY Show did a segment on grandfamilies impacted by the opioid epidemic, featuring grandfamilies served by the Children's Home Network in Tampa, FL. Watch it here and read the accompanying story here, which links to Generations United's Resources.
---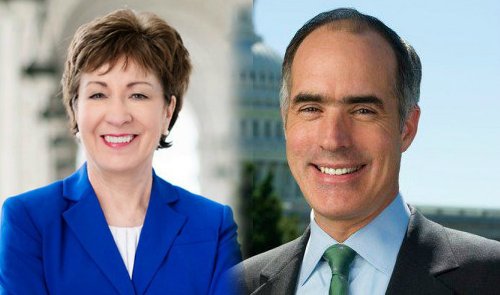 Senators Collins and Casey received an award at the State of Grandfamilies 2017 release event
Generations United presented Senators Collins (R-ME) & Casey (D-PA) with the Grandfamilies Champion Award to honor their commitment to policies supporting grandfamilies at our annual State of Grandfamilies report release event. View videos of Senator Collins' remarks and Senator Casey's remarks.
| | |
| --- | --- |
| | |
| | (Photo: Steven Uejio) |
Congressional Tax Reform
The House and Senate have each passed their versions of the tax reform bill, which. Both would give large tax cuts to the wealthy and corporations while expanding the federal deficit. They also lead to tax increases for tens of millions families considered low and middle income within a decade. The bills will trigger devastating cuts that will hurt babies, children, youth, and older adults. The cuts will be especially harmful to people with low income and will ultimately impact a wide range of programs -- including Medicaid, Medicare, education, nutrition programs and the Social Services Block Grant.
Generations United's Adam Otto recently delivered remarks about the bills' potential impact on grandfamilies during the People's Filibuster in opposition to the tax bill.
The bill now goes to conference, where they must come to agreement before it can be signed into law. Contact your elected officials now at 202-224-3121 and tell them to "Reject the tax bill. It will harm babies, children, youth and older adults in my community." Learn more.
---
Generations United's Ana Beltran summarized trends in federal and state policies affecting grandfamilies in her policy brief that's published in GrandFamilies: The Contemporary Journal of Research Practice and Policy.
---
D.O. v. Glisson Court Decision to Impact Grandfamilies in Kentucky and Ohio
In October, the Supreme Court declined to hear a case, D.O. v. Glisson, from the Sixth Circuit concerning grandfamilies' access to foster care maintenance payments. This means that the Circuit's original ruling stands, which held that Kentucky must pay relatives "approved" to care for children in foster care just as they do "licensed" foster parents. For more details, please consult our
FAQ.
---
In October, Senators Orrin Hatch (R-UT) & Ron Wyden (D-OR) introduced the Child Welfare Oversight and Accountability Act (S. 1964) to coincide with the release of
a report
on issues in private foster care settings. The bill includes provisions that will impact grandfamilies' eligibility for the federally supported Guardianship Assistance Program (GAP).
Learn more
.
---
Health Insurance for Foster Youth Act (S. 1797)

In September, Senator Bob Casey (D-PA) introduced the Health Insurance for Foster Youth Act (S. 1797). This bill ensures that youth who age out of foster care, or leave foster care for a kinship placement, have Medicaid coverage until age 26 no matter which state they aged out in. Currently, if a foster youth ages out of care and moves to a different state, the state they move to does not have to provide Medicaid coverage.
---
In May, Senators Susan Collins (R-ME) and Bob Casey (D-PA) introduced the Supporting Grandparents Raising Grandchildren Act (S. 1091), which would create a federal task force charged with developing and disseminating information to help grandparents and other relatives raising children.
Learn more
.

Grand Voices on the Move highlights inspiring stories, perspectives, and actions of grandfamilies. This issue, we are focusing on Gail Engel, a GrAND Voice from Colorado.

When Gail Engel began raising her grandson, she found accessing resources challenge. She quickly immersed herself into learning the intricacies of the child welfare and legal systems.
With the skills learned in this class, Gail founded a nonprofit called Grand Family Coalition, Inc. that supports grandfamilies in her hometown and across the state of Colorado. To support the entire family, they offer monthly support groups, social events, peer to peer support, and connect with the Colorado State University to provide a mentor program for the children that also offers brief respite care.
Gail speaks on behalf of grandfamilies and works to ensure that grandfamilies have the proper supports they need. In line with the motto of the Grand Family Coalition, Gail wants other grandfamilies to know, "You alone can do this. You don't have to do it alone."
Kids Matter Inc., a child advocacy agency in Milwaukee, Wisconsin, uses a trauma-informed model to help grandfamilies. Using a home visiting model, they work with the caregiver and children and do trauma-focused cognitive behavioral therapy.
"It helps kids resolve behavioral and emotional difficulties resulting from complex trauma experiences and teaches caregivers how to parent," explains Jennifer Hastings, who manages Kids Matter Inc.'s Foster Healing and Family Connections programs.
The agency also helps families manage many of the challenges of grandfamilies experience, from getting public assistance to obtaining custody. While families are immensely grateful for their services, Kids Matter realizes that the caregivers are the real heroes.
"Relative caregivers are the front line in the fight to protect kids from trauma. We need to give them support and resources to help them navigate the challenges of raising children who have experienced trauma," Jennifer said. "Putting more money and resources into helping them would save money down the line and help create better child well-being." Learn more.
Do you have a program you would like us to consider featuring? Email Adam Otto at aotto@gu.org.
State-by-State Grandfamilies Data:
Generations United has posted state-specific data about grandfamilies on our website. View data on the number of children in grandfamilies
here
and data on the number of children placed with relatives because of drug and alcohol use
here
.
New Free Video Series on Engaging Kinship Caregivers from Dr. Joseph Crumbly:
The Annie E. Casey Foundation has made available a
new series of videos
from kinship expert Dr. Joseph Crumbly that cover a series of issues related to engaging kinship caregivers, including five modules: Guilt; Loss & Ambivalence; Projection & Transference ; Hope, Fantasy & Denial; and Loyalty.
GrandFamilies: The Contemporary Journal of Research, Practice and Policy:
A new issue of the GrandFamilies Journal is
available now online
. Topics include the conceptualization of grandparent caregivers' needs using concept mapping, a qualitative analysis of social support and survival strategies of African American grandmothers, and the utility of a nine-session self-care curriculum. Generations United's own Ana Beltran also contributes another of her recurring policy updates, which are overviews of current policy reforms at the federal and state levels that impact grandfamilies.
New Educational Resources:
Angelique Day, PhD, a professor at the University of Washington, has generously provided us with an article on educational supports available to older foster youth in kinship placements. The article is available
here
on
www.grandfamilies.org
.
The Center for School, College & Career Resources shared a pair of guides for helping children in grandfamilies get into college, one for
foster care alumni
and one for
students with low income
. Neither resource is specific to grandfamilies, so not all of the information will be applicable. But it includes a wide range of useful information.
Upcoming Events
Annual "Protecting Our Children" National American Indian Conference on Child Abuse & Neglect. National Indian Child Welfare Association. Anchorage, AK. April 15-18, 2018.

Learn more

.



CWLA 2018 National Conference: Advancing Excellence in Practice and Policy: Building Resilience in Changing Times. Child Welfare League of America. Washington, DC. April 26-29, 2018. Learn more.

International Federation on Ageing 14th Global Conference Ageing. International Federation on Ageing. Toronto, ON, Canada. Aug. 8-10, 2018. Learn more.


NACAC 74th

National Conference. North American Council on Adoptable Children. Salt Lake City, UT. Sept. 27-29, 2018.

Learn more

.
Grand Voice is a quarterly e-resource for
grandfamily
advocates and their allies distributed by Generations United's National Center on Grandfamilies. Grand Voice seeks to highlight key resources, policy updates, action opportunities, and program highlights to inspire and improve services and supports to grandfamilies across the U.S. Look for the next issue in your inbox this March. Sign up for Generations United's weekly e-newsletter, Generations This Week
Do you have something you want to have considered for inclusion in an upcoming issue of the Grand Voice? Please contact Alan King at aking@gu.org.