Senators to Accept Grandfamilies Champion award at
2017 State of Grandfamilies Release Event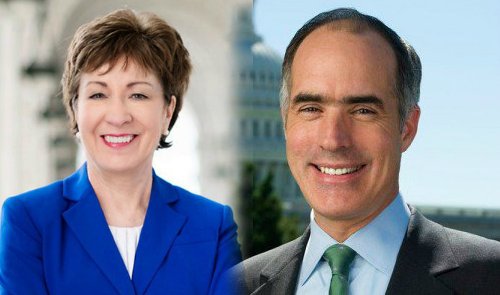 We're thrilled to announce that
Senator Susan Collins
and
Senator Bob Casey
will receive Generations United's Grandfamilies Champion Award during our 2017 State of Grandfamilies report release event on
Sept. 13
on Capitol Hill. The report
will focus on the critical role of grandparents and other relatives in providing safe, nurturing and stable homes for children who have experienced trauma. Register today and learn more.
The opioid epidemic continues to be covered extensively. Here are some stories about its impact on grandfamilies across the country:
FEDERAL
Reducing Barriers to Relative Foster Parents bill (H.R. 2866) Passes House
In June, the House passed the
Reducing Barriers for Relative Foster Parents Act
(H.R. 2866) in a landslide victory 382 to 19. The legislation helps address barriers to licensing grandparents and other relatives raising children as foster parents. Rep. Sewell (D-AL) and Rep. King (R-PA) also did a colloquy on the House floor that highlighted the
Model Family Foster Home Standards
that Generations United created in partnership with the American Bar Association and National Association for Regulatory Administration. The bill was one of several child welfare bills passed that highlighted important provisions in the
Family First Prevention Services Act
. The other bills are H.R. 2742, H.R. 2857, H.R. 2834, & H.R. 2847. The bill awaits action in the Senate.

Supporting Grandparents Raising Grandchildren Act
In May Senators Susan Collins (R-ME) and Bob Casey (D-PA) introduced the
Supporting Grandparents Raising Grandchildren Act (S. 1091)
, which would create a federal task force charged with developing and disseminating information designed to help grandparents and other relatives raising children. It would also be charged with producing two reports to Congress on findings both about best practices to support grandparents and any identified gaps in resource needs for grandparents raising grandchildren.
Medicaid Victory for Children, Youth, and Older Adults
In late July, after supporting a motion to proceed on health care legislation, the U.S. Senate was unable to get the votes to pass either the Better Health Care Reconciliation Act, or a "skinny repeal" of the Affordable Care Act. Defeating these efforts marks a significant win for children, youth, and older adults, as they would have put Medicaid at risk and led to loss of health care coverage for millions of Americans. Thanks to all who contacted your legislators. Stay tuned for future updates on health care reform efforts.
Questions about federal policy affecting grandfamilies? Contact Jaia Lent at
jlent@gu.org
.
STATE
Washington State repeals TANF means testing
In the 2018 state fiscal year budget passed on June 30, 2017, TANF child-only grant means testing was repealed through Senate Bill 5890. Some states have enacted provisions that consider the income of relative caregivers in determining eligibility for TANF child-only grants, a practice that makes it harder for families to get support. By repealing this provision, Washington has taken a step forward in improving things for grandfamilies. The change is expected to go into effect July 2018.
New Hampshire law assists grandfamilies affected by the opioid crisis
In June, New Hampshire became the first state in the nation to pass a law that gives legal preference to grandparents in guardianship cases involving substance abuse. The bill also requires the state department of human services to provide benefit eligibility information on its website and to grandparents applying for guardianship. The bill will go into effect in January 2018.
Learn more
Questions about state policy affecting grandfamilies? Contact Ana Beltran at
abeltran@gu.org
or learn more about the latest policies affecting grandfamilies in your state at
www.grandfamilies.org.
Grand Voices on the Move highlights inspiring stories, perspectives, and actions of grandfamilies. In this inaugural issue, we spotlight the Grandparent Advocacy Network Demonstration (GrAND), supported by Generations United and Casey Family Programs.
GrAND is made up of a select group of relative caregivers from across the country who have a range of expertise and personal experience raising children when their parents cannot raise them. GrAND members inform the work of Generations United and serve as a representative voice for relative caregivers in promoting improvements in policies and practices serving families both inside and outside the child welfare system.
Most recently, GrAND members joined more than 600 grandparents and their allies at the 5th National GrandRally in May, attended Generations United's biennial conference in June, and participated in Casey Family Programs senior leadership retreat in August. New member Victoria Gray from Arizona is pictured here, receiving Generations United's Grandfamilies Award at our conference in Milwaukee. Look forward to seeing more contributions of our GrAND members in future issues.
Victoria Gray receiving the Generations United Grandfamilies Award
Do you have stories of grandfamilies raising their voices to share? Email Alan King at
aking@gu.org
.
of Utah - operating in Salt Lake, Davis, Weber and Cache counties - helps grandfamilies access grants and helps relative caregivers become legal guardians. They serve more than 800 families annually, 40 percent of whom are affected by opioid misuse.
In addition crisis prevention services, the Grandfamilies program offers the Grandfamilies First Class, Friend 2 Friend, and Children's Groups.
Grandfamilies First Class is a 10-week series for grandparents and other relatives raising children that meets weekly throughout the year. In the Children's Groups, held at the same time as Grandfamilies First, children ages 4 through 11 engage in psycho-social classes led by trained professionals. Once those families complete the group sessions, they join Friend 2 Friend, an activity and support group that hosts events like Easter egg hunts and parties for Christmas and Halloween. Families in this group get free tickets to sporting events and other community activities.
The program is available to families as long as they need it, a critical aspect to families impacted by the opioid crisis. "These families don't just deal with the drug abuse once and then it's over," explains program coordinator, Bacall Hicks, "That's what's so important about our program. We have that ongoing support for families. We're able to be there for them when these ups and downs occur."
Grandfamilies.org: Grandfamilies.org was recently updated! The site is a collaboration among Generations United, the American Bar Association Center on Children and the Law and Casey Family Programs and contains an easy-to-use, searchable database of state laws and legislation directly impacting kinship families. You will also find explanations of legal topic areas, practical implementation ideas, personal stories and many other resources.


American Bar Association Child Law Practice Journal:

The July/August issue of the journal is focused on kinship care. Learn more and purchase access to it

here

.

ZERO TO THREE Resources: ZERO TO THREE have updated several of their resources for grandparents. Check them out here.

California Evidence-Based Clearinghouse for Child Welfare: The clearinghouse has added kinship support programs as a new topic area. The clearinghouse identifies and disseminates information regarding evidence-based child welfare programs, and rates the level of scientific rigor of research on each program.


Surgeon General's Report on Alcohol, Drugs, and Health: The report

reviews what we know about substance misuse and how you can use that knowledge to address substance misuse and related consequences.

State of Grandfamilies Report: Last year, Generations United released the State of Grandfamilies in America 2016: Raising the Children of the Opioid Epidemic- Solutions and Supports for Grandfamilies. The report highlighted the important role that grandparents and other relatives play in safeguarding our children as they are affected by our opioid crisis. Look forward to this year's report, to be released on September 13.

Upcoming Events

Grand Voice is a quarterly e-resource for
grandfamily
advocates and their allies distributed by Generations United's National Center on Grandfamilies. Grand Voice seeks to highlight key resources, policy updates, action opportunities, and program highlights to inspire and improve services and supports to grandfamilies across the U.S. Look for the next issue in your inbox this December. Sign up for Generations United's weekly e-newsletter, Generations This Week
Do you have something you want to have considered for inclusion in an upcoming issue of the Grand Voice? Please contact Alan King at aking@gu.org.