10 am
Join us this Sunday, at 10am on our Facebook page as Pastor Melody continues her sermon series called
"
Exit Stage Right."
Sunday's sermon title is "

Action?

"
To read this week's Scripture from

Romans 14:1-12

,

click here.
To read this week's Scripture from E

xodus 14:10 - 15:21

, click here.
To participate in our Sunday Worship via Facebook Live,
go online to our Facebook page
and scroll down until you see the video of the Worship Service. Even if you don't have a Facebook account, you will still be able to view our Facebook page and

Worship Service

.
Please write your name in the comments so we know you are
worshiping
with us.
We continue our online Worship with
a Love Feast
. Please be prepared to again celebrate this feast together. This ritual utilizes some form of bread and a liquid. You may use whatever you have handy.
We will continue the Love Feast each Sunday until we are reunited.
Please set aside time each day to pray for 2-3 minutes. This week's prayer starter is:
"

God, when I can't hear you, help me to stay strong in my faith in who you are and your love for all your children..."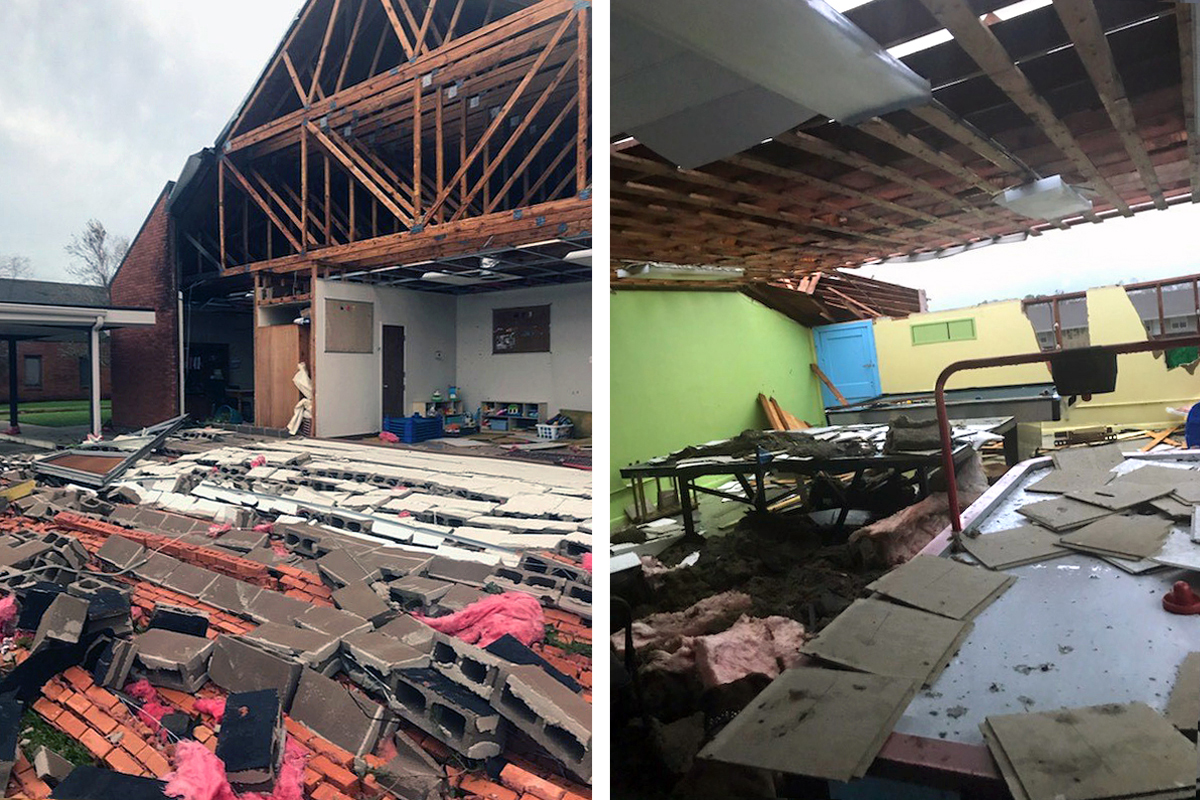 Louisiana churches hit by Hurricane Laura
UM News
Hurricane Laura brought winds of up to 150 miles an hour as it made landfall along the Gulf Coast of southwest Louisiana and southeast Texas early on Aug. 27.
Louisiana Conference Bishop Cynthia Fierro Harvey expressed gratitude that the hurricane caused less storm surge-related flood damage than had been feared.
"But the wind was not our friend," she said.
Responding To Racism
Tuesday Talks
Rev. Jason Stanley (

Coordinator for Church Revitalization for the Elizabeth River District)

spoke with Rev. Rachel Billups who is the lead Pastor of Ginghamsburg Church

in Tipp City, Ohio.
UMC Discussion to End Racism
Wednesday, Sept. 16
, 1pm EDT
Mark your calendar for the next Dismantling Racism panel discussion event, titled "The Theological Roots of Racism and Colonialism."
On September 16 at 1pm, panelists will discuss how the church has the ability to theologically interpret our current realities, naming where God is present and where humanity is called to help bring about the kingdom on earth as it is in heaven.
Pressing On To Freedom Initiative
Promising "this time will be different," five

UMC bishops have joined with other church leaders and boards and agencies of the United Methodist Church to add strength to the message that "We will no longer remain silent nor complicit but must act now!"
"Pray for all persons of color who suffer at the hands of injustice and oppression. Pray for our church as we take a stand against racism."
Th

e

church-wide, multi-level initiative

will continue, at least, through General Conference in 2021.
Connecting Online & Studying at Home
Sunday School
This group discusses the Bible using
the
Standard Lesson Quarterly
series but they are not currently meeting. To read this
discipleship material at home
or for more information,
contact Peter Griffin
.
Prayer Group
is postponed until further notice.
Contact Jonathan Tanner
for discipleship material options for independent study and prayer.
Ghent Inspire Book Club

now meets on the 3rd Mondays of the month at 7:30 pm on Zoom. The next book is Searching for Sunday by Rachel Held Evans. Our next meeting will be

Monday, September 21 at 7:30p.m.
For more information or to join the Zoom meetings,
contact Lynn Tiedge.
Bible Study
is not currently meeting. For more information or independent Bible study recommendations, contact Debbie Bonnewell at 757-870-8299.
Pastor Melody Tanner
In response to Christ's call to love one another, we want the members of our congregation to care for one another.
Pastor Melody and our members strive to care for the needs of our congregation, including the visits in homes, at hospitals and in facilities, as needed and requested. To learn more about Congregational Care at Ghent UMC, and other ways you can help,
click on our church's website here
.
Please
email Pastor Melody
or call her at
(757) 622-2843
to become a part of our congregational care team or to request a visit from the team.
*Covid 19 virus update In-person visits are limited currently. However, prayers, phone calls, and mail from the care team are continuing.
Church Building
Closure Update
Our church staff are continuing to work from home and only come to the church building on an as needed basis. They are monitoring the church's voice mail and checking email Monday through Friday. Messages will be returned as soon as possible.
Join Us
Become a Member
Ghent United Methodist Preschool
Please Pray
Please
pray for our GUMP teachers as they begin their first full week of teaching.
(Photo shared from Aldersgate UMC South Carolina Messy Church.)
We invite you to
join us in the #IGiveUMC celebrations to express appreciation for others.

Make a donation to Ghent Church in honor of or in memory of a teacher. Recognize someone who's been an inspiration. Or encourage someone who has had to make the tough transition to virtual teaching.
Then, post on social media about your honoree, gift, and a request for others to make a donation of their own. Use the hashtag #IGiveUMC so it can be shared with others doing the same.
New Freezer Needed
WCSC
Each week, the
Wesley Community Service Center
serves hundreds of people in Portsmouth, VA. They are able to feed so many people because of donations from their supporters like you, as well as, their partnership with the Food Bank of Southeastern Virginia. Unfortunately, their commercial freezer is broken beyond repair.
If you, or anyone you know, has a large freezer(s) that they can donate, it will be much appreciated. They will arrange a pickup! Contact Wesley Community Service Center at

757-399-0541

for more information or to donate.
Please Pray
~~~~~~~~~~~~

Please join me in prayer for the healing of our world. You are not alone. We'll get through this together. I want to encourage you all to stay in touch with one another as much as possible. There are social media links at the bottom of this newsletter. Use them as ways that we can all engage God and one another during this time of isolation.
Peace, Pastor Melody
Wesley Theological Seminary's Center for Public Theology will hold a virtual book panel and discussion on White Supremacy and American Christianity featuring:

* Dr. Robert Jones
* Dr. Obery Hendricks
* Dr. Kris Norris
The moderator for the panel discussion will be Dr. Lorena M. Parrish.

The Zoom conversation will take place Thursday, September 17, 2020, 4:30p.m. to 5:45p.m.
There will be a Zoom Leadership Team meeting open to whomever would like to attend on Sunday, September 27th shortly following our worship service. More info to follow.
Worship through Offering
Various Ways
We understand that these are uncertain times for most of us financially, but we want to offer the opportunity for us all to continue to fully participate in worship through the offering of a tithe or gift. Listed here are various ways to give.
Online Giving

Go to
ghentumc.org/give
and click "Give here" under "Online & Mobile Giving".
Personal Online Banking Bill Pay
Mail or Drop-off Checks

You can mail checks to the church at 531 Raleigh Avenue, Norfolk, VA 23507, or drop them through the mail slot at the Raleigh Ave. entrance.
Blessing Bags
Sign Up Sheet
Ghent Church is still collecting items to put into Blessing Bags for those we encounter who are homeless. Blessing Bags are gallon size bags filled with non-perishable food, hygiene products, and gift cards.
We have a collection basket in the hallway near the Ghent Church office door. If you do not have a key fob, contact the church office to make arrangements for drop off. Leave a message at 757-622-2843 or send an email.
We thank everyone who has faithfully contributed items thus far!
Resuming In-Person Worship
Update from Pastor Melody
While the state has transitioned into Phase 3, Bishop Sharma Lewis has confirmed that the Virginia Conference will remain in Stage 2 of Reopening.
Ghent UMC will continue to worship and minister to each other and our community online.
Thank you for your prayers, patience, and understanding as we do our part in curbing the spread of COVID-19.
We can't wait until we can all be together again!
Past Worship Services
On Facebook
Watch previous Worship services that were streamed live on Facebook by
clicking here.
Ghent UMC is licensed to stream our FB Live worship services through CCLI #20175590 and One License A-727358.
A Word of Welcome from GUMC

- Based on a statement by Green Street UMC in Winston-Salem, NC
Ghent United Methodist Church is called to the affirmation of the sacred worth of all people. We embrace as a gift the diversity of our neighborhood and the world. We acknowledge our human family's diversity in sexual orientation, gender identity, race, ethnicity, language, age, faith history, theological orientation, economic status, education, marital status, abilities, and any other defining feature, real or perceived.
Click here to read the entire letter.
Click here
to read Pastor Melody's message to our church and community.