Join us for worship s
ervice as Pastor Melody Tanner continues the sermon series
entitled "Jesus Gentrification." This week's sermon title is "

When a Strong Wind Blows."
Everyone is welcome to stay after the service for fellowship.
Daily Prayer
Starter
Please set aside time each day to pray for 2-3 minutes. This week's prayer starter is:
"
I'm not asking for struggles, God, but help me to look for you when I have them..."

Before our organist Spencer Koger plays during our 10am worship service, he will give a talk at 9 a.m. in the organ loft (room 201).
Everyone is invited to listen to our organist as he shares about his music ministry.
A Way Forward
Sunday, Feb. 17 after church
Please join us on Sunday, Feb. 17, after church, in lieu of our leadership team meeting, for an in-depth discussion and sharing of perspectives. Lunch will be provided. Topics include: Biblical perspectives on same sex relationships, how Ghent church should love the LGBTQ community in light of what the Bible says and as representatives of Jesus Christ, and Wesleyan church tradition. All are welcome to attend.
Please
RSVP by clicking here
so we know how many to expect for lunch.
Our meeting is related to the Special Session of the General Conference of The United Methodist Church held February 23 - 26 in St. Louis, Missouri. The purpose will be to receive and act on a report from the Commission on a Way Forward. The 32-member Commission was authorized to examine paragraphs in The Book of Discipline concerning human sexuality and exploring options to strengthen the unity of the church.
To read details,
click here.
Please be in prayer about this special called conference.
If you weren't present when we showed the video
,
click here to view the video
that was shared
. You will need to fast forward to 7 minutes, 26 seconds, to get to the start of the presentation. You can stop when they get to the Q&A.
Please join us after worship on Sunday, February 24 from 11:15a.m. to noon to clean up the grounds of the church, Stockley Gardens, and the surrounding area. Please dress casually and wear your Ghent Church shirt, if you have one.
Gloves, trash bags, and a limited number of reflective vests are available.
Twice a year, Ghent United Methodist Preschool holds its children's consignment sale.
It is a great place to find or sell your gently used clothing (newborn-size 14), toys, sporting gear, books, maternity clothing, strollers, bedding and more!
The Spring sale is coming up!
Sat., Feb. 23, 8am - 12pm

Sun., Feb. 24, 12pm - 3pm

Mon., Feb. 25, 9am - 12pm
All proceeds from the sale benefit the programs of GUMP. Click on
their Facebook page
to read details or to learn how to sell your items
.
Sunday, March 3,
9am - 1pm
W
e are partnering with the American Red Cross to hold a blood drive downstairs in our fellowship hall.
Each pint of blood we collect can help save up to three lives! What a great way to make an impact on people in our community and across the country.
Will you please donate blood?
Will you volunteer to help with the event?Please sign up on your connection card or email Peter Griffin.
Girl Scouts will also be selling cookies.
All ages are welcome!
Choir rehearsals

are Wednesdays at 7pm in the sanctuary.

Let Nellwyn Beamon know that you will be attending.
Organ music, played by organist Spencer Koger, is monthly on first Sundays during our 10am worship service.
Gathering Jams are monthly on second Sundays, year-round. Bring an instrument and play along during the gathering part of our service at 9:45am.
Messy Church at Ghent UMC for all ages is 2nd Sunday of each month from 4:30 - 6pm in our social hall. Dinner is served.

Messy Church is a way to explore your faith through engaging games, crafts, and activities!

The next month's will be March 10.
Leadership Team meetings

are on 3rd Sundays.

The February meeting has been cancelled.

The next meeting will be after worship on Sunday, March 17. All are welcome to attend.
Stakeholders meetings

are on Thursdays at 8am. The next date is TBA.
American Red Cross Blood Drive will be held

Sunday, March 3,

9am to 1pm in our fellowship hall. To sign up to donate blood and/or volunteer to help with the event, please sign up on your Connection Card or email Peter Griffin. Girl Scouts will also be selling cookies.
Sunday Worship at 10:00a.m.
Children's Church
During Worship
Join Us
Become a Member
Inspired by MLK to make a difference through love
"I have come to grips many, many, many years ago that only through love can we make a difference," shares United Methodist deaconess Clara Ester. "We can actually change things if we love."
Clara learned this important lesson from the Rev. Martin Luther King Jr., leader of the civil rights movement in the United States.
Feed Our Kids
New Mission Project
Ghent UMC is collecting food items during February for students in need at
Park Place School.
These children do not have enough to eat on weekends.
We will be providing 10 bags of groceries per week in March.
To help purchase the necessary items, m

onetary donations are also appreciated

. Please make checks payable to Ghent UMC.
** We will be packing food bags on March 24th after church. The bags for the other weeks will be packed by our small groups.
Visit Our Homebound
This Month
Please sign up to visit one of our homebound members this month.
You can make your visit individually or with a fellow congregation member.
This is a great way for
Ghent UMC
to answer
Christ's call to love and

care for

one another.
With love,
Jennifer Gross Statler
Congregational Care Director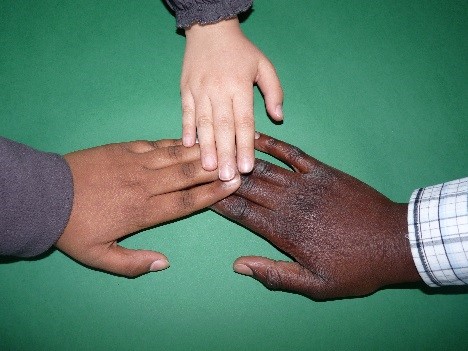 Community Building Opportunities
Children and Youth
Sunday mornings: Children's Church (details below)
Sunday evenings: Middle & High School Youth (email Kim Kurtz for more details)
Adults
Sunday mornings: Adult Sunday School - 9am
Monday evenings monthly: Ghent Inspire Book Club - Next meeting

, Feb. 18

, 7:30pm at

Café Stella

. We will discuss The Life We Bury by Allen Eskens.

For info and to RSVP, contact Kim Kurtz.
Tuesday evenings: Young Family Small Group - 6:25pm in church library. Before your first visit, email Jonathan Tanner for schedule updates. No meetings on 2/12 and 2/19.
Friday mornings: 10am Bible Study in the church library has resumed. We are reading Beth Moore's study, "Jesus, The One and Only."

The 11 week study will focus on the life and ministry of Jesus. The workbook costs $20.

Volunteer
All adults,
children, and youth
are invited to help on Sundays before and during worship. We also need volunteers to be part of the outside clean up crew.
Also, please consider purchasing altar flowers to enhance our worship space.
Click here
to learn about our updated volunteer opportunities and to sign up.
You may also call the church office or contact the church office by
clicking here
.
In response to Christ's call to love one another, Ghent UMC wants the members of our congregation to care for one another.
Jennifer Gross-Statler, our
Director of Congregational Care and Marketing,
works closely with Pastor Melody and our members to meet the care needs of our congregation, including the coordination of visits in homes, at hospitals and in facilities, as needed and requested.
To learn more about Congregational Care at Ghent UMC, and how you can help, click on our
church's website here.
If you'd like a visit from Jennifer or a church member, call the church office at (757) 622-2843 or email her at
outreach@ghentumc.org
.