Join us for worship s
ervice as Pastor Melody Tanner begins the

Lenten sermon series called "Jesus Prayed."
This week's sermon title is "

Why pray?"
Everyone is welcome to stay after the service for fellowship.
Lenten Prayer Challenge

Please Sign Up
Pastor Melody has issued a challenge for each of us during this Lenten season to increase the intimacy of our relationships with God through prayer. She has asked each of us to set an attainable goal for our daily prayer time during Lent.
Click here to read details and to sign up for the challenge. You can sign up at any time during Lent, but please do so as early as possible. This way, Pastor Melody can check in with you on how you're doing, and send words of encouragement along the way. You do not have to share your goal for the challenge when you sign up.
If you have not filled out our 10 question, prayer survey yet, please do so by
clicking here!
Daily Prayer
Starter
Please set aside time each day to pray for 2-3 minutes. This week's prayer starter is:
"
My God, you are always longing for me to engage you in conversation. May I find all sorts of opportunities to share my life and thoughts with you that you might be more intimately involved in my life..."
On Sunday,
March 10
, gather again in the sanctuary about 9:45am with your guitars, or other C instruments, and jam along to a variety of tunes new and old.
Even if you can only play 3 chords on the guitar, come and join us! The more, the merrier. We also have hand percussion instruments and a drum kit. The music will be out on music stands.
Christopher Taylor, Violinist
This Sunday
Christopher Taylor will help us make a joyful noise to the Lord
on this Sunday, March 10, by sharing his gift of violin music during our worship service.
Chris currently studies with Ara Gregorian at East Carolina University, where he earned his Bachelor of Music degree. He is a former student of Carol Thomas Downing who teaches with Academy of Music at Ghent UMC. Chris has participated in both the renowned Four Seasons Chamber Music Festival and Next Gen on the Road chamber music programs, and has played in master classes with violinists Hye-Jin Kim, Elina Vahala, Xiao-Dong Wang, and Aaron Berofsky.
Messy Church at Ghent UMC
Sunday, March 10, 4:30 - 6pm
The next Messy Church at Ghent UMC (which is for ALL AGES) will be Sunday, March 10 from 4:30pm - 6pm. This month's theme is "
Dusty Drawing
."
We have lots of fun in the Lord. So, come for our traditional 10am worship service then bring your family back at 4:30pm to explore your faith through engaging games, crafts, and activities.
The Ghent Lamb Trail
During Lent
Ghent UMC invites you to follow The Ghent Lamb Trail!
Shepherds
need you and your family during Lent to help them find their lost lambs. Their lambs have disappeared into ten shops in downtown Ghent.
Forgiveness for me?
A Wesley hymn devotion for Lent
All ages are welcome!
Ghent UMC is part of the 2019 Organ Swell concert series. Come to Ghent UMC on Sun., May 4, 4pm, to hear organist Deborah Carr and cellist Jeffrey Phelps performing a wide range of music for organ and cello. Suggested admission donation is $10 at the door with proceeds going towards the Tidewater Chapter of The American Guild of Organists.


Choir rehearsals

are Wednesdays at 7pm in the sanctuary.

Let Nellwyn Beamon know that you will be attending.
Organ music, played by organist Spencer Koger, will be Sundays, April 21, April 28, May 3

during our 10am worship service.
Gathering Jams are monthly on second Sundays, year-round. Bring an instrument and play along during the gathering part of our service at 9:45am.
Messy Church at Ghent UMC for all ages is 2nd Sunday of each month from 4:30 - 6pm in our social hall. Dinner is served. This month's will be March 10. The theme is "

Dusty Drawing."
Leadership Team meetings

are on 3rd Sundays. The next meeting will be after worship on Sunday, March 17. All are welcome to attend.
Stakeholders meetings

are once a month on Thursdays at 8am. The next date is TBA.
Sunday Worship at 10:00a.m.
Children's Church
During Worship
Spring Forward
Don't forget to set your clocks 1 hour ahead Saturday night.
Daylight saving time begins at
2:00am, Sunday March 10.
Join Us
Become a Member
A Message from Pastor Melody on the Outcome of General Conference 2019
Click here
to read Pastor Melody's message to our church and community.
After worship on Sunday, March 31, please stay for a Q & A session about the conference.
Various resources about General Conference 2019 are available on the Conference website.
Click here to view.
Feed Our Kids
Mission Project
We have started packaging the bags and
really need paper grocery bags.
During March we are

collecting food items for students in need at
Park Place School
who
do not have enough to eat on the weekends. GUMC
will be providing 10 bags of groceries per week in March.
Monetary donations are also being accepted.
Please make checks payable to Ghent UMC.
**Please join us immediately

after worship
on Sunday, March 24

th.
The bags for the previous weeks will be packed by our small groups.
Women's History Month
Timeline of Women in Methodism
OST Shows its Love
For GUMC
Last Sunday, members of

Ohef Sholom Temple gave a
wonderful display of love and support for GUMC. Our friends and neighbors at the temple across the street stood outside Sunday morning with signs of love. Ohef Sholom reminded us how blessed we are.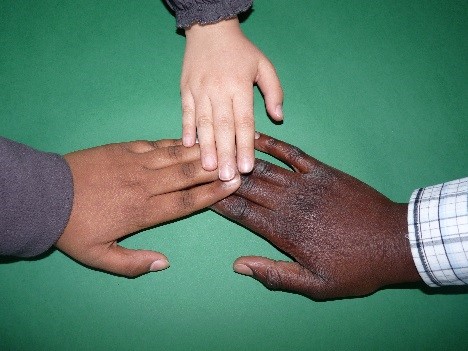 Community Building Opportunities
Children and Youth
Sunday mornings: Children's Church (details below)
Sunday evenings: Middle & High School Youth (email Kim Kurtz for more details)
Adults

Volunteer
All adults,
children, and youth
are invited to help on Sundays before and during worship.
Also, please consider purchasing altar flowers to enhance our worship space.
Click here
to learn about our updated volunteer opportunities and to sign up.
You may also call the church office or contact the church office by
clicking here
.
In response to Christ's call to love one another, Ghent UMC wants the members of our congregation to care for one another.
Jennifer Gross-Statler, our
Director of Congregational Care and Marketing,
works closely with Pastor Melody and our members to meet the care needs of our congregation, including the coordination of visits in homes, at hospitals and in facilities, as needed and requested.
Please email me to sign up to visit one of our homebound members this month.
To learn more about Congregational Care at Ghent UMC, and other ways you can help, click on our
church's website here.
If you'd like a visit from Jennifer or a church member, call the church office at (757) 622-2843 or email her at
outreach@ghentumc.org
.