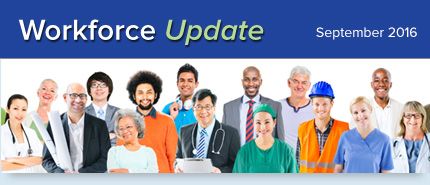 Success in Lowering the Dropout Rate
At 2.1 percent in the 2014-15, Ventura County's high school dropout rate is less than the state's 2.8 percent and considerably less than the county's 3.6 percent dropout rate five years ago. According to WDB member
Dr. Roger Rice
(Ventura County Office of Education) and
Dr. Jason Peplinski
(Simi Valley Unified School District), one of the reasons for the lower rate could be that districts and schools are taking groundbreaking steps to keep kids motivated to stay in school. New compelling programs for students - whether college-bound or not - include 21st century training for professions like high tech manufacturing, cyber security, video game design, and unmanned aerial vehicle operation.
These types of curriculum upgrades cost money. Fortunately, California is investing in workforce development and, with the use of funding received from the state through grants, school districts are introducing relevant career pathways where high school students experience both in-class training and real-world application. Students discover career opportunities that they might not have considered previously. Seeing a direct connection between what they're learning and an attainable goal, students are more motivated to succeed and stay in school.
Listen to the August Workforce Wednesday
or read the article in the
VC Star
to learn more about what Ventura County schools are doing to lower the dropout rate.
Manufacturing Week Opens Doors to Students
Thanks to seven local manufacturers, including Amgen, Applied Powdercoat, Dynamic Automation, Haas Automation, Hi-Tech Engineering, Milgard Windows & Doors, and Shire, 250 Ventura County students toured and discovered the excitement of today's world of manufacturing. Coordinated by the Manufacturing Roundtable of Ventura County and the Ventura County Office of Education, the week-long event represented a Ventura County expansion of National Manufacturing Day, a nationwide effort to address a serious, growing shortage of skilled labor in manufacturing and to stimulate interest in preparing for high-paying manufacturing careers. Learn more about student first-hand experiences. Employers interested in hosting future site visits may contact patrick.newburn@ventura.org for more information.


National Apprenticeship Week
Highlighting the positive impact of an earn-as-you-learn model in building a skilled workforce, the second annual National Apprenticeship Week is scheduled for November 14-20. The Workforce Development Board welcomes the opportunity to recognize and thank local employers who are working with eight registered apprenticeship programs in Ventura County. Included are programs for
electrical workers, plumbers and pipe fitters, laborers, sheet metal workers, brick masons, carpenters, operating engineers, and barber/cosmetologists.
For more information about apprenticeships, go to
Apprenticeship USA
or the
opening doors to youth
page on the
WDB website
. Search for local apprenticeship programs at the
California Department of Industrial Relations
.
CBO Spotlight: The ARC
Community-based organizations (CBOs) are a key component in developing a skilled, inclusive workforce.
The Arc of Ventura County
is an exemplary CBO which promotes and protects the rights of people who have intellectual and developmental disabilities. As part of their mission, The Arc of Ventura County has an employment system that includes job and skill matching to meet employer requirements and a job coach to provide seamless support once the employee has been placed. People with disabilities want to work. They want the pride and self-esteem that comes with doing a job well. To learn more how to find hard-working employees through The Arc of Ventura County, visit their website at
www.arcvc.org
.
WDB Youth Community Forum
On October 14th, forty enthusiastic members of the Ventura County community participated in the 2016 Youth Community Forum to discuss opportunities and challenges faced by out-of-school youth. Facilitated by WDB member
Kathy Harner
(California Department of Rehabilitation), the open public meeting was attended by representatives from community-based organizations, education, workforce programs, and county and state agencies. The meeting focused on the successful youth workforce development models in Ventura County, determining gaps, and brainstorming ways to close those gaps. Ideas from the Forum will inform the youth component of the WDB regional strategic plan to transition out-of-school youth
----
particularly those with barriers
----
into career pathways and jobs that will lead to living wages.
Out-of-school youth have great potential and will succeed with the right opportunity and support.
Employers
who are interested in connecting with youth, or who would like to join the discussion about youth, are encouraged to contact the
Workforce Development Board at 805.477.5306
.
Workforce Update is brought to you by the Workforce Development Board of Ventura County (WDB).The Workforce Development Board administers federal funds that help to support American Job Center locations and other free adult, youth, and employer programs and services in Ventura County.
Workforce Development Board

Bringing People and Opportunities Together
55 Partridge Drive, Ventura, California 93003
805.477.5306 or visit workforceventuracounty.org

Created in partnership with
theAgency
.

Connect with free and
low-cost Ventura County Employer Services.





Business loans, one-on-one consulting, seminars on manufacturing or international trade

----

these are just a few of the free and low-cost resources in Ventura County to help grow your business. Check them out or listen to testimonials from businesses that have used these resources.



Regional and local plans take center stage on 10/27.
At the WDB Annual Planning Meeting, board members will discuss key elements of regional and local plans to align and advance Ventura County workforce development programs and services under the Workforce Innovation and Opportunity Act (WIOA). WDB meetings are open to the public, and agendas are posted on the WDB website.




Sept. 2016

Unemployment


Not Seasonally Adjusted



U.S. = 5.0%
California = 6.0%
Ventura County = 5.5%




KVTA 1590-AM

Oct. 26 at 8:40AM

Topic: Job resources for veterans and military spouses

Click to listen to Sept. broadcast about Manufacturing Week.



Oct. 27, 8am
WDB Board Meeting at VCOE

Nov. 4, 8am
Healthcare Committee Meeting at VCCF

Nov. 18, 8am
Clean/Green Committee Meeting at VCCF

Nov. 30, 8:30am
Business Services Committee Meeting at VCCF

Dec. 15, 8am
Manufacturing Committee Meeting at VCCF

Interested in helping to develop Ventura County's future workforce? Join us at one of our committee meetings. For meeting specifics, visit the Workforce Development Board and click on meeting calendar.