Regional Sectors for Workforce Development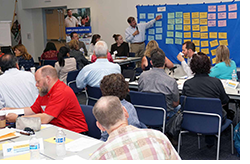 What do manufacturing, IT, construction, and healthcare employers have in common? Ready access to skilled local talent is a top priority and a key component in their business strategies. With that in mind, the WDB held a joint public meeting of its regional sector committees to identify jobs that will be in high demand in the next three to five years, determine which of those jobs could be difficult to fill, and talk about what actions might be taken
----
within and across sectors and industries
----
to fill those jobs. Next steps will be discussed by the four WDB sector committees:
Business Services
,
Clean/Green, Healthcare
, and
Manufacturing
. Sound interesting? Join us at a committee meeting (go to
Workforce Development Board
and click on meeting calendar), or call 805.477.5306 for information.
Welcoming New Chair & Vice Chair
WDB chair Jim D. Faul will lead the August 25th WDB meeting at the VCCF Nonprofit Center. A WDB member for seven years, the civil engineering department manager at LC Engineering Group, Inc. says, "What attracted me to the WDB is seeing how the board draws business, labor, economic development, education and government together to the benefit of the workforce of Ventura County. My civil engineering career started in a similar collaborative fashion by working at Naval Base Ventura County while in college. Being able to foster these opportunities in Ventura County is an ongoing goal."

Prior to joining the board, WDB vice chair Vic Anselmo, owner and CEO of Applied Powdercoat, Inc., was able to train workers successfully through WDB-sponsored programs. "WDB reached out to our business and told us about training program opportunities. It's the WDB's responsibility to raise awareness and help companies take advantage of subsidized training programs, and to ensure that the federal training funds are dispersed properly."


Congratulations 2016 WDB Award Winners!
Each year, the WDB Awards recognize exceptional contributions made by members of the community to help build a strong Ventura County workforce. Congratulations to the 2016 recipients who have made a real difference by providing youth internships and work opportunities, supporting business expansion, job creation or job retention and being a role model for workforce development:

WDB Youth Opportunity Award
Michelle Morehouse-Bass, VP of Sales and Marketing, Macy's Ventura
Karen Clark, Human Resources Manager, Macy's Ventura
WDB Champion for Prosperity Award
Renee Meriaux, Manager Charles Abbott Associates, Inc.
Ventura County Community Development Corporation
WDB Leadership Award
Silvia T. Faulstich, Flight Test Engineer, U.S. Navy
Dr. Dawn Neuman, Biology Program, California State University, Channel Islands
Manufacturing Network Launched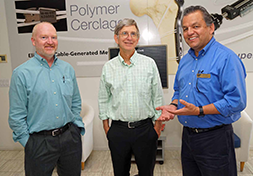 Are you a manufacturer who wants to connect with other Ventura County manufacturers to discuss business building opportunities, strategies to build a steady stream of qualified workers, the industry, and your business? According to WDB member
Byron Lindros
(Amgen, Inc.) the Manufacturing Roundtable of Ventura County (MRVC) has launched the MRVC Manufacturing Network, featuring a series of informal events at manufacturing sites, hosted by and for local manufacturers. Thanks to WDB member
Bill Pratt
for hosting the first MRVC Manufacturing Network event on August 5th at
Kinamed, Inc
. WDB member
Alex Rivera
will host the next event on September 29th at
Milgard Manufacturing, Inc.
in Simi Valley. Space is limited. For more information and to RSVP, email
MaOdezza.Robite@ventura.org
or call 805.477.5306.
Macy's Internships Good for Business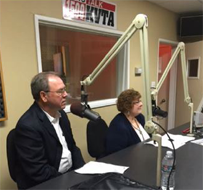 Taking high school students under their wing and mentoring youth who have barriers to employment earned
Macy's Ventura and Thousand Oaks
a WDB Youth Opportunity Award this year. As Human Resources Manager,
Karen Clark
, said, "the mentors love it" and some of the youth are offered jobs when they complete their internships. On June's KVTA Workforce Wednesday broadcast, Karen, accompanied by WDB immediate past chair and
Brighton Management
executive,
Victor Dollar
, talked about the benefits of hiring an intern and the importance of introducing young people to jobs they might
----
or might not
----
like. Victor described the wide range of internships available in Ventura County's hospitality industry, including those in culinary, sales, front desk, housekeeping, and more. For more information about the benefits of building a skilled workforce through youth opportunities, go to
workforceventuracounty.org
.
Workforce Update is brought to you by the Workforce Development Board of Ventura County (WDB).The Workforce Development Board administers federal funds that help to support American Job Center locations and other free adult, youth, and employer programs and services in Ventura County.
Workforce Development Board

Bringing People and Opportunities Together
55 Partridge Drive, Ventura, California 93003
805.477.5306 or visit workforceventuracounty.org

Created in partnership with
theAgency
.

Connect with free and
low-cost Ventura County Employer Services.





Business loans, one-on-one consulting, seminars on manufacturing or international trade

----

these are just a few of the free and low-cost resources in Ventura County to help grow your business. Check them out or listen to testimonials from businesses that have used these resources.


Charles Harrington, executive board member of Service Employees International Union Local 721, Simi Valley
Tracy Perez, branch manager, United Staffing Associates, Oxnard
Peter Zierhut, vice president of motorsports marketing for Haas Automation, Inc., Oxnard


July 2016

Unemployment


Not Seasonally Adjusted



U.S. = 5.1%
California = 5.9%
Ventura County = 5.8%




KVTA 1590-AM

August 24 at 8:40AM

Topic: Ventura County's progress in reducing the student dropout rate

Click to listen to June broadcast about how internships are good for Macy's business.



August 25, 8am
WDB Board Meeting
at VCCF

September 16, 8am
Clean/Green Committee Meeting at VCCF

September 23, 8am
Healthcare Committee Meeting at VCCF

October 20, 8am
Manufacturing Committee Meeting at UFCW, Camarillo

Interested in helping to develop Ventura County's future workforce? Join us at one of our committee meetings. For meeting specifics, visit the Workforce Development Board and click on meeting calendar.