To Be and Make Disciples of
Jesus Christ
Change of

Contact Information?
Click here
to fill out an online form to help us update your information for our records.
Contact Us?
Saint Mark UMC

Call us:
9 am - 5 pm (M-Th)
(864) 882-2603
Pastoral Care
Emergencies or after regular office hours
call or text
(864) 888-7072
Saint Mark 2019 Ministry Guidebook
Click here
to view the entire Saint Mark 2019 Ministry Guidebook with information about church structure, leadership, ministries and our 2019 budget.
Check Out Our Entire Church
Calendar of Events
Click here
to see what is going on at Saint Mark this week and the weeks to come.
Staff Appreciation Sunday
Sunday,
October 13
Sunday
9:00 am
for all ages
9:45 am
Staff Appreciation Celebration
In His Eyes (youth)
Wings 'N Things (youth)
Listen to Last Week's Sermon Today
If you were not able to attend worship on any given Sunday, you can still listen to the sermon.
Click here
to select and listen to sermons that you may have missed.
Got Good News To Share With Your Saint Mark Family?
Good news lifts our spirits. Share your good news with us. We will publish your good news in our
"People 'Neath Our Steeple"
feature. Your news will be sent out as an email.
Click here
to share your good news (achievements, births, awards, etc.). Include pictures if you have them.
Prayer Focus for This Week
A Prayer for Our Church Staff
Lord, You have called every single one of Your children for a specific purpose and You have graced them to walk in that purpose. You have called some of Your children into ministry within the Church of Jesus Christ.
I lift up our church staff. God, I thank You for the vision that You have given them for our church. I thank You that I have the privilege of being part of the community of faith You continue to build here at Saint Mark.
By the power of the Holy Spirit, give our church staff wisdom, strength, power, and discernment to lead our congregation into a hopeful future in these trying times.
Lord, surround our church staff with people to encourage them to live into Your call on their lives.
God, refresh their spirits so that they will not grow weary of doing Your good work.
God, thank You for our staff and for the sacrifices that they make for the spiritual growth and maturity of our congregation into disciples of Jesus Christ.
Submit Your Prayer Requests
Saint Mark is pleased to receive your prayer requests . . . for yourself or for friends or loved ones.
Click here
to submit your request to Pastor Todd Davis.
THIS YEAR'S CHURCHWIDE THEME
"Loved By God"
Traditional Worship
10:15 am in the Sanctuary
"We are Loved by God - Part 1"
bringing the message
Rev. Shawna Darnall
Celebration Worship
10:15 am in the Saint Mark Center
"Loved by God - Cosmic Elation"
bringing the message
Rev. Todd Davis
Join our Saint Mark Staff this Sunday for Staff Appreciation Sunday. We will gather in the atrium between Sunday School and worship for refreshments and fellowship. There will be a love offering gathered during that time to share with the staff at the end of the year.
For more information,
click here
to contact Lynn Dobson, Chair of SPRC (Staff/Parish Relations Committee.
LifeTouch Complimentary 8X10 Photos

Are Here for You to Pick Up
If you were to have your complimentary 8X10 photo sent to the church, the first shipment of photos has arrived. You may pick up your photo (it will be in a large white envelope) in the atrium beginning this Sunday, October 13. They will be on the Welcome Center counter closest to the women's restroom.
They are in a brown accordion folder in alphabetical order. Your name is highlighted in yellow to make it easier for you to find.
If you don't find your photo, it will likely come in another shipment, or it may be shipped to your home.
If you have questions, or if there are problems with your order, click here to contact Marla Fuller.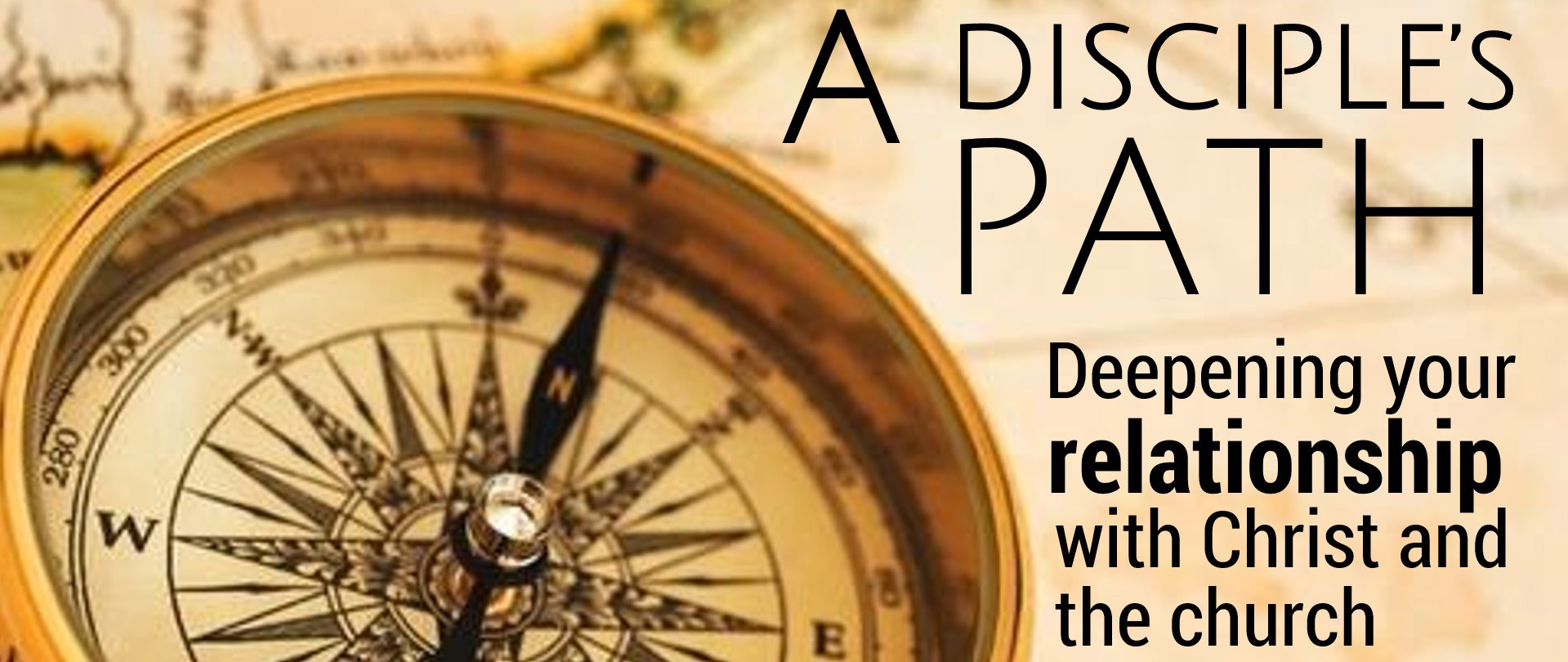 A Disciple's Path
Begins THIS Sunday, October 13
11:30 am
Plans for A Disciple's Path have been finalized and the study will begin this coming Sunday, October 13. Lunch will be provided this week, and after that, participants will bring their own lunches, except on October 27, when the group will meet following the churchwide covered dish luncheon celebrating Stewardship Sunday.

Pat Reynolds will lead the study, and will hand out workbooks this weekend. It's not too late to join.
Click here
to contact Pastor Shawna, or call her at the church office at (864) 882-2603.
Please join us in prayer for the persons and situations listed below:

Personal Prayer Notes:
Daniel - Son of Lonny Ensign - Prayers for God's peace and care in his life.
Jim Atkinson - Surgery on knee August 30 at Emory. At Lila Doyle for Rehab.
Sarah Dubose - Recovering from surgery to remove a cancerous lesion from mouth.
Charlie Garcia - Recovering at home from colon surgery on September 26 to repair issues related to Crohn's disease.
Bill Nelson - At Seneca Rehabilitation.
Kathryn Newsome - Kathryn Newsome is mother of Kathy Graves' sister-in-law in Dade City, Florida. She is receiving Hospice care for cancer of the kidney and liver.
Jan Weicksel - Fell on October 5 resulting in two fractures in pelvis and one fracture in clavicle near her shoulder. Has been moved to AnMed Rehab.

Sallie Wigington - Recently diagnosed with non- Hodgkins lymphoma. She cannot receive visitors, but greatly appreciates our healing prayers.
Do you have a prayer request? Click here to share your request with your church family.
Saint Mark Child Development Center
Parents' Night Out
Friday, October 18
5:30 - 9:30 pm
Children from infants up to 12 years old are welcome. The cost is $10 per hour for one child, $15 per hour for two children and and so on. You pay by the hour. To make your reservation, or for more information, click here to contact Becca Williams, CDC director.
Elderberries, Let's Go to the
Walhalla Oktoberfest!!
Enjoy crafts, delicious food, German music and dancing with your Saint Mark Elderberries friends.
At 10 am on Saturday, October 19, we will gather at Sertoma field in Walhalla, 272 Tulip Drive, Walhalla SC 29691.
Transportation is available by request.

Our October Elderberries Lunch Bunch will be at the church, this time. We will enjoy a taste of fall with a variety of fall soups and apple cider. We invite you to bring a salad or a dessert to make the meal complete. There will be no cost for this event.

Fall UMW Fundraiser
Harvest Bean Soup
Sunday, October 27
Saint Mark United Methodist Women were so excited about the arrival of Fall, we decided to celebrate "Soup Weather" with a quick fall mission fundraiser! Using a tried and true recipe of our own Jan Weicksel, we assembled 60-quart mason jars of "Harvest Bean Soup". This is a dried mix of pasta, beans, and seasonings, all attractively packaged to give as a gift or keep for a cozy supper on football weekends or for a simple dinner on Thanksgiving Eve. The soup will be sold on Sunday October 27 in the atrium for $8/jar. All proceeds will go to local missions benefitting Oconee County women, children, and youth.
Oh, by the way! We are busy making our Traditional Shortbread Cookies and will begin selling those in December, along with a Spiced Christmas Jam.
Please keep our mission fundraisers in mind as you begin planning your Christmas gift-giving. Please click here to contact Becky Hazelwood with any questions.
One of the best ways that we share the love of God and the hospitality of Saint Mark is through our annual community-wide Fall Festival.
This year we will gather on the front lawn for
TRUNK or TREAT,
hotdog dinner, a fire pit with smores, games, a hayride and more! This event is free
and sure to be fun for all ages, so please come and invite your friends!
It takes many hands to make this event possible, so please click here to contact Pastor Shawna to join in the fun!
Watch for how and when you may purchase your tickets. For more information,
click here
to contact Dean Garland.
All Saints Sunday
Sunday, November 3

Remember Your Loved Ones With Roses
All Saints Sunday, celebrated the first Sunday of November every year, is a time to honor the memory of loved ones who have passed on before us.
At Saint Mark, our tradition is to mark the occasion with displays of red roses during both services of worship. You are invited to remember your loved one(s) by reserving one or more roses in their memory. The name of the deceased may be from any past year.

The cost is only $3 per rose. Make your check payable to "Saint Mark UMC" for Rose Memorial. Our worship team will purchase and arrange the roses on November 3. Please indicate the service in which you want your rose(s) displayed. You are welcome to take your rose(s) home with you after the service.

Click here
to order your rose(s) by no later than Sunday, October 27.
Annual Ministers' Cook-Off

Thursday, November 7

5:30 - 7 pm

Clemson United Methodist Church
Cost: $10 for 10 coupons


It's time to support Pastors Todd and Shawna again at the annual Ministers' Cook-Off, Thursday, November 7, from 5:30 - 7:00 at the Clemson United Methodist Church. Tickets are on sale in the church office. Tickets are $10 each and provide you with 10 coupons at the Cook-Off to sample delicious servings from the kitchens of local pastors.

As of today, 13 churches are participating but it's possible we will end up with 14 or 15. There will be salads, vegetables, breads, main-courses and desserts. Please buy your tickets today and come support our pastors and Saint Mark. All proceeds go to Safe Harbor Upstate Shelters for victims of domestic violence.
If you are paying by check, please make out to C.A.C.I.T. (Clemson Area Congregations in Touch.) If you have questions, contact Debbie DuBose, Saint Mark's representative on the Ministers' Cook-Off committee at (864) 247-0189.
Life Line Screening
Wednesday, November 20
Saint Mark Center
Life Line Screening, a leading provider of community-based preventive health screenings, is pleased to offer a preventive health event at Saint Mark. Five screenings will be offered that scan for potential health problems related to: blocked arteries which is a leading cause of stroke; abdominal aortic aneurysms which can lead to a ruptured aorta; hardening of the arteries in the legs which is a strong predictor of heart disease; atrial fibrillation or irregular heart beat which is closely tied to stroke risk; and a bone density screening, for men and women, used to assess the risk of osteoporosis.

Register for a Wellness Package which includes 4 vascular tests and osteoporosis screening from $149 ($139 with our member discount).
All five screenings take 60-90 minutes to complete.
There are three ways to register for this event and to receive a $10 discount off any package priced above $129, please call toll-free
1-888-653-6441
,
visit their website at
http://lifelinescreening.com/communitycircle
or text the word "circle" to 797979.
Wings for the Lord Lunch Theater


"Uncle Phil's Diner/Homecoming Banquet"


Sunday, November 24


11:30 am

Saint Mark Center


Tickets: $10 each

$5 for children 10 years old and under





It's just about time to reserve your tickets for the next great production by our Wings for the Lord youth choir, a 1950's musical comedy Uncle Phil's Diner/Homecoming Banquet. This show with a message is scheduled for Sunday, November 24, at 11:30 am, following one combined service in the sanctuary.





Tickets are $10.00 ($5 for children 10 and under) and will be sold in the atrium, Narthex

November 3, 10 and 17

. Or

click here

to make your reservations online.

Proceeds for this event will go toward the Wings for the Lord 2020 summer mission tour. Please come and enjoy the fun.


Got questions? Click here to contact Donna Poston.

All Saints Sunday
Parents' Night Out
Friday, November 15
5:30 - 9:30 pm
Green Dot (Bystander Intervention) Training
ELDERBERRIES EVENTS (FOR 50+)



ARE YOU 50+?


Here are some

Elderberries Events

that might interest you. Save the date(s) on your calendar.
Walhalla Oktoberfest
Covered Dish Lunch Bunch
Lunch Bunch
at 313 Cafe
Singing Christmas Tree
Berea First Baptist Church
For more information about our Elderberries ministry or any of these events,
click here
to contact Marla Fuller.
Saint Mark Youth Express Their Love
During the youth fall retreat, Camping With Christ, they decided to show a little love to Pastor Todd and Cara. Their gesture was a perfect example of this year's theme, "Love Well."
Loving Health Care Receives Award
Loving Heath Care Inc., founded and run by our own Bonnie Holmes, has been selected for the 2019 Best of Seneca Award in the Home Health Care Service category by the Seneca Award Program.
Each year, the Seneca Award Program identifies companies that the Seneca Award Program believes has achieved exceptional marketing success in their local community and business category. These are local companies that enhance the positive image of small business through service to their customers and our community. These exceptional companies help make the Seneca area a great place to live, work and play.
Our congratulations to Bonnie for receiving this well deserved award. Not only is this a business for Bonnie, but it is a ministry into which she has poured her heart and soul.
Let's End Racism!
Previously, you received some information from the Church and Society Team about the planned kickoff of a Race Relations effort called the Clemson Area Pledge to End Racism (CAPER). We would like to inform you that the originally planned Fall 2019 Workshops have been rescheduled for early next year.
Below, you will find an invitation to attend a meeting on Thursday, October 24 to learn more about this new initiative that builds nicely on the work we did earlier this year at the Racism and Its Impacts series at Saint Mark UMC.
We do hope that you can attend this important Information Session on Thursday, October 24 and ultimately that you will sign up to participate in the Workshops.
If you have any questions,
click here
to contact Danny Markus, or call him at (864) 508-6622
(please note, this is a new phone number)
* * * * * * * * * * * *
Clemson Area Pledge to End Racism
Information Session
When:
Thursday, October 24, 2019
5:30pm* - 7:30pm (rsvp required)
Where:
Unitarian Universalist Fellowship of Clemson
226 Pendleton Road in Clemson
Information session highlights:
Light supper served *(5:30-6:00pm)

Welcome and introductions

Reflections on "why and why now"

Pledge origins and workshop overview

Facilitated small group discussion

On-site workshop registration

Learn about other local events

Volunteer opportunities
Worship Events at Ann Hope
United Methodist Church In Utica
Ann Hope UMC has some community events coming up and you are invited to attend. This Saturday, October 12 at 9 am, Ann Hope UMC will host a prayer walk through the Utica Village.

Ann Hope will also host a community tent revival October 20, 21, 22 and 23 at 6:30 pm. Our own Gospel According to Saint Mark Singers will be providing special music on Tuesday, October 22.

Everyone is welcome to attend.

For more information,
click here
to contact Rev. Matt Turner, pastor of Ann Hope UMC.
Volunteers Needed for BabyRead
BabyRead is an early literacy program dedicated to low-income families in Oconee County. Volunteers are needed to read to moms and their babies or toddlers at public or school libraries twice a month for one hour each time
.
They are, also, looking for volunteers in management, leadership, and administrative positions.
To become a BabyRead volunteer click here to email Caren at babyread@charter.net. To learn more about BabyRead, click here to go to their website.
UMW Is Asking For Your Help


United Methodist Women (UMW) is starting up their fundraising project and they are looking for donations of fabric. If you have fabrics that are fall or Christmas themed and would like a place to get rid of them please consider giving them to our UMW. All sizes can be donated down to 8 inches.

There will be marked baskets in the Narthex and both atrium entrances for you to place your fabrics.

For more information,
click here
to contact Kim Herren. Thank you for your help!
A Heartfelt Note of Thanks!
I would like to say thank you to the members of Saint Mark for their prayers, their words of encouragement, and their support. Although my recovery has been an experience I hope I do not have to go through again, what made it easier for me was knowing everyone was pulling for me.
Basil Carney

SAINTS IN SERVICE
HELPING YOU PLUG IN . . .
LET US KNOW HOW YOU WANT TO PLUG IN!
Click here
to discover the many ways to serve at Saint Mark. Fill out the form and submit it. We will get you plugged in!