To Be and Make Disciples of
Jesus Christ
Change of

Contact Information?
Click here
to fill out an online form to help us update your information for our records.
Contact Us?
Saint Mark UMC

Call us:
9 am - 5 pm (M-Th)
(864) 882-2603
Pastoral Care
Emergencies or after regular office hours
call or text
(864) 888-7072
Saint Mark 2019 Ministry Guidebook
Click here
to view the entire Saint Mark 2019 Ministry Guidebook with information about church structure, leadership, ministries and our 2019 budget.
Check Out Our Entire Church
Calendar of Events
Click here
to see what is going on at Saint Mark this week and the weeks to come.
WORLD COMMUNION SUNDAY
Sunday,
October 6
Sunday
9:00 am
for all ages
9:55 am
Fellowship Time in the Atrium
In His Eyes (youth)
Wings 'N Things (youth)
Listen to Last Week's Sermon Today
If you were not able to attend worship on any given Sunday, you can still listen to the sermon.
Click here
to select and listen to sermons that you may have missed.
Got Good News To Share With Your Saint Mark Family?
Good news lifts our spirits. Share your good news with us. We will publish your good news in our
"People 'Neath Our Steeple"
feature. Your news will be sent out as an email.
Click here
to share your good news (achievements, births, awards, etc.). Include pictures if you have them.
Prayer Focus for This Week
A Prayer for World Communion Sunday
Jesus prayed that we might be one.
One in spirit,
One in mission,
In union and communion with each other and with You.
God, we confess fumblings and failures in accomplishing unity, as we set aside yet another day to remind ourselves of the task.
On this upcoming World Communion Sunday, give us eyes to recognize Your reflection in the eyes of Christians everywhere.
Give us a mind to accept and celebrate our differences.
Give us a heart big enough to love Your children everywhere.
We thank You for setting a table with space enough for us all!
Submit Your Prayer Requests
Saint Mark is pleased to receive your prayer requests . . . for yourself or for friends or loved ones.
Click here
to submit your request to Pastor Todd Davis.
THIS YEAR'S CHURCHWIDE THEME
Come to worship this World Communion Sunday prepared to participate in the sacrament of Holy Communion. As you receive the bread and cup, remember that you are part of the Church Universal, united in Christ across time and space.
THIS Sunday, October 6
Traditional Worship
with Holy Communion
10:15 am in the Sanctuary
"A Sign of Hope"
bringing the message
Rev. Todd Davis
Celebration Worship
with Holy Communion
10:15 am in the Saint Mark Center
"Sustaining Grace"
bringing the message
Rev. Shawna Darnall
Alms Offering This Sunday
The alms offering today will primarily support the work of the Ride to Work ministry, a local non-profit that temporarily provides rides to people in our area who want to work and can find a job, but need transportation while they save money to buy or fix a vehicle. Riders pay a portion of the cost and Ride to Work subsidizes the rest, thanks to the support of people like us.
RTW has given more than 5000 rides and the requests for this ministry are increasing, so they are also looking for volunteer coaches and schedulers. These are the folks who help riders set up budgets and goals for the 2-3 months they are in the program, and/or help do the actual scheduling of rides with UBER and LYFT. If you can help, please check out their website at rtwministry.org. Thanks for your support!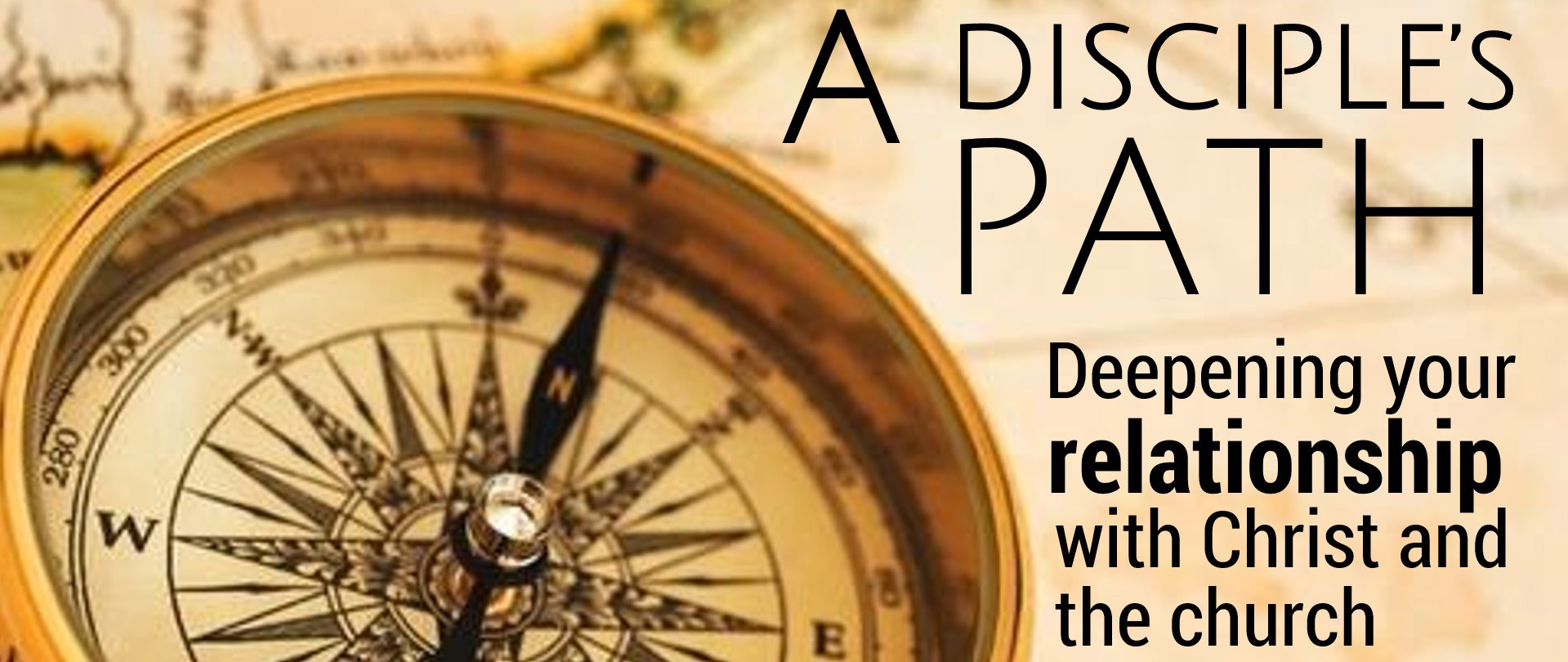 A Disciple's Path
As the people of Saint Mark, we are a people who connect faith and life, and understand our mission is to be and make disciples of Jesus. A Disciple's Path is a six-week study that explores what a life connected to God and connected to others is all about. It examines some of the essential elements of discipleship: prayer and meditation, study and reflection on Scripture, financial generosity, invitational evangelism, worship, small group community and gifts-based service.
If you are just joining our family of faith, haven't yet had an opportunity to participate in this study, or would like to participate in this study again please click here to email Pastor Shawna
to express your interest. This group will gather once a week for six weeks beginning early in October, with the exact time being determined by the group's members.
For more information, click here to contact Donna Poston, Minister of Youth and College Discipleship.
Our blessing of the pets marks the feast of the beloved St. Francis, who was known to love, respect and appreciate all of creation.
All animals are welcome. If your pet is prone to anxiety around other animals, elopement, or is not easily taken out of the home, feel free to bring a picture instead.
Weather permitting, we will be in the parking lot outside of the Commons Room, otherwise we will be in the Saint Mark Center.
Invite your friends and neighbors!
We are back in the swing of our fall schedule. If you weren't able to join us for our September Gathering, consider being part of our next one - on Wednesday, October 9.

The Gathering, is our monthly midweek event that features delicious food and great fellowship. What's for supper???

Menu for October 9

Cost

Adults (18 and older) - $7 each
Families (2 adults and 2 children) - $18
Extra children - $3 each

Children/Youth (5 - 18 yo) - $3
Children 4 and younger - FREE
Click here
to add your name to the Master List (for the entire program year 2019-20), or to make a reservation for October 9 only.
A Gathering Program Offering for Adults

Are you interested in conversation about how we approach the Bible? How we let it speak to us? Are you wanting to discuss passages of scripture with others?
As a part of The Gathering, on the second Wednesday of each month, there is an opportunity for interested adults to gather and study the gifts of scripture with Pastor Shawna.
For more information click here to contact Pastor Shawna.
You don't have to be a member of the Chancel Choir to sing. For more details,
click here
to contact David Wilcox, or call him at the church office (864) 882-2603.
Please join us in prayer for the persons and situations listed below:
We Extend Our Sincere Sympathies and Prayers to:

Debbie Hammett and Family
on the death of Debbie's mother, Dot Looney. Ms. Looney's life and faith was celebrated at Saint Matthew's UMC in Greenville on Tuesday, October 1.
Personal Prayer Notes:
Christie - Friend of Cara Davis recently diagnosed with breast cancer.
Jim Atkinson - Had surgery on his knee on August 30 at Emory. He is at Lila Doyle for rehabilitation.

Sarah DuBose - She had surgery last Wednesday to remove a cancerous lesion in her mouth. The operation was a success and she is home recuperating. The pathology results show that all cancer has been removed, all other areas are clear. And she will not need any follow up treatment, other than regular check ups. She plans to rejoin her church activities after Christmas and take a path of spirituality, wellness, and service!
Charlie Garcia - Charlie had colon surgery on September 26 to repair issues related to Crohn's disease. Surgery went well but still in hospital in Greenville.
Bill Nelson - Continues at Seneca Rehabilitation following hospitalization
Kathryn Newsome -
Kathryn Newsome is mother of Kathy Graves sister-in-law in Dade City, Florida. She is receiving Hospice care for cancer of the kidney and liver.
Sallie Wigington - Recently diagnosed with non Hodgkins Lymphoma. She cannot receive visitors, but greatly appreciates our healing prayers.
Do you have a prayer request? Click here to share your request with your church family.
For more information,
click here
to contact Lynn Dobson, Chair of SPRC (Staff/Parish Relations Committee.
Memory Café October Event
Hayride at Denver Downs
Monday, October 14
Meet at the church at 10:30 am to carpool
On Monday October 14th, Memory Cafe participants will be visiting Denver Downs. The group had so much fun last year there. They went for a hayride, picked up pumpkins from a field that they were able to keep, visited with farm animals that they were able to feed and pet, and had lunch which they brought from home. They plan to repeat those same activities this year.
Plan to meet at Saint Mark United Methodist Church at 10:30 am to carpool to Denver Downs where the group will meet with their tour guide. If you would like to join, call Bonnie Holmes at (864) 916-9204 as soon as possible..
Memory Café is a place where family caregivers and their loved ones with beginning to intermediate stages of dementia can come together to learn, laugh, cry and meet others in a similar circumstance. For more information on this trip and other coming activities for Memory Café be sure to call Bonnie.
Saint Mark Child Development Center
Parents' Night Out
Friday, October 18
5:30 - 9:30 pm
Children from infants up to 12 years old are welcome. The cost is $10 per hour for one child, $15 per hour for two children and and so on. You pay by the hour. To make your reservation, or for more information, click here to contact Becca Williams, CDC director.
Elderberries, Let's Go to the
Walhalla Octoberfest!!
Enjoy crafts, delicious food, German music and dancing with your Saint Mark Elderberries friends.
At 10 am on Saturday, October 19, we will gather at Sertoma field in Walhalla, 272 Tulip Drive, Walhalla SC 29691.
Transportation is available by request.

Our October Elderberries Lunch Bunch will be at the church, this time. We will enjoy a taste of fall with a variety of fall soups and apple cider. We invite you to bring a salad or a dessert to make the meal complete. There will be no cost for this event.

One of the best ways that we share the love of God and the hospitality of Saint Mark is through our annual community-wide Fall Festival.
This year we will gather on the front lawn for
TRUNK or TREAT,
hotdog dinner, a fire pit with smores, games, a hayride and more! This event is free
and sure to be fun for all ages, so please come and invite your friends!
It takes many hands to make this event possible, so please click here to contact Pastor Shawna to join in the fun!
Watch for how and when you may purchase your tickets. For more information,
click here
to contact Dean Garland.
All Saints Sunday
Sunday, November 3

Remember Your Loved Ones With Roses
All Saints Sunday, celebrated the first Sunday of November every year, is a time to honor the memory of loved ones who have passed on before us.
At Saint Mark, our tradition is to mark the occasion with displays of red roses during both services of worship. You are invited to remember your loved one(s) by reserving one or more roses in their memory. The name of the deceased may be from any past year.

The cost is only $3 per rose. Make your check payable to "Saint Mark UMC" for Rose Memorial. Our worship team will purchase and arrange the roses on November 3. Please indicate the service in which you want your rose(s) displayed. You are welcome to take your rose(s) home with you after the service.

Click here
to order your rose(s) by no later than Sunday, October 27.
Annual Ministers' Cook-Off


Thursday, November 7


5:30 - 7 pm


Clemson United Methodist Church



Mark your calendar now for the next Annual Ministers' Cook-off. Sample some great food and cheer on our Saint Mark clergy!

A Community Event
Saint Mark Fall Festival
with Trunk or Treat
Annual Lions Club BBQ
All Saints Sunday
ELDERBERRIES EVENTS (FOR 50+)



ARE YOU 50+?


Here are some

Elderberries Events

that might interest you. Save the date(s) on your calendar.
Walhalla Octoberfest
Covered Dish Lunch Bunch
Berea First Baptist Church
For more information about our Elderberries ministry or any of these events,
click here
to contact Marla Fuller.
Frank and I recently had the privilege of attending The Faith Sharing Workshop at South Main Chapel and Mercy Center in Anderson, SC. The workshop was led by Reverend George Donigian (Shiloh UMC). Reverend Donigian used scripture (Mark 5:19, John 1:41-42,45 and John 4:28-29) to affirm that sharing our faith is about having a relationship. He reminded us Jesus entered our world. The mnemonic he gave us was F.R.A.N. . . . FRIENDS, RELATIVES, ACQUAINTANCES, NEIGHBORS.

Reverend Donigian identified 4 principles in faith sharing:

1. The importance of the relationship
2. Speak the language of the hearer
3. Be sensitive to openness, i.e. life changes
4. Recognize the Holy Spirit is preparing people
Reverend Donigian sees sharing our faith as a way to reclaim our Methodist faith through invitation, through sharing. We need our Christian faith because it brings love, mercy, grace, forgiveness, comfort and salvation. Faith gives our lives meaning and purpose. Our motivating factor in sharing our faith is LOVE. We share our faith because our identity is in Christ.

Margaret Axson
Evangelism Team Leader

Recommended reading on this topic is the book, The Faith Sharing Congregation by Roger Swanson and Shirley Clements.

The United Methodist Church is committed to ending the horror of domestic violence.
Our Social Principles address family violence and abuse.
We recognize that family violence and abuse in all its forms-verbal, psychological, physical, sexual-is detrimental to the covenant of the human community. We encourage the Church to provide a safe environment, counsel, and support for the victim. While we deplore the actions of the abuser, we affirm that person to be in need of God's redeeming love (2012 Book of Discipline.)
October is National Domestic Violence Awareness Month, which came into being in 1981 by the National Coalition Against Domestic Violence.
Domestic violence affects millions, both women and men, of every race, religion, culture and status. It's not just punches and black eyes -- it's yelling, humiliation, stalking, manipulation, coercion, threats and isolation. It's stealing a paycheck, keeping tabs online, non-stop texting, constant use the silent treatment, or calling someone stupid so often they believe it.
Since the Violence Against Women Act passed in 1994, we've come a long way. This landmark legislation combined new provisions that hold offenders accountable and provide programs and services for victims. Between 1993 and 2010, the overall rate of domestic violence dropped nearly two-thirds and state laws have reformed to address issues such as dating abuse in the workplace, stalking, employment discrimination and more.
You are invited to help break the cycle: Here are just a few ways that's happening this month:
#VoicesHavePower:

The National Coalition Against Domestic Violence partnered with HopeLine from Verizon to raise awareness through their

#VoicesHavePower campaign

through the end of October. For every message that contains the hashtag #VoicesHavePower, is submitted through the website or is texted to #94079, Verizon will donate $3 towards preventing domestic violence. Let your voice be heard and send a message right now!
NFL and The Hotline:

The National Domestic Violence Hotline, which helps service the loveisrespect peer advocate lines of communication, has helped over three million callers since it began. Now they're teaming up with the National Football League, which will provide significant resources to meet demand for services. This means more people than ever will be able to call and receive support about their relationships.
Nearly three out of four Americans personally know someone who is or has been a victim of domestic violence. Now is time to take a stand. Support survivors and speak out against domestic violence all month long . . . and beyond.
If you need assistance or want to talk to someone about domestic violence, call 1-866-331-9474 to speak with a trained peer advocate.
UMW Is Asking For Your Help


United Methodist Women (UMW) is starting up their fundraising project and they are looking for donations of fabric. If you have fabrics that are fall or Christmas themed and would like a place to get rid of them please consider giving them to our UMW. All sizes can be donated down to 8 inches.

There will be marked baskets in the Narthex and both atrium entrances for you to place your fabrics.

For more information,
click here
to contact Kim Herren. Thank you for your help!
Saint Mark Child Development Center

"Last Fundraiser of the Year!!"



This fundraiser runs from today through next Thursday, October 10. The cost is $8 per dozen. You may pick up your donuts on Tuesday, October 15. Place your order on the order sheet located in the atrium, or click here to contact Becca Williams, CDC Director.

Everyone loves donuts!! Purchase them for a great cause!

SAINTS IN SERVICE
HELPING YOU PLUG IN . . .
LET US KNOW HOW YOU WANT TO PLUG IN!
Click here
to discover the many ways to serve at Saint Mark. Fill out the form and submit it. We will get you plugged in!