Episcopal Church
Blue Springs, Missouri 64015
VIRTUAL EUCHARIST AND PALMS.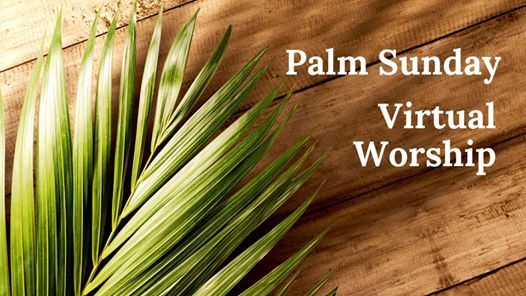 Tomorrow we will celebrate Palm Sunday virtually on Facebook Live beginning at 10:30 am and ask you to
consider these suggestions to prepare for worship:
Have your favorite choice of wine ready.
Bring in a green branch cutting from your bush or tree to serve as a palm. There will be a ceremonial blessing of palms before the Liturgy of the Word.
When the service begins and you hear the opening hymn (All Glory Laud and Honor),waive your branches and sing.
During the Eucharistic Prayer, hold up your bread and wine as the bread and wine from

the altar is consecrated. After Fr. David partakes, he will bless you virtually and

please receive the body and blood of Christ. After communion, please consume all the

bread and wine that was consecrated, or pour the wine in the garden along with the

bread that remains.
Unleavened bread recipe:
6 T of butter,
1 T honey,
¼ t of salt,
1 T brown sugar,
2 C flour,
¼ C water,
3 T milk.
Mix the wet with dry ingredients until a ball forms. Knead to proper feel. Roll to ¼" thick. Form into a
circle. Bake in a preheated oven of 275 degrees for 10-20 min.
Holy Week services on-line
ALL SERVICES ON FACEBOOK LIVE.
Monday April 6 and Tuesday April 7
Morning Prayer at 10:00 am
Eucharist/foot washing at 7:00 pm, followed by virtual vigil at Altar
of Repose until 6:00 am
Veneration of the Cross & Good Friday Liturgy at 7:00 pm
Morning Prayer at 10:00 am
Easter Sunday Festival Holy Eucharist at 10:30 am
Click Here for: