National Recognition of Northwestern Faculty
was recognized for her outstanding achievements and contributions to science by being named a
2016 American Chemical Society Fellow
. Prof. Odom's research lab focuses on "controlling materials at the 100-nanometer scale and investigating their size and shape-dependent properties. [They] have developed massively parallel, multi-scale nanopatterning tools to generate noble metal structures that can manipulate visible light at the nanoscale, including a
for fabricating materials for nanophotonic and sensing applications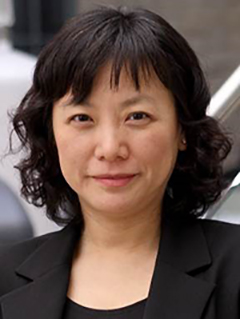 was recognized by the Society of Manufacturing Engineers with
the
2016 SME International Honor Award
. Prof. Cao's research focuses on innovative manufacturing processes and systems, including
laser-induced plasma micromachining
and a
desktop micro surface texturing system.



was honored with the Royal Society of Chemistry's Soft Matter and Biophysical Chemistry Award. He was recognized for his contributions to the science of supramolecular soft matter and for demonstrating its value to control biophysical interactions with mammalian cells. For example, he discovered
self-assembling peptide ampliphiles
that form nanofibers for tissue scaffolding or other
peptide ampliphiles that promote neurite growth.
..........................................................
NU Innovation Recognition in the Media
Feinberg Prof. Stephen Miller and former McCormick Prof. Lonnie Shea received media attention by
Scientific American
after a recent publication in the
Proceedings of the National Academy of Sciences. The collaborating scientists are developing a new way to treat allergies using nanoparticles that cloak allergens and help teach the immune system not to attach safe allergens.
Feinberg Prof. Dane Chetkovich, published a paper in
Molecular Psychiatry showing his work that gene therapy targeting the hippocampus may be an additional anti-depression therapy. The work was covered in
The Science Explorer
.

McCormick Prof. Michael Jewett was cited by
Nanowerk
for his significant work in synthetic biology.
Feinberg Prof. Teresa Woodruff and McCormick Prof. Ramille Shah have collaboratively worked to develop a way to 3D-print mouse ovaries. When implanted into mice, whose ovaries were removed, they allow the mice to ovulate, give birth and nurse. Watch "Form Following Fertility: Innovations in Complex Tissue Engineering" by Monica Laronda in her
TEDx Talk
. Coverage by
Chicago Tribune.
..........................................................
licensing & option agreements

since
January 1, 2016
..........................................................
Wildfire Demo Day at The Garage (Aug 25).
The Garage offered a 10-week accelerator program, providing student startups access to workspace, mentorship, entrepreneurship curriculum and a $10,000 stipend. Teams will present at
Demo Day
.
Time: 5:30. Location:
Evanston

INVO Seminar (Oct 5):
Commercialization of Research Tools. Our guest speaker from Millipore will be

sharing an industry perspective on their considerations as they select and develop platforms to bring to the market. Time 4pm. Registration information will be available here. Location:

Evanston

The Garage Seminar (Nov 9): Startups 2.0.
Osage Partners will give a primer on startups addressing company formation, funding, creating an elevator pitch and pitch deck and how VCs assess opportunities and develop investment memos.
Registration information will be available here.
Time: 5pm. Location:
Evanston


INVO Seminar (Nov 10): Venture Capital.
Osage
Partners will lead an in-depth
look at the workings of VC investment decisions including who/how/when to approach VCs, making the pitch, investor due diligence, ter

m sheets, and syndication
. The talk is geared towards faculty, staff, post-docs or students.

Registration information will be available here.

Times: TBD. Locations: Evanston and Chicago
................................

The Innovation and New Ventures Office inspires and nurtures a culture of innovation, bridging Northwestern research with its practical use for public benefit.


INVO

1800 Sherman Ave, Suite 504

Northwestern University

Evanston, Illinois 60201

..........................................................
Faculty Startup Milestones

Weinberg Prof. Chad Mirkin's public company,
Nanosphere was acquired b
y Luminex for $58M at $1.35/share.
Click
here
for the Press Release.
Nanosphe
re has developed
the
Verigene Sys
tem, a point-o
f-care molecular
diagnost
ic tool that enables clinicians to deliver timely and targeted therapy for critical life-threatening infectious diseases.
Transplant Genomics
, co-founded by Feinberg faculty physician, Michael Abecassis, entered an Immunosuppressive Clinical Trials collaboration with Astellas Pharmaceuticals. Click
here
for the Press Release. Transplant Genomics is a molecular diagnostics company that intends to improve organ transplant management and outcomes through tests that detect early signs of graft injury, differentiate among actionable causes and enable optimization of therapy.
TRACT Therapeutics
received FDA approval for Phase 2 trials using patients' immune cells. Click
here
for coverage on this milestone. TRACT is a biotech company developing personalized regulatory T-cell therapies to help restore immune balance to transplant recipients so their bodies will accept the foreign organ instead of rejecting it.
Bold Diagnostics
successfully completed their participation in CIMIT, the Center for Integration of Medicine and Innovative Technology, in Boston.
More information
.
..........................................................
SiNode Systems,
a Northwestern startup commercializing technologies by McCormick Professors Harold Kung and Jiaxing Huang, won a $4M award from US Advanced Battery Consortium to create electric cars. Half of the award is funded by the US Department of Energy. Click here for the Crain's article covering this milestone.
Hazel Technologies won the $500k Clean Energy Trust Award. Hazel has created two primary products: (1)
FruitBrite™
is a carton insert that extends the shelf life of ethylene sensitive produce; and (2)
Berrybrite™ is a berry clamshell insert that uses a blend of essential oils to increase the shelf life of berries by up to 3x in cold storage. The
Chicago Tribune
covered this achievement.
Luna Lights
recently raised $225k from
various investors
. Luna Lights is an automatic lighting solution that prevents night time falls, by automatically turning on mountable lights when a user gets out of bed. The system illuminates potential trip hazards and creates a lighted, guided path through a dark home.
The Northwestern Center for Device Development (CD2) team that created
Bold Diagnostics
was awarded the National Science Foundation's SBIR Award for $225k to further develop their new cuffless blood pressure monitoring technology--an impressive award considering they have only been together for less than one year. Congratulations to the rock star CD2 team: Kyle Miller MD, Jay Pandit MD, Sean Connell PhD and Andrew Wu MS.
Preora Diagnostics
won 2nd place at the 2016 PROPEL competition.

MDAR
won 4th place at the University of Oregon's New Venture Championship.
Surginet
won 1st place ($20k) at the Northwestern University Venture Challenge.
Nort
hwestern startups performed well at the
Rice Business Plan C ompetition. Overall finishes included
Hazel Technologies
(3rd place),
Bold Diagnostics
(4th place), and
MDAR
(6th place). Hyperlinks for respective elevator pitches are:
Hazel Technologies
,
Bold Diagnostics
, and
MDAR
. In addition, Bold Diagnostics won over $125k in prizes.
..........................................................
INVO Welcomes Two New Colleagues:
Vara Prasad Josyula & Lisa Dhar
Vara Prasad
Josyula, PhD
Invention Manager
Vara brings over twenty years of pharmaceutical research and development experience to INVO, working with both large multi-national pharmaceutical and small bio-tech companies. He started as a senior chemist with Parke-Davis and moved up the ranks to Research Fellow with Pfizer. Later, he worked as a Senior Director with PTC Therapeutics. He is an author/co-author of over 75 publications in peer-reviewed journals and inventor/co-inventor of over 35 patents/patent applications. Vara Prasad earned his M.S. in Chemistry from Indian Institute of Technology, Roorkee and Ph.D. in Chemistry
from Indian Institute of Technology, Chennai. He is certified to practice before the United States Patent and Trademarks Office.
Vara joined the INVO team in March 2016 and primarily manages technology portfolios in medicinal chemistry, life sciences and biomedical engineering.


Lisa Dhar, PhD
Director of New Business Ventures for Engineering at INVO and McCormick School of Engineering and Applied Science
Lisa is a faculty member of the Farley Center for Entrepreneurship and Innovation. Lisa was co-founder and vice president of InPhase Technologies, a company spun out of Lucent Technologies and was most recently the Senior Associate Director of the Office of Technology Management at the University of Illinois at Urbana-Champaign. Lisa has served on the National Academies' Assessment Panel on Materials Science and Engineering at the National Institute of Standards and Technology (NIST) and on the Advisory Board for University of Colorado's Women in Engineering Program. Lisa holds a Ph.D. in Physical Chemistry from the Massachusetts Institute of Technology and a B.S. in Chemistry from the University of Chicago.
..........................................................
$10M N.XT and $4M NUseeds FUNDS ANNOUNCED
This spring, Northwestern announced the launch of two funds to support the commercialization of technologies by faculty and students. The
N.XT Fund
is geared towards technologies that are patented by Northwestern and typically are discoveries based on faculty research. The NUseeds Fund, managed by The Garage, offers seed investment for student startups.
Chicago Tribune article
.
INTERNSHIP PROGRAM: INVO PRACTICUM
The INVO Practicum welcomed its 4th cohort of interns in July. They include: (left to right)
Laura Whittenburg
(MS, BME, McC),
Rachel Lander PhD
(Post-Doc, Molecular Biosciences, Weinberg),
Jose Martinez
(PhD, Chemistry, Weinberg), and
Natalie Greco PhD
(Post-Doc, Cell & Molecular Biology, Feinberg). INVO is fortunate to have two senior interns (not pictur
ed) stay beyond their 6-month program:
Hilary Chase
(PhD, Chemistry, Weinberg) and
Yunli Ma MS
(McCormick)
.
After intense training, INVO interns gain hands-on experience with performing patentability assessments and market analyses and marketing technologies. Some of our interns have moved onto a variety of positions including tech transfer offices at the Ludwig Institute for Cancer Research, Rice University, and MIT. Others have taken positions as technical specialists in industry and law firms. One intern moved onto a tenure track professorship at another university. INVO is extremely proud of their accomplishments. Applications for the January 2017 cohort are available online at this
link.
CD2 FELLOWS PROGRAM
The
CD2 Innovation Fellowship
has come to a close. The final class of innovation fellows, (
Andrew Wu, MS, Kyle Miller, MD, MBA, Jay Pandit MD, and Sean Connell PhD
) completed their business plan competition circuit with a 4th place finish at the Rice Business Plan Competition along with over $128,000 in prizes.
BOLD Diagnostics
received many recognitions, including: $5,000 Rice Business Plan Competition Fourth Place Award sponsored by Ernst and Young; $25,000 Cisco Internet of Everything Innovation Challenge Prize; $25,000 TMCx Digital Health Accelerator Prize; $20,00
0 NASA Earth/Space Human Health and Performance Innovation Cash Award; $50,000 TiE RBPC Angel Investment Prize; $3,000 Best Written Business Plan sponsored by Palo Alto Software; Mercury Fund Elevator Pitch Competition 4
th
Place Prize; 2016 Rice Business Plan Competition Semi-Final Round Flight 2 1
st
Place Award. INVO is grateful for the generous funds donated by devoted Northwestern philanthropists who have allowed us to explore medical innovation and commercialization through McCormick and Feinberg over the last three years.
I2C SUMMER FELLOWSHIP GRADUATES ITS 3RD COHORT
The I2C Summer Fellows completed their INVO program with final presentations on August 5. The six fellows pictured below (left to right) are:
Smit Naik
(MBA, Kellogg),
Hongbin Zhu
(JD/MBA, Pritzker/Kellogg),
Amir Vahabikashi
(PhD, McCormick),
Seoan Huh
(PhD, Feinberg),
Stephanie Niemczyk
, (PhD, Feinberg) and
Yali Li
(LLM, Pritzker). The mission of the I2C program is to help commercialize Northwestern intellectual property assets by allowing our graduate students take a deep dive into addressing the needs of our technologies or startups. This summer, they made significant progress on twelve projects in the following areas: medical devices, diagnostics, software, nanotechnology, therapeutics, and research tools. One I2C fellow from Kellogg, Smit
Naik, said, "As an MBA candidate, I've found that my time working alongside Northwestern inventors as well as other passionate, intelligent fellows has been absolutely pivotal in shaping the way I understand the intersection of science and business. The I2C Fellowship has catalyzed my growth in an amazingly meaningful way." Alicia L
ö
ffler Associate Provost for Innovation and New Ventures stated, "The work that the fellows achieved was outstanding and will help inform INVO of the commercialization strategies for these innovations. At the same time, the fellows gained important practical business experience that will open the doors to a variety of career opportunities."
..........................................................
TWITTER
Follow us on
Twitter
(
@INVOatNU
) where we tweet news related
to INVO, Northwestern technologies and startups, and local entrepreneurial activities.
LINKEDIN
Connect with INVO through our group on
LinkedIn
. INVO will utilize this new group to highlight news on Northwestern technologies that are either available for licensing or being commercialized by a startup.
YOUTUBE
Check out our new Innovation and New Ventures @Northwestern channel on YouTube for direct access to our videos.