"Demonstrating Unity in the Power of the Spirit"
Immanuel Everyday: Seasonal Thoughts on Practicing the Presence of God Everyday
"The virgin will be with child and will give birth to a son, and they will call him Immanuel ... 'God with us' " (Matthew 1:23).
The holy wonder of the Incarnation is the good news of Christmas, but Immanuel is more than just the baby in the manger. It's more than a 2,000-year-old miracle. Immanuel means more than God being with us in some abstract theological way. Immanuel means God with us right here and now. If Jesus has really done this-brought us into the embrace of the Mighty God through the flesh and blood He shares with us-then it's a miracle we can live out any day, not just Christmas Day.
But how do we actually live it? How do we live with an awareness of God when we are awash in the messy churning of daily life, when we barely have a spare minute to ourselves, let alone a sweet hour of prayer?
I used to feel guilty when, as a new mom, I didn't have time for a lengthy, uninterrupted quiet time with God. I wanted it. I desperately needed it. But I couldn't seem to make it happen.Then I discovered an old book called
Practicing the Presence of God
by Brother Lawrence, a 17
th
-century dishwashing monk. He learned to recognize God as "intimately present with us" at every moment of the day. Slowly, this concept began to transform how I thought about my time with God. I began a new practice-call it a habit, if you will-of living my days along with Jesus. Of living with Immanuel, the One who wants to live with us.
Read more
--
by Lindsey Gallant,
Pentecostal Assemblies of Canada "
Testimony Magazine"
Members on the Move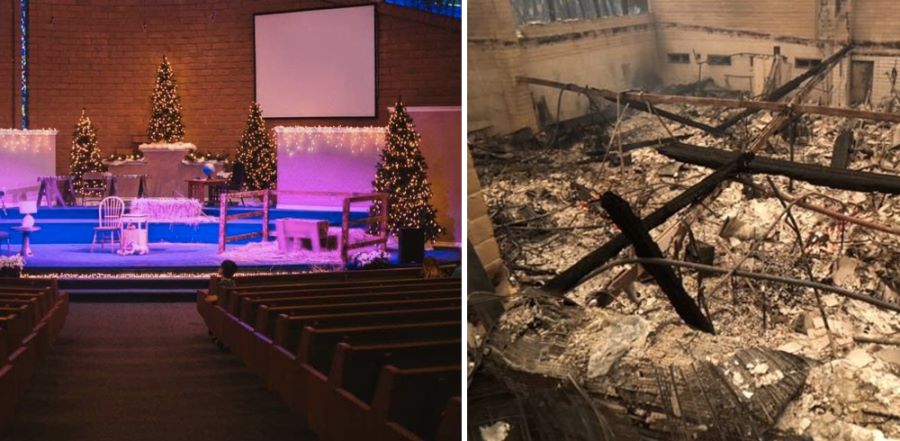 "Pray for Rain" -- California Fires Still Raging
The Camp Fire, currently burning in Northern California, has officially become the deadliest in California history as 48 deaths have now been attributed to the fire, with more than 8,800 structures destroyed and 135,000 acres burned. Those structures now confirmed destroyed include First Assembly of God and Skyway AG in Paradise. There has been no further news about the Stirling City AG.
It has been estimated that only 10 to 20 percent of Paradise survived the blaze, as schools, churches, homes, and businesses all succumbed to the fast-moving fire. Bret Allen,
Northern California and Nevada district
superintendent, reports the Skyway AG parsonage, home to Pastor Mike Thompson, was one of the few structures to survive.
Read more
| | |
| --- | --- |
| | |
| | COGIC Bishop Charles Blake |
Bishop Blake: COGIC Committed to Memphis Year-round
For 102 years, the Church Of God In Christ held its Annual Holy Convocation in the city of Memphis. On average, over 30,000 congregants converged on the city each year to celebrate our rich, spiritual heritage and to have a soul-stirring encounter with God. Annually, the Church Of God In Christ infused approximately $35 million into the Memphis economy.
Read more
(COG) Prayer Training to Take Place During Agree '19
Cleveland, TN-In conjunction with Agree 19, the January 7-9, 2019 prayer convocation at the International Offices, Church of God Prayer Ministries will host a Strategic Prayer Training, Tuesday, January 8 through Thursday, January 10, 2019. Administrative bishops, state prayer leaders and teams, key pastors and leaders who might help with some aspect of the prayer process are invited to attend.
Read more
Start 2019 With a Worship Intensive
Renowned leader, author, songwriter and pastor William McDowell will launch the Deeper Worship Intensive (DWI) next year. The inaugural Deeper Worship Intensive, slated for Jan. 30, 2019 - Feb. 2, 2019, in Orlando, Florida, will be four days of general sessions, workshops, learning experiences, discussions and mentorship aimed at impacting the worship community.
Unlike any conference or initiative, Deeper Worship Intensive offers a comprehensive four-day gathering to instruct and educate worship leaders, ministers, songwriters and singers to help to develop skills and knowledge vital to the progress and development of worship music for the next generation.
Read more
Register now for the 2019 Annual Meeting: Celebrating 25 Years of Breakthrough
Twenty five years ago, the 'Memphis Miracle' that spurred the creation of the Pentecostal Charismatic Churches of North America was born. PCCNA is remembering that miraculous moment when a white Assembly of God pastor, Donald Evans, washed the feet of a black minister, Bishop Ithiel Clemmons of Church of God in Christ. Pentecostal historian, Dr. Vinson Synan, recounts
that moment here that broke walls down
between black and white Pentecostals.
On March 19, PCCNA members and friends will gather to commemorate that historic occasion as well as celebrate with future next generation leaders in the church. A service will be held at Mason Temple on Tuesday, March 19 which is open to the public. Here are the details about the 2019 PCCNA Annual Conference:
Where: Memphis, TN

When: March 19 - 21, 2019
Venues: The Guest House at Graceland (Hotel),
3600 Elvis Presley Boulevard
Memphis, TN 38116 (901) 443-3000

Church of God in Christ World Headquarters
Mason Temple
930 Mason Street,
Memphis, TN 38126 (901) 947-9300
Highlights:

25th anniversary of PCCNA and the Memphis Miracle.
Experience the grand celebration at Mason Temple on Tuesday evening, March 19th.
Pentecostals celebrating the 500th anniversary of the Protestant Reformation with a tree planting at Mason Temple, March 19th .
Prescreening the 20th Century Fox movie, Breakthrough, to be released in theaters April, 2019. A miracle resurrection story.
Passing a Spirit-Empowered Faith to the Next Generation - launching a visionary three-year initiative with Spirit-filled Next Gen leaders present from multiple PCCNA member denominations and church networks
Registration:

Members and sponsors only: October 1 - December 31, 2018
Visitors and guests: January 1 - February 15, 2019
Registration limited to 200 guests
Community welcomed and invited to attend Tuesday evening, March 19th celebration without registration
" But you will receive power when the Holy Spirit comes on you; and you will be my witnesses in Jerusalem, and in all Judea and Samaria, and to the ends
of the earth." Acts 1:8 (NIV)
Jeff Farmer, President

Pentecostal/Charismatic Churches of North America