Indoor Dining Permitted Starting February 1
The Michigan Department of Health and Human Services (MDHHS) released a new public health emergency order that will allow restaurants and entertainment-related food concessions to restart in-person dining services beginning on Monday, 2/1/21, subject to a number of limitations and restrictions.
The order, which is effective 2/1/21 through 2/21/21, continues to prohibit in-person work that can be performed remotely. While the new order does not directly impact manufacturing operations, it continues the gradual re-opening of MIchigan's economy.
---
John Walsh Appointed to Governor's Protect Michigan Commission
MMA President & CEO John J. Walsh has been appointed by Governor Gretchen Whitmer to the Protect Michigan Commission. Announced in December, this statewide bipartisan commission will advise Governor Whitmer and the Michigan Department of Health and Human Services (MDHHS) on policies to ramp up COVID-19 vaccinations to protect the health and safety of Michigan residents and to accelerate the state's economic recovery.
John and the members of the commission will work quickly to elevate and reinforce the importance of an approved COVID-19 vaccine, identify barriers and develop an action plan to overcome those barriers.
---
New & Notable
Webinar: The COVID-19 Vaccine: What Manufacturing Employers Need to Know
Wednesday, January 27, 2020 at 9:30 a.m
Register online.
The COVID-19 pandemic has forced manufacturing employers to consider countless new decisions and workforce policies, not the least of which is how to handle vaccination. How will you handle employee vaccination and when will your team be eligible to receive it?
Join MMA on Wednesday, 1/27/21 at 9:30 a.m. to get prepared. In this free interactive discussion, you will get the opportunity to:
Hear from Washtenaw County Health Department Environmental Health Director Kristen Schweighoefer on how vaccines are being distributed and how local public health officials are working to expedite shots in arms.
Learn from noted labor and employment attorney Matt Radler of the Honigman firm what state and federal law says about employment policies related to employee vaccination.
Ask your questions directly of these respected professionals.


ICYMI: Recent Webinar Recordings Available
Visit MMA's Online Learning Center for:
Do You Qualify for the Employee
Retention Tax Credit?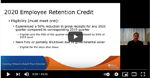 The federal Coronavirus Relief Bill signed into law in December extended and expanded the Employee Retention Tax Credit, a refundable tax credit initially created under the CARES Act to encourage businesses to keep employees on their payroll. Perhaps most importantly, the new law clarifies that businesses will now be able to take both the Employee Retention Tax Credit as well as participate in the Payroll Protection Program (PPP). MMA and Dennis Theis and Matthew Latham, principals with the manufacturing-focused business advisory and public accounting firm of Maner Costerisan, teach how you can take advantage of this new opportunity.
PPP Round 2: What You Need to Know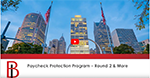 A new round of Paycheck Protection Program (PPP) funding was signed into law in late 2020. MMA and the experienced and trusted team at Butzel Long guide you through the the key provisions of the new law and explore the interplay with prior law and regulations related to PPP loans.
(please note, you must be logged into the MMA website to access member-exclusive webinars)