Dear Florida Climate Center friends,
We'd like to present you with the January 2017 edition of our newsletter. In this newsletter, you'll find our December 2016 monthly climate summary as well as highlights from our annual climate summary, a brief on the continuing dry conditions, and news about activities in which the staff have been engaged. If you have any questions,

please send us an e-mail message at
climate@coaps.fsu.edu
.
Thanks,
The Staff of the Florida Climate Center
David Zierden
State Climatologist
Danny Brouillette
Service Climatologist
December Climate Summary for Florida
The Florida Climate Center's
November 2016 Florida Climate Summary
is now available. The summary provides an analysis of temperature and precipitation patterns during the past month across the state, along with data on hazardous weather, drought, the impacts of the weather, and any records tied or broken for the month. During December, statewide temperatures were much above average, averaging 66.1 degrees Fahrenheit and ranking 24th warmest on record since 1895. Rainfall was above average last month in Florida, with a statewide average monthly total of 3.01", which made this December rank 43rd wettest in the record. Portions of the central and western panhandle were wettest, and central areas of the peninsula were driest. Sea-surface temperatures in the equatorial Pacific Ocean have continued with negative anomalies although these anomalies have become smaller recently. Nonetheless, the
La Ni

ñ

a Advisory
issued by NOAA's Climate Prediction Center continues, with some indications of a return to neutral conditions as the winter proceeds.
The following table gives December average temperatures and departures from normal (˚F) for selected cities.
| | | |
| --- | --- | --- |
| Station | Average Temperature | Departure from Normal |
| Pensacola | 60.0 | +6.5 |
| Tallahassee | 60.0 | +6.8 |
| Jacksonville | 60.3 | +5.1 |
| Gainesville | | |
| Orlando | 68.8 | +6.2 |
| Tampa | 70.1 | +7.0 |
| West Palm Beach | 74.1 | +5.9 |
| Miami | 76.7 | +6.2 |
| Key West | 77.5 | +6.1 |
The following table gives
December precipitation totals and departures from normal (inches) for selected cities.
| | | |
| --- | --- | --- |
| Station | Total Rainfall | Departure from Normal |
| Pensacola | 9.62 | +5.07 |
| Tallahassee | 4.20 | +0.30 |
| Jacksonville | 2.29 | -0.51 |
| | 2.69 | +0.21 |
| Orlando | 2.52 | -0.06 |
| Tampa | 0.43 | -2.04 |
| | 3.47 | +0.09 |
| Miami | 2.33 | +0.29 |
| Key West | 1.74 | -0.48 |
The following schematic maps December precipitation departures from normal across Florida. Image courtesy of the National Weather Service.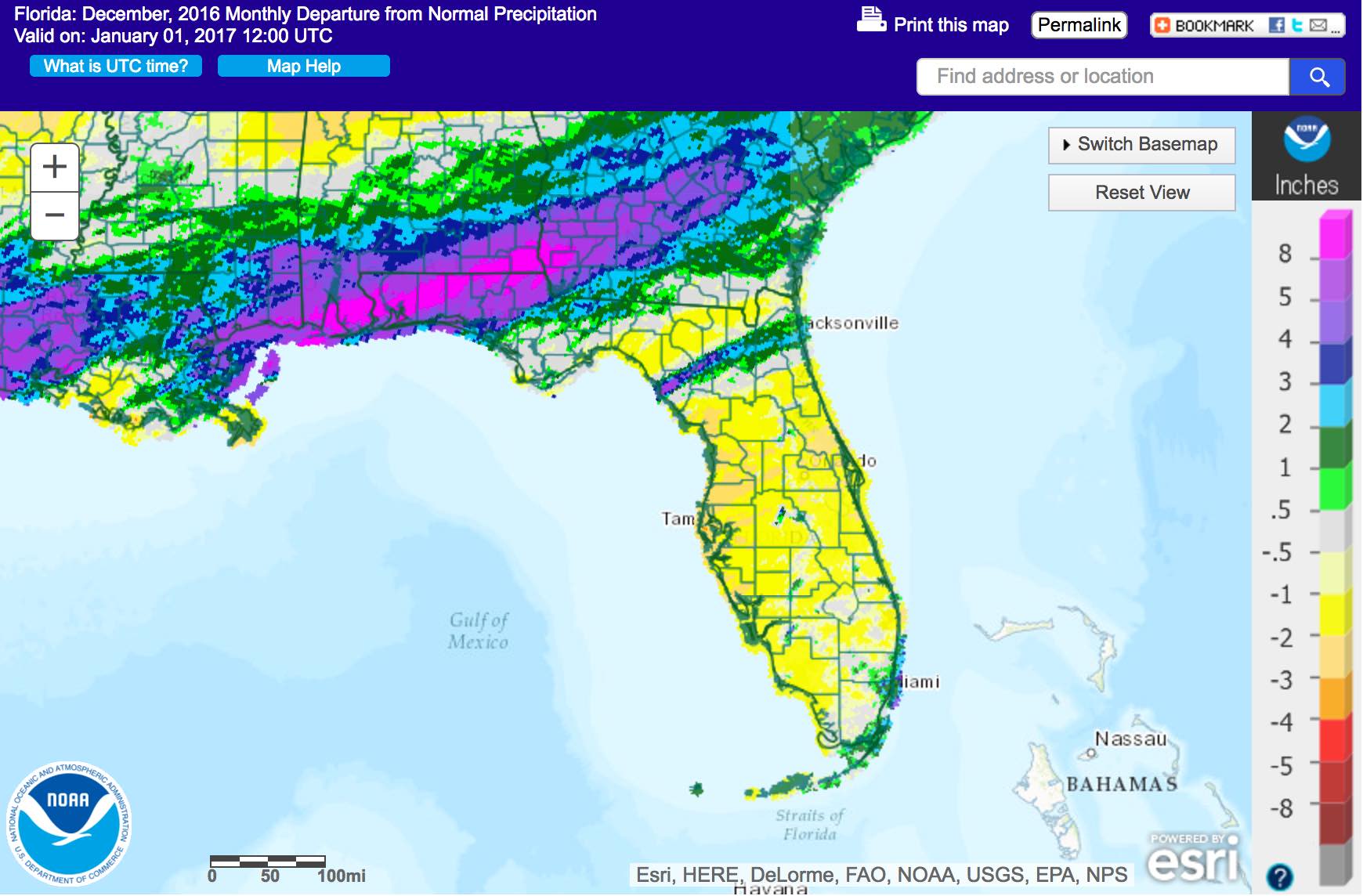 Center Releases 2016 Annual Climate Summary for Florida

The staff of the Center have released their 2016 annual climate summary for Florida. It can be accessed on the Center's Web
site
. This summary is the latest in a continuing
series
of reports on topics of special interest to Florida climate.
Highlights from the summary include that 2016 was the second-warmest year in the instrumental record statewide after 2015; six of the 12 months ranked in their respective top-ten warmest. The state-averaged rainfall total for the year ranked near the median value in the instrumental record. Particularly in areas that received less rainfall from Hurricanes Hermine and Matthew, the second half of the year was drier than the first half and included a record-dry November. On 2 September, Hurricane Hermine was the first hurricane to make landfall on the state in nearly 11 years since Hurricane Wilma in 2005, a record-long period of time. And although it did not make landfall on Florida, the center of Hurricane Matthew, a major hurricane, passed within 30 miles of the central and northern eastern coast, producing major impacts for the northeastern quarter of the peninsula.
State Climatologist Presents at Extension In-Service Training and Hay Production Expo


Continuing our strong partnership with University of Florida Extension, State Climatologist David Zierden presented programs on climate variability, recent climate patterns, and an outlook for the coming season at two separate events in the past week. The first was an in-service training day for North Florida county agents held at the Quincy Research and Education Center on 17 January. The second was at the Hay Production Expo held at the Holmes County Agriculture Center in Bonifay on 25 January (pictured above).
Drought Gone on the Panhandle, Dry Conditions Continue on the Peninsula

Drought conditions on the Panhandle, which had been intensifying during the middle to late fall amid little to no rainfall, have improved owing to recent heavy rains this month and last. The latest U.S. Drought Monitor, issued on 19 January, indicates normal conditions north and west of the Gainesville area and abnormally dry conditions on much of the peninsula south of that area, as shown below.
State Climatologist Participates in U.S. Forest Service Drought Workshop

The Office of Sustainability and Climate Change of the U.S. Forest Service hosted a two-day workshop on adapting to drought in the Southeast on 18-19 January in Atlanta. The objectives of the workshop were to expand the collective understanding of drought and its impacts in the region, identify adaptation strategies, and address opportunities and challenges to implement the strategies.
State Climatologist David Zierden opened the workshop with a presentation on climate variability and historic patterns of drought, including factors that lead up to the devastation wildfires in Tennessee and North Carolina this year.
Former North Carolina State Climatologist Ryan Boyles followed with an explanation of climate models and how they can be used for scenarios of possible changes in weather and drought in the coming century, along with a demonstration of tools available to access this information.
Florida Climate Center in the News

About Us
The Florida Climate Center is part of a three-tiered system of national, regional, and state climate offices, including NOAA's National Centers for Environmental Information (NCEI - in Asheville, North Carolina) and the Southeast Regional Climate Center (in Chapel Hill, North Carolina). The Florida State Climatologist and other staff at the Florida Climate Center provide the following information and services to the people of Florida:
· Climate Data:
Historical weather observations for weather stations throughout the state of Florida. We are able to provide data for most stations from 1948-present.
· Climate Information:
Long-term historical averages for various stations, climate divisions, and the entire state.
· Extreme Event Records:
Information and analyses on extreme events such as freezes, droughts, floods and hurricanes.
· Special Analysis:
With their vast knowledge of El Niño, La Niña and climate variability, the State Climatologist and staff can offer expert insight into Florida's climate trends.
· Outreach:
Activities, presentations, and workshops that inform and educate the people of Florida about current and emerging climate issues. We also coordinate volunteers for the Community Collaborative Rain, Hail & Snow Network (CoCoRaHS).