President/CEO
John Fowler
Now in its fifth week, the government shutdown is having a real and deepening effect on many of our residents and the communities Peoples' Self-Help Housing serves.
Because of upfront development investments, but particularly because of delayed HUD rent subsidy payments, the shutdown requires approximately $100,000 a week of our own reserves.
Fortunately we always maintain a strong cash position, allowing us to absorb this expense, at least in the short term, and the
privilege
of protecting our

most vulnerable residents - the elderly, the disabled, the chronically sick -

from immediate impacts. We plan to continue to do anything and everything in our power to protect our PSHH family, even though assuming the federal government's role is not a viable long-term solution.
Past prudence has given us the capacity to provide this financial cushion, but the reallocation of these funds to existing properties and current residents is jeopardizing future construction, and our ability to extend more affordable housing solutions to those desperately waiting for a place to call home.
We are of course monitoring the situation closely and remain hopeful there will be a break in the political gridlock in Washington. For now the efforts of our organization are solidly focused on how we will continue to provide resident services, how we will bring much needed assurance to those whose
anxiety levels are rising daily and on the well-being of everyone who calls a Peoples' Self-Help Housing property home.
John Fowler, CPA
President/CEO
Celebrating More Affordable Housing for Templeton
2018 was capped off with the celebration of the opening of Rolling Hills II, a two-acre development that adds 30 rental units with one to three bedrooms to PSHH's existing Rolling Hills Apartments at 999 Las Tablas Road in Templeton. Read more or see event photos.

New Annual Report Released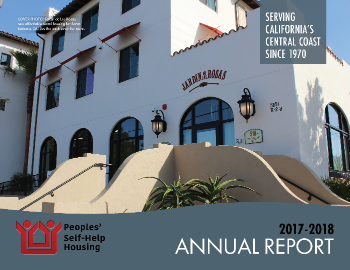 The 2017-2018 fiscal year report is available as a
PDF download
.
Contents include Leadership letters from our Board President Dave Gustafson and President/CEO John Folwer plus updates on Home Ownership Program, Rental Developments, Property Management, Administration Updates, Resident Services Program, Education Program, Service Map, Financials and Thank You to Our Donors & Partners.
Build More When You Click "Buy Now"
Before you click "Buy Now" on your next Amazon purchase, make sure it does a little extra by selecting "Peoples' Self-Help Housing Corporation" as your benefactor in AmazonSmile. Through this year-round program, 0.5% of the
price of your eligible purchases benefit PSHH at no cost to you or PSHH! Use your Amazon.com log-in information at smile.amazon.com and shop away! It's as simply as that!
From caring property managers to engaged educators, PSHH's diverse staff strives to provide our residents with the support they need to thrive.
We currently have openings in rental development, education, property management, fiscal and maintenance. V
isit
www.pshhc.org
for more details on how you can join our team!
Viewpoints: Can't find affordable housing in SLO County? The Board of Supervisors just improved your odds


PSHH and other members of the new Coalition of Housing Partners write about the positive impact this new partnership will bring to SLO County.

Read more

Guadalupe to get new, affordable farmworker housing

A celebration of the start of a new affordable housing project in Santa Barbara County with a groundbreaking ceremony for Guadalupe Court

.

Watch the report




Nonprofit breaks ground on affordable farmworker housing project in Guadalupe


The nonprofit Peoples' Self-Help Housing (PSHH) and government officials held a groundbreaking ceremony Thursday for Guadalupe Court.

Read more