Happy New Year!



I hope 2019 is a year of good health, happiness, and success for you and your family.



As you know, I endeavor to include you in my work and value your input. There are two amazing stories I have in mind to write next and I am leaving it up to YOU to choose which novel you'd want to read in 2019. The two choices are as follows, the actual poll is listed at www.SteveAlten.com so please cast your vote:

1. MAYAN TESTAMENT: COLLAPSE
Book 4 and the final chapter in the Mayan Doomsday series fills in all the missing pieces of the Mayan Doomsday Calendar puzzle, leading to the origin of man and a mind-blowing paradox that reveals a serious threat to our future. (If you never read the Mayan Doomsday series, books 1-3 in the series were sold in the U.S. as DOMAIN, RESURRECTION & PHOBOS: MAYAN FEAR. Sold in Europe, Central and South America as El Testamente Mayan).

2. RAVENOUS
An original story of an African tribesman who becomes part messianic figure - part vampire during a massive outbreak of Ebola in South Sudan, a country besieged by violence, rape, and murder.

The reader poll will launch January 1st and will run until January 20th. I will complete the novel with the most votes over the next 5-7 months with A&M Publishing printing Collector's First Edition hardbacks. These books which MUST be pre-ordered February 1, 2019 thru May 31, 2019 will NOT be sold in stores or on Amazon, only at the SteveAlten.com e-store. Each novel will be numbered and signed by me. The first 200 orders will receive a very special added bonus. Perks will also be announced at a later date for the first 1,000 and 2,500 orders.


VOTING LIMITS:
Please limit your vote to the number of copies you intend on purchasing. This does not commit you to purchasing a specific amount; however it does allow us to approximate print costs and estimate a budget for bonuses giveaways.

FAQ's:

Q: Why not MEG: Purgatory?
A: I'm simply not ready to pen what would be back to back MEG books. MEG: Generations took a lot out of me and Purgatory will be a better story if I take a needed break from MEG (don't forget I also worked on the latest version of the original novel, which was released before the movie as The MEG.). I am excited about writing either one of these books.

Q: Why are Steve Alten's novels no longer being sold in stores or on Amazon?
A: All of my novels ARE available in stores and on Amazon except for MEG: Generations in a printed format (The e-book is available). A Generations hardback and/or paperback may eventually be sold in stores (I am in discussions with one of my publishers in this regard. There are two major reasons I have decided to keep my new first-edition hardbacks out of stores and Amazon to sell them directly to you, my most valued readers.

1). The publishing industry has changed. Publishers are no longer offering the kind of advances necessary for full-time authors to support their families. While there are some authors who pump out a new book every three months, or hire ghostwriters, I DON'T. As you know, my novels are incredibly researched and detailed and can take 8 months to 2 years to complete.

2). I also want to offer my biggest fans an opportunity to own a Collector's first edition that will be impossible to obtain after the pre-sale ends - meaning they will only INCREASE IN VALUE.

Q: Are these books self-published?
A: No. A&M is a full service publisher with editors, artists, and a warehouse located in Arkansas. As majority stockholder in A&M, I guarantee the quality of the finished product. Compare the quality of MEG: Generations and The LOCH special collector's edition to any hardback sold by a major publishing house and you'll find A&M's work to be superior. . .that is what my staff and I demand.

Please cast your vote. A special email announcing the winner will be sent on January 21st. Then, on February 1st at midnight EST orders will be taken, the first 100 buyer receiving a special gift; the first 1,000 as well.

There is much more coming in 2019.

Take a look.

--Steve Alten


Coming in 2019... MEGhead Gear!

I have a team developing and designing clothing and goods just for MEGheads. There will be some really fun items, but the centerpiece is something really wild. I am hoping to open the e-store in February.
MEG: Generations poster - ON SALE NOW!

You've been asking for this one for almost a year now. Arguably the most fearsome MEG cover of the series, this Erik Hollander masterpiece is now available in a super-size 24 x 36 inch poster.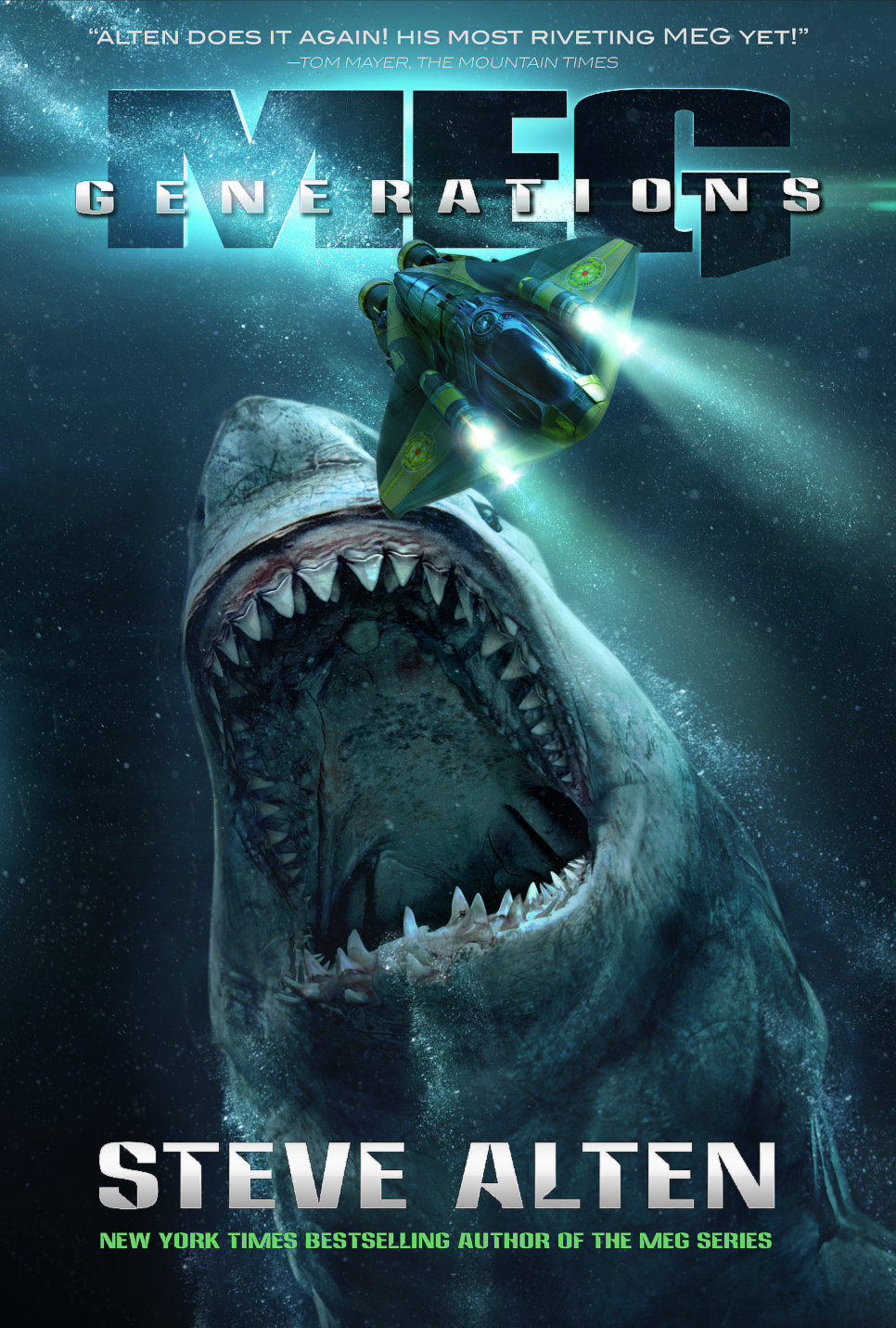 Living Tips: How to stretch your feet
Recipe of the Month: Best Brownies Ever
Ingredients:
1 1/2 cups of all-purpose flour
1 cup unsweetened cocoa powder
1 teaspoon salt
1 cup semi-sweet chocolate chips

Directions: Preheat oven to 350 degrees F (175 degrees C). Lightly grease a 9x13 baking dish. Combine the melted butter, sugar, and vanilla in a large bowl. Beat in the eggs, one at a time, mixing well after each, until thoroughly blended. Sift the flour, cocoa powder, and salt in a bowl. Gradually stir flour mixture into the egg mixture until blended. Stir in the chocolate morsels. Spread the batter evenly into the prepared baking dish. Bake in preheated oven until an inserted toothpick comes out clean, 35 to 40 minutes. Remove, and cool pan on wire rack before cutting.





*IF YOU HAVE A RECIPE YOU WOULD LIKE TO SHARE, please e-mail to me at

MEG82159@aol.com

Put RECIPE in the subject line.
_____________________________________________________________
Funny video clip of the Month - Men: Are You A Dog?
Dog Training the American Male is an original Rom-Com I wrote under the pen name L.A. Knight. The story is about Nancy Beach, a relationship counselor and radio talk show host who can't make her own relationships work... until she discovers that men are a lot like dogs. (The mass market is on sale at SteveAlten.com for $6.99).
Video #1 Men: Are you a dog? Take this quick test..

Video #2 Trailer

IF YOU HAVE A JOKE OR VIDEO YOU WOULD LIKE TO SHARE, please e-mail to me at MEG82159@aol.com Put JOKE in the subject line.
Jon Stewart used to close The Daily Show with his moment of Zen.I offer you my favorite Three Stooges moments of woob woob woob - Curly, guaranteed to put a smile on your face.

Stay well, stay safe... and know this author really appreciates you.