Get ready for robust growth in 2018, according to industry economists.
NIBCO asks industry expert Andrew Duguay to provide us with regional forecasts specifically targeted to the landscape and irrigation professional.
Get all of the details in the report!

Our Training Schedule has been Released

Training is of the utmost importance to CPS and we are excited to announce the 2018 schedule. CPS provides a variety of training during the winter season as well as individual company training provided by our territory sales staff all year long. Classroom training topics range from irrigation design, troubleshooting, backflow prevention, water feature design, landscape lighting and fertilizer/pesticide applications.
Mark your calendar to attend: February 12th - 16th (Trade Show - February 14th - 16th)
Don't miss Colorado's premier trade show for professionals. The CPS team will be there, so stop by our booth and say hello.
Use the voucher below for FREE entry to the show floor. Just click to view in a new browser window and print it. Bring to a kiosk at show registration to enter the payment code provided.
Having a great year starts with attending CPS Spring Fling, the region's best event for professionals.
Spring Fling will be returning to the Denver Mart at I-25 and 58th Avenue so mark your calendars for Thursday, March 8, 2018.
Preventing stormwater from damaging
your
customers
property and drowning their plants is a top priority.
Let us show you how to grow
your
business with
drainage
in 2018. It's the perfect time to jump into this fast-growing business segment.
Whether
your
need is residential, commercial or institutional,
we
can help you with any
drainage
project.
Our
experts
can recommend corrugated and smooth wall tubing,
drainage
culverts, detention and retention products, leaching chambers, sump pump vaults and more. Our
drainage
partner
ADS
has been the market leader in quality, service and innovation for decades.
Drainage
is a smart way to diversify
your
business during the wet weather months. Let us help you with
your
next project!
The fastest way to sour a customer relationship is by talking too long about the product. Instead, aim to present yourself as helpful by providing information that relates directly to the customer's specific needs and questions. This video can help you sell artificial turf:
Avoid the "Spray and Pray" approach of overwhelming the customer with information and hoping some of the information will stick. All in all, keep the presentation short and relevant to the customer. For example, if a customer is interested in a pet area, focus on explaining product for that specific application. Provide relevant information by explaining that EasyTurf pet product provides an easy-to-clean environment, the elimination of muddy paws, and a resistance to pet urine and stains. Alternatively, if the customer is interested in learning about a general lawn area, you'll want to focus on other elements like the visual appeal, minimal maintenance upkeep, and low cost over time.
How To: Solvent Welding in Cold Weather Conditions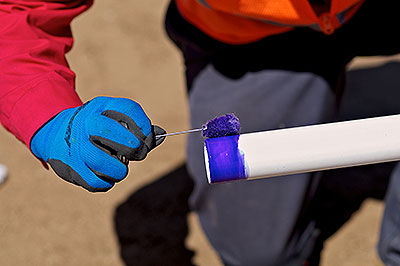 Good joints can be made, even in sub-freezing temperatures!

Working in freezing temperatures is never easy, but sometimes the job is necessary. If that unavoidable job includes

solvent

cementing

plastic pipe, you can do it successfully with

Weld

-

On

solvent

cements

.


In

cold

weather

,

solvent

cements

penetrate and soften the surfaces of plastic pipe and fittings more slowly than in warm

weather

. The plastic is also more resistant to

solvent

attack. Therefore, it is very important to pre-soften surfaces with an aggressive primer. A longer cure time is necessary due to a slower evaporation rate in

cold

weather

.




Tips

to follow when

solvent

welding

in

cold

weather

:
1. Prefabricate in a heated work area.
2. Store bulk quantities of primer &

cement

in a warm location above 40°F (4ºC) when not in use and make sure they remain fluid. We recommend the use of smaller containers to transport the fluid products to the joint assembly work-site.
3. If

Weld

-

On

solvent

cement

is stored at a very

cold

temperature and gels, it can be reconstituted by bringing it into a warm environment (60°F-90°F/15ºC-32ºC) and allowing it to sit for 24 hours. Do not try to artificially heat it in order to speed up the process. Before use, vigorously shake the

solvent

cement

.
4. Take special care to remove moisture including ice and snow from the surfaces to be joined, especially from the ends of the pipe as well as fittings and valve sockets.
5. Ensure that the pipe,fittings,and valves are at the same temperature prior to priming and

solvent

cementing

.
6. Use

Weld

-

On

P-70™ Primer to soften the joining surfaces before applying the

solvent

cement

. More than one application may be necessary. Surfaces are sufficiently "primed" when scraping a blade

on

the treated part will result in the effortless removal of some plastic material.
7. Allow a longer cure period before the system is pressure tested. A heat blanket may be used to speed up the set and cure times.
8. Read and follow all directions

on

Weld

-

On

product labels carefully before installation.

Click to download the full technical bulletin
How do you take advantage of downtime during the winter months?
Training is an important goal. CPS makes it easy with both in-person and on-line training.
Save the time and effort of creating your own curriculum by taking advantage of our online training portal. With over 75 courses from the industry's leading experts, we have knowledge for both beginning and seasoned employees.
Our portal is FREE through January 31.
(a $35.00 per person value!)