January 2020 | vol. iii, #1
_________________________________________________________________

_________________________________________________________________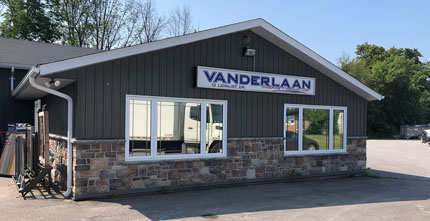 RETAILER'S POSITIVE PHILOSOPHY KEY TO STORE'S SUCCESS
Al Vanderlaan started Vanderlaan Building Products in 1988 out of a shop on his farm. The business grew quickly, and by 1992, was moved from the farm to a storefront and warehouse space in Brighton Industrial Park in Brighton, Ont., where it still is today.
When Al retired in 2001, Gerald Draaistra, Kevin Richardson and Brad Johnson took over the store. The Castle dealer serves a growing population of approximately 12,000 people, as more people relocate to the town on the shores of Lake Ontario to retire.
Being a building supply dealer, business is seasonal. The store owners joke that it's like a light switch—in the winter, one day you're slower, and then someone turns the switch on and from then on, things are hopping for the rest of the year.
Relationships with customers and the community are the highest priority for Vanderlaan. Staff members pride themselves on working for a business known for its personal touch, and make it a priority to greet everyone who walks in with a smile. And the store owners take it to the next level—they're often on the road, visiting contractors, taking measurements, checking in on projects or just dropping off a coffee.

In the community, the store has a presence every Saturday night of the summer at the Brighton Speedway with a sign and logo. Store representatives even announce all the late model car races. And each June, the store hosts a night at the speedway for its employees to attend for free, enjoy a barbecue and watch the event from an executive booth.
Ultimately, the store's owners believe that if they are fair and good to everyone—from customers to suppliers to their own staff—the business will be good. So far, positive annual growth over the last five years hasn't contradicted that philosophy.
_________________________________________________________________
_________________________________________________________________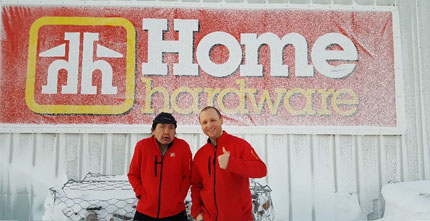 NORTHERN STORE GROWING RAPIDLY, DESPITE UNFORGIVING LANDSCAPE

Eskimo Point Lumber Supply, based in Nunavut, operates a 9,000-square-foot store in Arviat with a 10,000-square-foot lumber shed. And in 2018, through acquisition, it added a second, 15,000-square-foot store in Rankin Inlet.
The company was recently cited as one of Canada's fastest-growing companies, says its COO Derrick Webster. The retail division is one of six operations under a corporate umbrella that also owns a hotel, heavy-equipment cargo and rental businesses, a cash management business, a jet-fuel supplier and a specialty contracting company.
Eskimo Point operates the only two hardware stores in a seven-town region known as Kivalliq, which has a population of 10,500. Its stores generate between $10 million and $20 million in annual sales, the benefit of a mining boom that propelled 10 percent growth in the local economy last year. "We saw that the money would be coming in, and got ahead of the curve," says Webster.
Building materials orders assembled at the Port of Montreal are barged in during the second week of July and in late October. Looking ahead, Webster sees e-commerce as a better way of expanding his customer base than building a new store, which he estimates would cost $400 per square foot.
_________________________________________________________________
_________________________________________________________________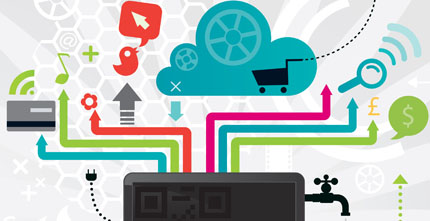 YES, YOUR CUSTOMERS ARE SHOPPING ONLINE MORE THAN EVER
Homeowners are increasingly shopping online for home improvement products, according to recent research from the Home Improvement Research Institute (HIRI), in conjunction with The NPD Group.
About 33 percent of homeowners HIRI surveyed had bought home improvement products online within the past year, and half of the respondents plan to buy related items online in the next year. In addition, 44 percent say they are shopping online more frequently for home improvement products than they were a year ago.
This data shows "an upward trajectory in consumer acceptance" of online shopping for home products, according to HIRI.
Average in-store spending remains higher than online spending, but the study suggests that might be because homeowners are more likely to buy large items, such as lumber and major appliances, at stores.
You can learn more about HIRI and access market sizing and category data by joining HIRI at HIRI.org.
________________________________________________________________