January 2019 | vol. ii, #1
_________________________________________________________________

_________________________________________________________________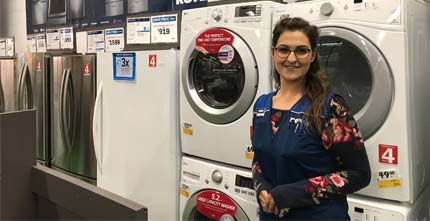 APPLIANCES CAN MEAN BIG GROWTH FOR DEALERS
Heavy appliances were not something home centres and hardware stores thought much about until Lowe's came to Canada a decade ago. Now the number-one appliance seller in the U.S., Lowe's has brought its strength in this category to Canada and is sharing that expertise with its RONA stores, as well.
The demise of Sears in Canada earlier this year has only increased the opportunity for dealers to sell heavy appliances. Home Hardware has been expanding this category with its dealers that have Home Furniture franchises. Fridges and stoves are a good fit for Home Hardware stores that are already selling couches and tables.
Since early last year, RONA has been making heavy appliances available for purchase in-store and online through a growing number of outlets.
The RONA corporate store in Chilliwack, B.C., has been busy selling appliances since April 2018. Shayna McMillan (shown here) is the salesperson who handles project sales, so putting her in the appliance department made perfect sense.
Store Manager Kris Krentz says the department takes up about 1,200 square feet of space in the store's 10,000-square-foot area. He admits it was a challenge initially to make room for the new lines. He had to trim core categories somewhat, but mostly it gave him a chance to get rid of overstock.
While some products are cash and carry, much of the volume is special order. RONA Chilliwack provides "white glove service," says Krentz. Stoves and fridges are delivered by his install team, uncrated and set up for the homeowner. Then the old appliance is taken away.
Krentz says appliance sales have seen "outstanding growth. They've exceeded my expectations."
_________________________________________________________________
_________________________________________________________________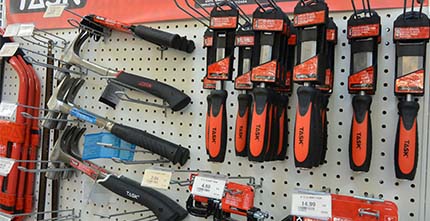 TIPS FOR MANAGING CORE DEPARTMENTS FOR SMALLER STORES

For smaller hardware stores, identifying the core categories that best suit your market can be tough. And that means carefully managing your existing space, while not wasting valuable endcaps.
Choosing the right core products means demonstrating to customers that the store is "in that business", says Laurie Wittie, store design manager for Home Hardware Stores Ltd. That applies for any core category, whether it's tools, plumbing, electrical or kitchen and bath.
"As long as the store has a couple of options to choose from—good, better, best, if possible—the customer knows they can fill their need for that particular product at that store," Wittie says. "If they're looking for more options, at least the retailer can start a conversation and perhaps get what the customer wants on special order."
But don't use key space to display everyday items. "Smaller dealers sometimes feel they're not displaying enough depth in their core items, so they use their endcaps and power aisle to store overstock; that's the worst thing they can do," Wittie explains. "Endcaps and the power aisle should be used to focus on sale items, seasonal items and project-focused products."
_________________________________________________________________
_________________________________________________________________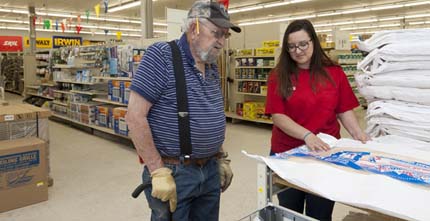 WHY WINTER IS THE BEST TIME FOR STAFF TRAINING
With the snow on the ground and business slowing for most dealers, now is the time to get your staff ready for the busy spring selling season with training. Use the down time in your store to help your staff improve their product knowledge and selling skills. The North American Retail Hardware Association (NRHA) offers a range of online training, but its foundation courses are "Basic Training in Hardware Retailing" and "Basic Training in Building Materials Retailing."
Both these courses offer product knowledge on key categories, with additional chapters on selling skills and merchandising. The online format of the training lets staff take it either in-store or at home on their own time.
When staff complete NRHA's online product knowledge training, you can reward them in any number of ways, including a bonus, a day off or a small raise. But be sure to make a big deal out of your graduates' achievements when you have your team meetings. Celebrate their success with pizza or coffee and donuts—which will help raise awareness of the training for other team members, as well.
(Hardlines is proud to represent the NRHA in Canada. Got a question about training? Contact us directly!)
________________________________________________________________