DFM Accepts
SNAP Benefits
The Durham Farmers' Market proudly accepts SNAP benefits. To use your EBT
card at the Market, please visit the Market info table
at the center of the Pavilion.
The Double Bucks Program allows SNAP customers to receive double the amount of money they spend on tokens for purchases up to $10.
The Market is working
closely with RAFI as our fiscal sponsor. Read more about
the program and our partnership
HERE
.
Thank you to everyone who donated to the Double Bucks program! We couldn't do it without you!
Farmer Foodshare Donation Station
The Donation Station
Program collects donations
of fresh food and cash from customers at the Durham Farmers' Market. The
money is used directly
at the Market to purchase food from farmers for
those who are hungry
in our community.
Farmer Foodshare's mission
is to connect our local
farmers with those
who need food! Please visit
or volunteer at our Durham Farmers' Market
Donation Station!
And don't forget to participate in the Donor Rewards Program. Give a suggested donation of $3-$5 and
receive a stamp on your card. Once you've collected enough stamps, you will proudly earn your Farmer Foodshare
T-shirt! Swing by the Donation Station for
more information!
SUPPORT YOUR FARMERS!
NOW AVAILABLE
AT THE MARKET
GREENS
PLANT STARTS
GREEN ONIONS
MUSHROOMS
BEETS
FLOWERS
COLLARDS
GREENHOUSE TOMATOES
CARROTS
KALE
PASTURED MEATS
GLUTEN-FREE BREADS
& PASTRIES
MEAD
EGGS
ARTISAN BREAD
SOAP & BODYCARE PRODUCTS
SWEET POTATOES
CHEESE
FERMENTED FOODS
HOMEMADE PASTA
HOMEMADE JAM
HOMEMADE CHIPS
SALSA
SOUP
TAMALES
HANDMADE CHOCOLATE
HAND-DYED CLOTHING
10% Campaign

The 10% Campaign is a project of the Center For Environmental Farming Systems (CEFS). The campaign encourages you to spend 10% of your existing food dollars to support North Carolina food producers, businesses and communities. Why 10%? In North Carolina, we spend $35 billion on food every year. If we spend 10% of our food dollars on local product, we can infuse over $3.5 billion into the local economy. As avid supporters of the Durham Farmers' Market, you already know the many advantages to shopping locally. So, why join the campaign? It will re-affirm your commitment to shopping locally and it sends a strong message to policy makers about the importance of local foods! For more information
visit: www.nc10percent.com
Tomorrow's the big day! We're excited to kick-off the Main Season and return to our regular hours of 8 am-12 pm. We've been working hard all winter to plan great events for you and look forward to sharing our weekends together! We have a special treat on opening day as chef Kyle Wilkerson and Candace Crank of
Heirloom Restaurant
(Roxboro, NC) will be serving breakfast samples from 8-10 am. Look for them either on the lawn or near our Info Table (depending on, dare we say it, rainy weather). Also, don't forget to re-stock on your mid-week groceries at our Wednesday Market, which begins on April 18 from 3-6 pm.
We want to hear from you!
We sincerely appreciate your support during the Winter Market and ask that you take 2 minutes to share your feedback with us via an
online survey
. We welcome your suggestions and look forward to implementing your ideas. THANK YOU!
PS - The sculptures in Durham Central Park are getting a fresh coat of paint this week. We know kids love playing on these but please give them a weekend to rest. Check out this
blog post
for more info and thank you for your assistance in advance.
Upcoming Market Events
Saturday, April 14
Wednesday, April 18
We're kicking off the Wednesday Market from 3-6 pm and have a fun afternoon planned for you!
Saturday, April 21
Saturday, April 28
Bring your kiddos for a morning of incredible music with Rick and Bette Newsome of Drybread Road!
Become a friend of the
Durham Farmers' Market!
The Durham Farmers' Market has been a community destination in downtown Durham since 1999 thanks to
YOU
, our loyal customers and supporters. Over the years we have grown the Market and continue to provide Durham with an event that nourishes the soul of our wonderful city.
You may not know that the Market operates primarily off of the weekly stall fees from our farmers and artisans. Despite this modest budget, we are constantly working to make fresh and healthy food accessible to our entire Durham community.
We want to continue expanding the offerings of our Market and need your help to make this happen.
The Friend of Durham Farmers' Market program provides an opportunity for you to invest in the future of the Market by making recurring or one-time contributions via PayPal or check. Examples of how we will use the funds include expanding our children's programming, continuing our outreach efforts to underserved communities in Durham, developing our nutrition education programs, and increasing staff hours. In addition to being part of a community effort to support others, a friend of the Market will receive a button to proudly display on their trusty Market tote.
We know that for some, resources are tight. If donations are not an option and you do not have time to volunteer, you can share what we do or visit us on Facebook or Instagram. If you would like to volunteer, we have several opportunities available including assisting at the Informati

on Table, leading cooking demos, fundraising, and much more.
If you are interested in sharing your time with the Market, please e-mail us.
We invite you to invest in your Market. Please continue stimulating our local food economy and join our effort to build a stronger, healthier Durham. Thank you!
VEGETABLES:
Asparagus, Beets, Collards, Dried & Fresh Herbs and Spices, Green Onions, Kale, Lettuce, Potatoes, Radishes, Winter Squash,
and much more!
MEATS AND EGGS:
Pork, Beef, Lamb, Mutton, Bison, Chicken, Duck, Goat/Chevon, Duck Eggs, Chicken Eggs
FLOWERS
CHEESES:
Fresh and Aged Goat and Cow Milk Cheeses
DAIRY: Skyr and Gelato
SPECIALTY ITEMS:
Pasta, Flour, Cornmeal, Baked Goods including Pies, Breads, Cookies, Pastries, Empanadas, Gluten-Free Baked Goods, Teas, Beer, Wine, Meade, Jams, Jellies, Pickles, Preserves, Fermented Foods, and more!

CRAFTS: Photographs, Body Butters, Lotions, and much more!
Produce availability depends on weather conditions.
Guest Vendor: Salty Catch Seafood
Note: Guest vendors will not be present at the market every week. We will always include an entry in the newsletter if the guest vendor is attending the market this week.
Salty
Catch
Seafood Company will be driving from the N.C. Coast Saturday morning to bring the Market community fresh caught NC Seafood. Stop by and see Steven and Renee and chat with Steven, a commercial fisherman.
Know that when you buy Salty Catch Seafood you're getting the freshest N.C. seafood available. Salty Catch believes in offering a superior product along with exceptional customer service. We look forward to seeing you!
FROM THE SEA TO YOUR TABLE...DON'T MISS OUT!
Renee Perry & Steven Goodwin
Cedar Island, NC
The summer main season market is here. Many of our customers prefer these earlier hours; they can get their shopping done and continue on with other
Saturday
plans.
Then there are those of you that love the festivities and social time at the market, regardless of what time we open.
I think every vendor would agree that, regardless, we sure appreciate our customers!
We have lots of yummy stuff tomorrow but I'm particularly excited to share a
recipe
one of our customers shared with us. I think you will agree, it looks divine!
Raising a rare, Heritage breed of sheep. Recognized by SLOW FOOD as a flavor worth saving.
Hope to see you on
Saturday
!
Olga & John Elder
Chief Herders
Pamela Strand Photography
Welcome to Pamela Strand Photography and a new summer DFM season!
I have a wide selection of photographic greeting cards featuring iconic spots around
Durham, the OBX, Flowers, Fantasy, Animals, Whimsy, and antique cars and trains!
If you prefer B&W images, I can convert them.
Many of my photos can be previewed on my Smugmug website.
I will also have enlargements in 11x14" and 16x20" sizes and can make posters upon request. I look forward to seeing you tomorrow!
My name is Gabriela Kavanaugh and I am owner and roaster for Caballo Rojo Coffee, roasting locally here in Durham. My grandfather was a leading coffee roaster in Venezuela and I wanted to continue this family tradition in my local community. My goal is to create moments involving coffee that connect the international community, that provides us with coffee, with our our local community. We are excited to be able to foster this vision by being at the Durham Farmers Market, providing you with cups of brewed coffee and bags of whole bean coffee. See you at the market!
This Saturday
, we will move back to the NORTH end of the market.. on the gravel area. Look for the white BEEF trailer and white tent!

Spring babies are coming every day... that is, our Animal Welfare Approved meat sheep and meat goat flocks are having LAMBS and KIDS now...lots of them! For your special meal, try our Leg of Lamb and Leg of Cabrito (goat). They are so delicious and a very tender cut of meat. We also have beautiful LAMB and Cabrito Loin Chops, Riblets, Stew Meat, Ground Lamb, Leg slices, and bags of soup bones. Try our Lamb Brats sausage...divine!

Our pastured Berkshire X Pork includes lots of sausages...Country X-sage (both mild and hot), Brats, Holiday Blend (w/ apples, pecans), Italian, Smoked Andouille (great in Gumbo!) Sausage. We have Picnic and Boston Butt Roasts; thick Pork Chops, Whole Tenderloin, Rendered Lard from our pastured pork, St. Louis Slab of Ribs, and more.


Our 21-day dry-aged ANGUS BEEF...and you can taste the difference in the dry aged process...include GROUND BEEF (including G. Chuck & G. Round), STEAKS (Flat Iron, London Broil, Ribeye, New York Strip, Sirloin); Chuck Filet Steaks, ROASTS (Sirloin Tip, Eye of Round, Chuck), Brisket, Oxtail, Cubed Steak, Stew Beef, Soup Bones, DOG Bones, Calves Liver, all BEEF HOTDOGS, and more!


USDA Organic Veggies: leaf lettuce and arugula from the greenhouse, POPCORN, and Mario's delicious ASPARAGUS (limited supply) starting to be harvested this week,


Thank you for your continued support of our family farm! We appreciate and cherish your friendship and support. Visit our farm near Louisburg on the CFSA's "Piedmont Farm Tour"
on Saturday, April 28 and Sunday, April 29 -
we would like to have your visit us and see the animals and vegetable area!
Honeygirl Meadery is a small urban meadery in downtown Durham, making an ancient craft beverage for modern days. Mead is essentially wine made from honey, with many different styles that include additions of fruits, flowers and herbs. Our meads are hand-crafted libations made in small batches, using both local and global true source honey, local fruits, herbs and flowers. They are naturally gluten free. Our downtown Durham Tasting Room is open on Saturdays from 1-6 pm and Sundays from 1-5 pm.
This week we will be sampling: the newest release of our Spiced Apple Cyser Mead, like apple pie in a glass. Made from NC apple cider fermented with NC wildflower honey, spiced with cinnamon and nutmeg.
We will also be sampling our Blueberry Mead, made with local blueberries and NC wildflower honey. This mead has subtle plum and tart berry notes, balanced with honey sweetness. Pairs nicely with aromatic cheeses, salami, and dark chocolate.
And We will also be sampling our Vanilla Mead, an infusion of Madagascar & Tahitian vanilla beans in our orange blossom semi-sweet traditional mead creates creamsicle bliss. Come by for a taste!
We will also have bottles available of our Honey Chai Mead, like a warm mug of chai tea, loaded infusion of exotic spices mingled with honey; and our Hibiscus Lemonthyme Mead, floral, earthy and herbal dry-style mead.
Flat River Farm & Nursery
We will be market with greenhouse Tomatoes, herbs, bedding plants, ferns and hanging baskets.
Come to the market for cheese, beef, and pork. We'll have pork chops which is a rare treat as they usually go to Lantern Restaurant as part of our partnership to supply them with whey fed pork. We'll have many varieties of sausage from Breakfast to spicy Chorizo to Mild Italian. Also molasses cured bacon,
Spare Ribs, ground pork, and smoked ham hocks.
We are bringing various cuts of delicious beef including Short Ribs, roasts, and ground beef. Jersey beef is known for its flavor. All our milk for cheese, and our pork and beef is from animals raised on our farm. We practice rotational grazing with the cows and the pork is from mixed heritage breeds fed whey from the cheese.
Cheeses this week are Hickory Grove, Dairyland Farmers, Carolina Moon, and Calvander. Try melting the Hickory Grove in a grilled ham and cheese or an omelet. Dairyland Farmers is fresh, moist and tangy. It goes well with hot pepper jelly or can be added to tacos. Carolina Moon is like a Camembert and delicious served at room temperature. Calvander is our most aged cheese and goes well with a glass of red wine or shaved onto pasta or salads. Look to our recipes for ideas or ask for a sample. Put on that wool sweater and rain coat and support your local farmers
on Saturday
with our extended "summer hours".
Porti
a McKnight & Flo Hawley
FRESH - never frozen - Pasture Raised, 100% Grass Fed & Grass Finished BEEF!!
Lots of fresh ground beef, grillable steaks, and smokeable ribs and roasts. See link below for all cuts and prices to order ahead.
Sign-up continues for the Warm Season CSA

!! Get Full Farm share and save 10%. Mid March through August!
Pasture & Woodland Raised, Free Range Pork
Canadian Bacon: 30% OFF at $9.10 per pound.

Sweet Potato Pork Liver Pate: 2

0% OFF at $5.60 for 1/3 pound.
Smoked Pork Sausage
10% off purchases of $100 or more!
We will be at market
this Saturday
with a variety of fresh pasta! We will have everyone's favorite ravioli, including new seasonal flavors like Pea & Mint (perfect for Easter)! Or pick up one of our take-and-bake lasagnas for an easy and delicious meal.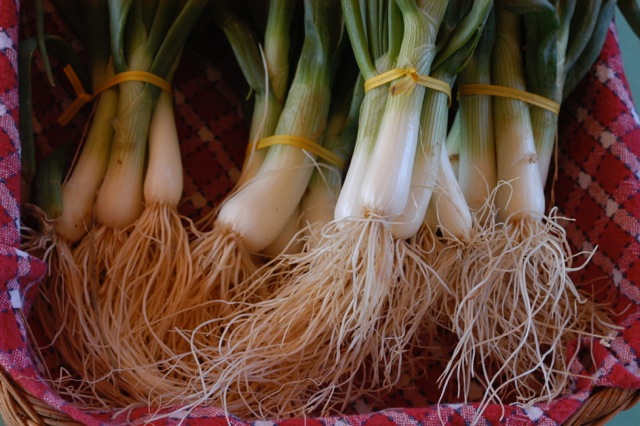 HERB PLANTS & MORE
We will be bringing a variety of herb plant starts including lavender, rosemary, oregano, thyme, dill, parsley, chives, basil, savory, lemon balm, sage and cilantro. We'll also have cool weather garden plants.
FLOWERS
Need a pop of spring color? We'll have our pretty porch pots available this week. Stop by and pick one up for your patio or garden.
PRODUCE
This week we'll have spring onions, spinach, chard and sweet potatoes.
JAMS & JELLIES
Current varieties include Kiwi,
Strawberry, Peach, Apple, Sweet Onion
and Pepper Jam (mild, medium, and hot). Our award winning jams and jellies are made in small batches using local ingredients whenever possible. Our family has made jams for multiple generations and we are happy to share this with our customers.
WOODWORKING
Tom will have a variety of maple/cherry cutting boards available.
All of Hurtgen Meadows produce, plants, fruits and flowers are naturally grown using sustainable practices - no synthetic pesticides, herbicides, or fertilizers are ever used on our farm.
We are back for the start of the Main Season
Saturday
Market. We will have some gluten free items, cookies, bread, sweet breads,
cream cheese danish, and coffee. See you tomorrow!
W
e are back for the
Saturday
Main Season Market. We will have an assortment of bedding plants.
Spring is here and time to get those gardens planted! We will be at market this weekend with lots of veggie and herb starts. Though it may still feel early and cool, its about the end of time to plant kale and broccoli so don't forget to pick those up if you haven't already.
FOUR LEAF FARM will be at market this weekend with a limited offering of herbs, bedding plants - no tomatoes or basil for sure. We will let those stay nice and cozy in the heated greenhouse for another few days before taking them out to harden of and be ready for the following
Saturday
(if we don't get another wintery blast from Mother Nature). We will have some hardy perennials for you to choose from and a selection of house plants including succulents.
For the hungry bellies we will bring Asian Greens, Baby Turnips, Green Garlic, Beets, Pea Shoots and Salinova baby lettuce.

Helga & Tim
Sunset Ridge Buffalo Farm
Jack will be at DFM on Saturday with a good supply of delicious bison meat. Stop by and visit and make a selection of bison for your family or a gathering of friends this coming week. See you at the market!
Bonlee Grown Farm will be bring lots of colorful FLOWERS! GERANIUMS, PURPLE SALVIA, YELLOW OR ORANGE TUBEROUS BEGONIAS, HOMESTEAD PURPLE VERBENA, SWEET POTATO VINES, RO
SEBUD IMPATIENS, MISS HUFF LANTANA, AND MORE! SUN
SUGAR GOLD CHERRY TOMATO POTS AND SUCCULENTS!
Raspberrry, Cherry, Strawberry Rhubarb, Banana, Fig, and Strawberry Jams. Pepper Jelly (Hot and regular) and chow chows (hot and regular). Free Range Eggs also!

This Saturday
we'll have original and flavored chèvre (jalapeno, garlic + herbs, sour cherry and fig + honey), Fleur Verte (chèvre marinated in olive oil, bay leaves, pink peppercorns, garlic and herbs de Provence), whey crackers (sea salt, rosemary and fennel), blackberry goat cheese mousse and cajeta (goat milk caramel).
Upcoming events:
Our next FARM DINNER is
April 14 at 6PM
. Get your tickets here. Dinner tickets include a meet-and-greet with the goats, a tour of the dairy, a cheese tasting, and a 5-course locally sourced menu for only $70 (+ tax) per person, BYOB. Coffee, tea and Colombian canelazo (alcohol-free version) are complimentary!
eGIFT CARDS to any of our farm dinners are available for purchase here! Gift cards do not expire and they can be used for any of our dinners.
Our next FARM TOUR is April 21 at 2PM
. Get your tickets
here! Tours take approximately 1.5 - 2hr and include a cheese tasting on the porch of our 1914 Victorian farmhouse. Most of the time will be spent playing with the goats, but we will also visit the cheese room and milking parlor. Please wear comfortable closed-toe washable shoes.
Follow our goats on social media!
Like us on
Facebook
and follow us on
Instagram
.
Sign up for our monthly newsletter online

to get info about events at the farm.



We will bring sweet potatoes, collards, spinach, dried cayenne peppers, dried cayenne pepper flakes, dried cayenne pepper powder, paprika powder and fresh and dried herbs as well as daffodils and pussy willows.
We will bring a selection of our USDA inspected, frozen, vaccum sealed angus beef. If you have a cut you would like to try, please e-mail or call us and I will bring it for you. The cuts we have available are steaks - (sirloin, rib eye, NY strip, porterhouse, t-bone, filet mignon), roasts - (brisket, top round, bottom round, chuck, rib, sirloin tip, London broil, eye of round), stew beef, short ribs, liver, marrow bones and soup bones.
Soul
Cocina
is a combination of eco-friendly philosophy and cutting-edge, dynamic approach to plant-based cuisine. We draw inspiration from Latin-American traditions and the availability of locally grown produce to create imaginative concepts.
We offer delicious tamales made the artisan way: with love, care and attention to detail. To ensure we respect tradition, we source wholesome ingredients before steaming them in banana leaves, creating a flavorsome and aromatic product. We pride ourselves on taste and quality, and it won't go unnoticed. Every bite you take will give you a taste of the rich Colombian heritage our tamales are built on.
We will also have soups and pasteles de yuca: delicious roasted yuca pockets filled with red lentils, brown rice and spinach. A handheld food very similar to empanadas, only gluten-free and made with wholesome ingredients!
Take home our ready to eat tamales and pasteles de de yuca or come hungry to the market because we also offer them warm to eat while you shop!
W
e will be coming to market with our award winning Goat Cheese, Skyr, Gelato, Fudge, and Soap - all made with milk from our lovely celebrity Alpine goats.
We are a small, family-operated creamery in Cedar Grove making Italian-inspired Cow and Goat-milk cheeses. We hand craft all our artisan cheeses, packing each with love. We bring the whole family to the market so get ready to meet the kids and our cheese-makers!
Come taste all of our delicious cheeses including our
Freshen
(cow
milk),
Pimento, Herb Garlic, and Chive flavored; our bloomy-rind cheese,
Cottonbell
(
cow milk)
; our lightly smoked, meltable fan favorite,
Campo
(cow milk)
; our decadent ash ripened and award winning,
Rocket's Robiola
(cow milk)
; our milder take on a beer washed Taleggio,
Lissome
(cow milk)
;
Nimble
,
beer washed
(cow & goat milk)
; and our aged, bees wax dipped, Winsome (cow
& goat milk)
.
For more about our cheeses, creamery, and us, please visit our
website
and join our newsletter mailing list. E-mail questions and special orders
or call 919-732-9079.
Austin

, Dani, Samantha, Alessandra, & Lily
Parking & Street Information
The Market is located at 501 Foster Street in the Pavilion at Durham Central Park.
Parking can be found on the street around the Market, in the Ballpark Parking Lot on Corporation Street and in the Measurement Inc. lot, 423 Morris Street (look for the Durham Farmers' Market Parking sign). There is a path at the bottom of that parking lot that leads you to the Market. There are also public parking lots along Foster Street and on Morgan Street near the Carolina Theatre.
Handicap parking is available on Foster Street, right next to the south entrance of the pavilion.
Durham Farmers' Market Animal Policy
Please note that the Durham Farmers' Market does not allow dogs or other pets in the Market area during Market hours. Service animals are exempt from this rule.
Leashed pets are welcome elsewhere throughout Durham Central Park.