Dear Florida Climate Center friends,
We'd like to present you with the July 2016 edition of our newsletter. In this newsletter, you'll find our monthly climate summary, information about our new staff member, a description of a professional meeting that the state climatologist attended, an update about ENSO, and more. If you have any questions, please send us an e-mail message at
Thanks,
The Staff of the Florida Climate Center
David Zierden
State Climatologist
Danny Brouillette
Service Climatologist
Dr. James O'Brien
Professor Emeritus
June Climate Summary for Florida
The Florida Climate Center's
June 2016 Florida Climate Summary
is now available. The summary provides an analysis of temperature and precipitation patterns during the past month across the state, along with data on hazardous weather, drought, the impacts of the weather, and any records tied or broken for the month. During June, temperatures averaged well above normal, and rainfall totals were varied across Florida. With ENSO-neutral conditions in place currently, sea-surface temperatures continued to cool last month in the equatorial Pacific, which is a harbinger of possible La Ni
ñ
a conditions by fall. (More later in the newsletter.) The
Climate Prediction Center (CPC)
predicts above-normal temperatures and precipitation for the state through September 2016. Past summaries are archived
here
.
The following table gives June average temperatures and departures from normal (˚F) for selected cities.
| | | |
| --- | --- | --- |
| Station | Average Temperature | Departure from Normal |
| Pensacola | 82.1 | +1.6 |
| Tallahassee | 83.0 | +2.8 |
| Jacksonville | 81.1 | +1.2 |
| Orlando | 82.8 | +1.3 |
| Tampa | 83.1 | +0.9 |
| Miami | 83.5 | +0.8 |
| Key West | 83.8 | +0.4 |
The following table gives
June precipitation totals and departures from normal (inches) for selected cities.
| | | |
| --- | --- | --- |
| Station | Total Rainfall | Departure from Normal |
| Pensacola | 7.65 | +1.05 |
| Tallahassee | 8.38 | +0.65 |
| Jacksonville | 3.09 | -3.36 |
| Orlando | 7.71 | +0.13 |
| Tampa | 11.48 | +4.80 |
| Miami | 8.72 | -0.95 |
| Key West | 1.14 | -2.97 |
The following schematic maps June precipitation departures from normal across Florida. Image courtesy of the Midwestern Regional Climate Center's cli-MATE application.
Introducing Our
New Service Climatologist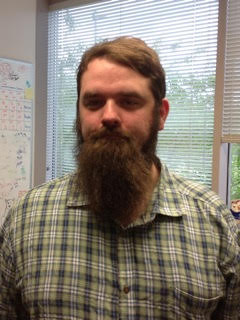 Last month, a new staff member joined the Florida Climate Center, taking over for Melissa Griffin, who left the staff last October after over a decade of service. Danny Brouillette, pictured left, arrived from State College, Pennsylvania, where was graduated from Penn State University last year with a master's degree in meteorology. At Penn State, he studied under the advisement of Dr. Michael E. Mann, working on a project that sought to produce proxy-based reconstructions of hydroclimate over mid-latitude North America over the last 2000 years. Before attending graduate school, Mr. Brouillette completed a bachelor's degree in meteorology in 2012 at Northern Illinois University, near where he was born and raised. At Northern Illinois, he worked under the direction of Dr. Dave Changnon on research involving various facets of Midwestern regional climate variability. Although all weather and climate phenomena interest him, snow is his favorite of them all (and Florida has scant little of it!). Mr. Brouillette looks forward to contributing to the full range of service, research, and outreach efforts of the Center. His e-mail address at the office is dbrouillette@coaps.fsu.edu; his phone number there is 850-644-0719.
La Ni

ñ

a Possible by Fall; May Affect Florida Weather
After a strong El Niño episode this past fall and winter, sea-surface temperatures in the equatorial Pacific Ocean have been cooling in the last few months. Sustained cooling of waters in this oceanic region is a hallmark of the negative phase of the El Niño-Southern Oscillation (ENSO), known as La Ni

ña.

NOAA's Climate Prediction Center recently released
an analysis
whose conclusion is that a La Niña episode may possibly take shape by fall
and
continue through the winter. The CPC this month updated its
La Ni

ñ

a Watch
, which indicates a 55-60% chance of La Niña formation.
According to the CPC, the most likely scenario is a weak episode.
For Florida, La Niña generally means drier-than-normal conditions statewide during fall and winter. Across the
peninsula, the probability of warmer-than-normal conditions is elevated, as well. For more about ENSO and Florida, click here.
State Climatologist Attends AASC Annual Meeting
State Climatologist David Zierden attended the 41st annual meeting of the American Association of State Climatologists (AASC) on 28 June through 1 July at Santa Fe, New Mexico. The AASC is a professional organization that includes all of the State Climatologists, Regional Climate Center directors, partners at NOAA NCEI, NWS, and NRCS, and many associate members associated with each of these groups. The meeting was hosted by the New Mexico State Climate Center at the historic La Fonda resort on the plaza of historic Santa Fe.
During the meeting, sessions were held on weather and climate extremes, mesonets and regional climate services, along with the association's business meeting. In the business meeting, Mr. Zierden was re-elected as the AASC treasurer for another two-year stint. In the photo above are all the state climatologists in attendance at the meeting.

Florida Climate Center in the News
What El Niño's Death Means for Florida
Collision of Sea Breezes Raises Danger of Lightning in South Florida
Florida's 'Dangerous' Heat Days Expected to Climb
Upcoming Events
25 July 2016
Alabama Feed and Grain Association annual meeting in Destin, FL

5 August 2016
Tri-State Climate Working Group for Row Crop Farmers in Monticello, FL

11 August 2016
AgWeather Solutions, IFAS Extension (more
here
) in Citra, FL
10 September 2016
Tallahassee Science Festival in Tallahassee, FL
About Us
The Florida Climate Center is part of a three-tiered system of national, regional, and state climate offices, including NOAA's National Centers for Environmental Information (NCEI - in Asheville, North Carolina) and the Southeast Regional Climate Center (in Chapel Hill, North Carolina). The Florida State Climatologist and other staff at the Florida Climate Center provide the following information and services to the people of Florida:
· Climate Data:
Historical weather observations for weather stations throughout the state of Florida. We are able to provide data for most stations from 1948-present.
· Climate Information:
Long-term historical averages for various stations, climate divisions, and the entire state.
· Extreme Event Records:
Information and analyses on extreme events such as freezes, droughts, floods and hurricanes.
· Special Analysis:
With their vast knowledge of El Niño, La Niña and climate variability, the State Climatologist and staff can offer expert insight into Florida's climate trends.
· Outreach:
Activities, presentations, and workshops that inform and educate the people of Florida about current and emerging climate issues. We also coordinate volunteers for the Community Collaborative Rain, Hail & Snow Network (CoCoRaHS).