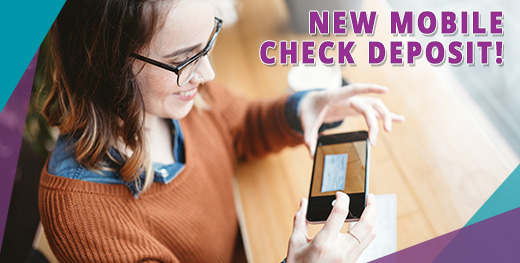 NEW Mobile Check Deposit!
Enjoy Mobile Check Deposit with PCT! Skip the visit and make check deposits from your mobile phone anywhere, anytime. Just point, click & deposit! Our Mobile Check Deposit is secure, easy to use and convenient to best serve you. Download our new app on the App Store or at www.pctfcu.org/services/online-services/
Online Banking Login

When logging on to online banking for the first time, be sure to enter your account number in the Username field and the last four digits of your social security number plus the four digit birth year of the primary account holder in the Password field.
It's HELOC Season!

A Home Equity Line of Credit is a great way to free up finances from the equity built up in your home. However, you want to be sure you're using these funds for the right reasons! Some of the best uses for HELOCs include:

Home Repairs
Home Improvements
College Tuition

If you're interested in learning more about HELOCs, best uses and how you can go about getting one, visit our website!
2017 Scholarship Recipients

For the 31st year, your credit union is pleased to award scholarships to area high school students. This year the credit union will once again award $3500 in memory of Mr. William J. Spratt and Mr. Otis Severance. Both individuals served as founding fathers of the credit union. The Severance Scholarship was founded in 2008 as a way to recognize a Wareham resident in the credit union's home community.

Everyone has undoubtedly heard the saying, "two is better than one." This saying proved true this year, as the scholarship committee could not decide between two equally qualified exemplary students. Consequently the committee voted to select co-recipients for 2017 and divide the first and a second place amount to Danielle Griffin and Haley Griffin, both from East Bridgewater High School. The committee, not knowing the applicants names, quickly determined that Danielle and Haley were twins. Later it was learned that they are identical twins. Each young lady will receive $1050 upon completion of their first college semester. A summary of all recipients is listed below:




Danielle & Haley Griffin

Danielle Griffin
East Bridgewater High School - $1050
Danielle will attend The University of Rhode Island this fall and plans to major in Pharm.D (a 6 year Doctor of Pharmacy program)

Haley Griffin
East Bridgewater High School - $1050
Haley will attend Worcester Polytechnic Institute. Her major at this time is undecided.

Ryan Beaton
Sandwich High School - $600
Ryan plans to attend Cornell University in the fall.
Keep Up with Us on Social Media!
Want to stay up to date with our important announcements, fun activities and helpful financial tips? Like us on Facebook and follow us on Twitter - you won't regret it!