Dear Florida Climate Center friends,
We'd like to present you with the June 2017 edition of our newsletter. In this newsletter, you'll find our May 2017 monthly climate summary; briefs about recent improvements in the drought and wildfire situation in Florida, developments in thinking about the phase of ENSO going forward this year, and updates to the outlook for the Atlantic hurricane season; as well as news about our recent and planned activities. If you have any questions,

please send us an e-mail message at
climate@coaps.fsu.edu
.
Thanks,
The Staff of the Florida Climate Center
David Zierden
State Climatologist
Danny Brouillette
Service Climatologist
May Climate Summary for Florida
The Florida Climate Center's
May 2017 Florida Climate Summary
is now available. The summary provides an analysis of temperature and precipitation patterns during the past month across the state, along with data on hazardous weather, drought, the impacts of the weather, and any records tied or broken for the month. During May, temperatures were well above the historical median statewide, averaging 77.0 degrees Fahrenheit and ranking 16th highest on record since 1895. This ranking was again above the median of the historical record for the 15th consecutive month, continuing a record-long streak. The statewide-averaged rainfall total was near the historical median like in April, coming in at 3.67", making for the 61st-driest May on record. Neutral ENSO conditions continue in the equatorial Pacific Ocean, and the outlook for summer and beyond remains somewhat uncertain and is discussed further later in the newsletter. Drought amelioration has been underway, and an update is provided about this situation later in the newsletter. Through the balance of June and into early July, the
NOAA Climate Prediction Center
outlooks Florida for increased chances of above-normal temperatures and equal chances of below- near-, or above-normal rainfall statewide.
The following table gives May average temperatures and departures from normal (˚F) for selected cities.
| | | |
| --- | --- | --- |
| Station | Average Temperature | Departure from Normal |
| Pensacola | 75.8 | +1.2 |
| Tallahassee | 74.7 | +0.4 |
| Jacksonville | 75.4 | +1.3 |
| Gainesville | 75.9 | +1.2 |
| Orlando | 77.0 | -0.3 |
| Tampa | 81.0 | +2.6 |
| West Palm Beach | 79.3 | +0.9 |
| Miami | 82.2 | +2.3 |
| Key West | 81.6 | +1.3 |
The following table gives May precipitation totals and departures from normal (inches) for selected cities.
| | | |
| --- | --- | --- |
| Station | Total Rainfall | Departure from Normal |
| Pensacola | 7.08 | +2.90 |
| Tallahassee | 5.51 | +2.04 |
| Jacksonville | 8.65 | +6.17 |
| Gainesville | 4.45 | +1.97 |
| Orlando | 3.36 | -0.09 |
| Tampa | 1.48 | -0.62 |
| West Palm Beach | 2.61 | -1.90 |
| Miami | 2.69 | -2.65 |
| Key West | 1.19 | -1.81 |
The following schematic maps May precipitation departures from normal across Florida. Image courtesy of the National Weather Service.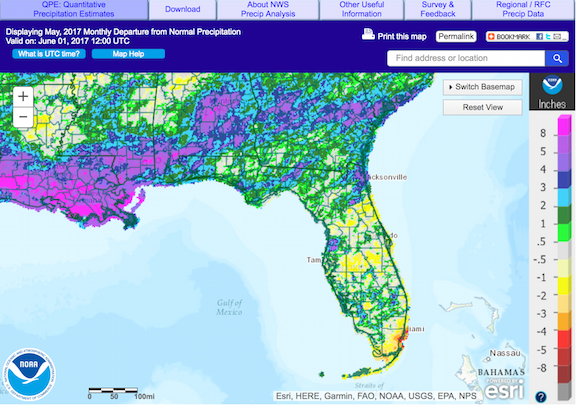 Recent Wet Period Brings Drought and Wildfire Relief

Significant rains have visited the state since late May, as the summer rainy season began. Below is a map of rainfall amounts since 15 May. It is noted that much of this rain has fallen since the beginning of June.



For a time, drought conditions did continue to grow more severe. As expected with the onset of the rainy season, substantial easing of the drought has been underway. Below is the latest issue of the U.S. Drought Monitor, which shows the total elimination of drought conditions from Florida. However, areas of abnormally dry (D0) conditions remain in a portion of the central Florida and in parts of the Big Bend.





At this point, it is fair to state that Florida's wildfire season is over. According to the Florida Forest Service, a total of 2476 wildfires had occurred through 11 June, burning some 250,000 acres. The wildfire season is considered the most severe since 2011, when, through the end of the year, 4800 fires occurred, and 300,000 acres had burned. As shown below, values of the Keetch-Byram Drought Index (KBDI), which is used to diagnose areas favorable for wildfire development and sustenance, have dropped (cooler colors - lower values) considerably recently, indicating unfavorable conditions for wildfires.

Updated Outlooks for 2017 North Atlantic Hurricane Season; Neutral ENSO Conditions Considered More Likely Going Forward

Summary of NOAA's 2017 Hurricane Season Outlook.

The 2017 North Atlantic hurricane season got underway on 1 June. Since the time of the last newsletter, several organizations have issued updated forecasts or their first ones. Perhaps the most notable issuance was that by
NOAA
. NOAA favors a near- to slightly above-normal season, with 11 to 17 named storms of which five to nine will strengthen to hurricanes and two to four will grow to major hurricanes. Other organizations, such as
Colorado State University
, have revised their outlooks upward.
Behind this thinking toward a more active season is the evolution of the El Nino-Southern Oscillation in the equatorial Pacific Ocean. According to
NOAA
, the occurrences of El Nino (the positive phase of ENSO) and neutral ENSO conditions are now considered equally probable through this fall, whereas, previously, El Nino was considered slightly more likely. Compared to El Nino conditions, neutral conditions are more conducive to tropical-cyclone development in the North Atlantic.
Florida Climate Center in the News

Upcoming Events

28-30 June
: American Association of State Climatologists Annual Meeting - Asheville, North Carolina
About Us
The Florida Climate Center is part of a three-tiered system of national, regional, and state climate offices, including NOAA's National Centers for Environmental Information (NCEI - in Asheville, North Carolina) and the Southeast Regional Climate Center (in Chapel Hill, North Carolina). The Florida State Climatologist and other staff at the Florida Climate Center provide the following information and services to the people of Florida:
· Climate Data:
Historical weather observations for weather stations throughout the state of Florida. We are able to provide data for most stations from 1948-present.
· Climate Information:
Long-term historical averages for various stations, climate divisions, and the entire state.
· Extreme Event Records:
Information and analyses on extreme events such as freezes, droughts, floods and hurricanes.
· Special Analysis:
With their vast knowledge of El Niño, La Niña and climate variability, the State Climatologist and staff can offer expert insight into Florida's climate trends.
· Outreach:
Activities, presentations, and workshops that inform and educate the people of Florida about current and emerging climate issues. We also coordinate volunteers for the Community Collaborative Rain, Hail & Snow Network (CoCoRaHS).