June 2019 | vol. ii, #6
_________________________________________________________________

_________________________________________________________________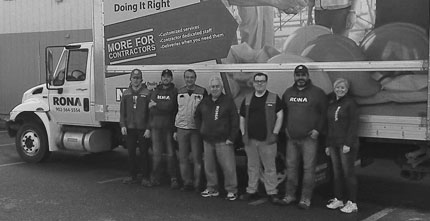 NOVA SCOTIA STORE BUILDS ITS OWN NICHE
Stephen's Home Centre in Sydney, N.S., is always looking out for how best to serve its pro and DIY customers. The RONA-bannered business saw an opportunity in prefabricated, custom-made walls and went for it.
Mike Wood, manager at Stephen's Home Centre, says one of the store's veteran employees, a full-time carpenter, leads this initiative. In two to three eight-hour shifts, he can prefabricate the exterior walls of an average bungalow, and it takes him just a few hours for a typical garage. And if there's a tight deadline, other staff members will step up to help.
Wood says Stephen's is the only building supply store in Sydney to offer prefab, custom walls. He says the benefit of providing this service is that it's just practical.
"They allow DIY and contractor customers to have quicker turnaround times on the projects they're working on, which saves them time and money," says Wood. "On top of that, the product is really good quality. We pride ourselves on producing accurate walls—meaning, they are completely square—which is really important in making everything else fit tightly together."
He adds that his team also takes pride in offering a custom product that not only gives the store a competitive edge, but helps their valued customers complete their projects.
_________________________________________________________________
_________________________________________________________________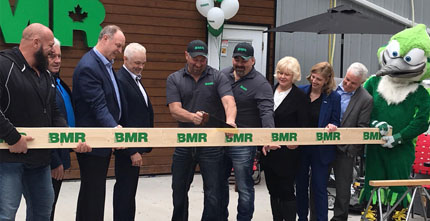 BMR CONTINUES ONTARIO EXPANSION WITH FIRST PRO STORE

BMR Group recently held the official opening of its first store in Ontario under the BMR Pro banner, Griffith Building Supply in Greater Madawaska township.
Owners John Lacourse and Derek McGrimmon unveiled the new look of the store, which adds 2,000 square feet for an expanded line of materials. "We are very happy, and especially very proud, to open the first BMR Pro store in Ontario," said Pierre Nolet, BMR's VP of business development, calling the new dealer "an important ally in Ontario."
While the format can vary according to each dealer and their local market, the BMR Pro concept typically involves around 8,000 square feet of floor space with an industrial look and a space tailored to pros. The store offers bulk discounts, digital terminals with access to BMR's catalogue, online ordering with in-store pick-up and a lumber yard with outdoor tills.

Other traditional services remain in place, including on-site delivery, project estimates, cutting, truck fleets, phone-in orders and charge accounts.
_________________________________________________________________
_________________________________________________________________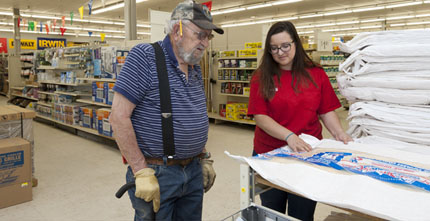 B.C. ASSOCIATION PROGRAM OFFERS FREE TRAINING
A new training program from the Building Supply Industry Association of British Columbia has launched with its first class of 12 students. Designed for entry-level workers, the Building Supply Warehouse and Distribution Training Program started in late April at the BSIA's office in Surrey.
The six-week curriculum includes training in warehousing and distribution, workplace safety awareness, first aid certification, quality control and job entry skills. It was developed in co-operation with the trade association's own members, the B.C. government and the Northwest Skills Institute. The program is open to any Canadian citizen or permanent resident and is designed to assist the unemployed and under-employed. It's 100% subsidized for eligible, qualified participants, with almost $500,000 available in grant money to ensure the program's success. BSIA President Thomas Foreman calls it "a huge win for our industry," which, like so many other sectors, faces a shortage of workers.
"Once they have completed the course, we're able to place them with our members into entry-level positions, trained, educated and ready to go," says Foreman.
________________________________________________________________