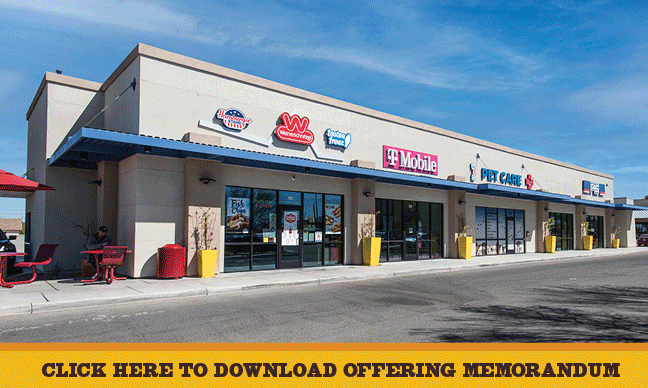 LIST PRICE:
$3,318,000

TOTAL BUILDING SF:
±7,241 SF


FEATURED LISTING:

THE SHOPS AT LAS PLAZAS

10185 E. Old Vail Road, Tucson, AZ

INVESTMENT HIGHLIGHTS


•

Quintessential Strip Center – 100% leased, ±7,241 SF, multi-tenant strip center featuring four credit tenants on new NNN leases; Wienerschnitzel, T-Mobile, F45 Training, ABC Pet Care—each tenant is either corporately owned and operated or an established multi-unit franchisee


•

NNN and Management Fees – The offering features NNN leases with the tenants reimbursing for management fees as well as the common areas being owned and maintained by an association, resulting in few landlord responsibilities—operating costs reside with the property's tenants, not the landlord


•

Income Stability – Four brand new leases with a weighted average lease term exceeding 7 years provide income diversity, while the recent build of space allows for optimal tenant operational functionality


•

Affluent and Growing Southern Tucson Demos – Within a 5-mile radius of The Shops at Las Plazas Average Household Incomes exceed $102,700 and approximately 5,293 single family homes and villas are planned for future construction according to a recent Metrostudy


•

Price of Ownership Asset – High-quality, new construction with little to no deferred maintenance that could drain an investor's cash flow


CLICK HERE TO DOWNLOAD OFFERING MEMORANDUM


FOR MORE
INFORMATION
PLEASE CONTACT:




THIS IS A MARKETING COMMUNICATION

We obtained the information above from sources we believe to be reliable. However, we have not verified its accuracy and make no guarantee, warranty or representation about it. It is submitted subject to the possibility of errors, omissions, change of price, rental or other conditions, prior sale, lease or financing, or withdrawal without notice. We include projections, opinions, assumptions or estimates for example only, and they may not represent current or future performance of the property. You and your tax and legal advisors should conduct your own investigation of the property and transaction.

CBRE and the CBRE logo are service marks of CBRE, Inc. All other marks displayed on this document are the property of their respective owners, and the use of such logos does not imply any affiliation with or endorsement of CBRE.


All of CBRE's COVID-19 related materials have been developed with information from the World Health Organization, the Centers for Disease Control & Prevention (and similar global organizations), public health experts, industrial hygienists, and global subject matter experts across CBRE and our strategic suppliers. Our materials may not be suitable for application to all facilities or situations.

Ultimately, occupiers and landlords must make and implement their own reopening decisions for their individual stakeholders and facilities. CBRE's guidance is intended to help facilitate those discussions and expedite the implementation of those decisions once made by the client. We make no representations or warranties regarding the accuracy or completeness of these materials. CBRE cannot ensure safety and disclaims all liability arising from use of these materials.