Kansas AG Leaves Women at Risk By Refusing to Appeal Clinic Licensing Ruling
Operation Rescue is weighing the possibility of filing an ethics complaint against the so-called pro-life attorney general; Calls for grassroots effort to compel the filing of an appeal before Monday's deadline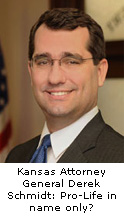 Topeka, KS - When a Federal Judge issued a temporary restraining order that prevented an abortion clinic licensing law from going into effect last month, pro-life legal experts thought that the filing of an appeal would be done by pro-life Attorney General Derek Schmidt.
"This is the kind of thing that I am told usually is done the next day. It is an easy one-page brief and it seems negligent not to do it," said Newman. "I was stunned to learn that Attorney General Schmidt had refused to file it."
The appeal is important for the safety of women because the law contains a severability clause. That means that all the portions of the law to which there is no Constitutional challenge could be allowed to go into effect while the contested parts of the law were litigated.
For example, the new clinic licensing law contains a provision that requires that abortionists must have hospital privileges within 30 miles of their clinics. That language has withstood legal challenges in other states, including the neighboring state of Missouri.
"It is unconscionable to allow this entire bill to be held up when the provisions can save the lives and health of women in this state," said Newman. "Women's lives are not political footballs. Pro-life groups, including Operation Rescue worked long and hard for years to pass this legislation. To see these hard-fought Constitutional safety provisions just kicked to the side of the road is unbelievable, especially from an administration that purports to respect life."
Operation Rescue was informed that Steve McAllister, a private attorney who has been retained by the state to defend the clinic licensing law, is out of the country until after the filing deadline.
"This lack of interest in defending the law and protecting women and their pre-born babies really shakes our confidence in Schmidt," said Newman. "In fact I am told by nationally known pro-life legal experts that not filing this simple appeal boarders on legal malpractice."
Operation Rescue is currently weighing whether to file an ethics complaint against Schmidt.
Newman reports that conversations about the appeal with Schmidt's Deputy Chief of Staff Jeff Wagaman were particularly rude and unproductive.
"I got better treatment from rabidly pro-abortion former Governor Kathleen Sebelius' Chief of Staff, who was completely opposed to our work, than I got from Schmidt's staff," said Newman. "But I'm more concerned about the shoddy treatment women get at abortion clinics in Kansas, especially since this state has the means to protect these women now, but won't."
Please contact Mr. Wagaman at jeff.wagaman@ksag.org and tell him the Attorney General's office must reconsider their decision not to appeal the ruling that bans even constitutional provisions of the clinic licensing law from going into effect.
Concerns can also be addressed to Attorney General Schmidt by calling his office at toll free at 1-888-428-8436.