Join New York State's First and Only Statewide LGBTQ Network, Free to Be!
We need YOU(th), agencies, and providers to:
Share and learn about LGBTQ resources!

Offer input - what do you need from an LGBTQ network?

Help us understand various perspectives through your experiences

Find/provide peer support throughout NYS while connecting young adults with LGBTQ leaders and resources

Help spread the word!
Join us in New York State's FIRST and ONLY

statewide LGBTQ Network!
Next Meeting: Tuesday, July 18, 2017 | 4:30PM-5:30PM

via GoTo Meeting (Phone, Computer, or App)
Interested in learning more? Contact:
FreeToBe@YOUTHPOWERNY.org
Free to Be is an initiative of YOUTH POWER!, a NYS network, and was created to provide a peer network for LGBTQ young adults that is all-inclusive. Whether one identifies as asexual, transgender, intersex, questioning, queer, or any other identity, this is a safe place for resources and support.
NYC Regional Kick Off July 28, 2017
"New Year in July"
July 28, 2017 | 4pm - 7:30pm
NYC Regional Kickoff
Join the NYC Regional Youth Partner, Peterson Rodriguez, on July 28th from 4:00pm-7:30pm in creating a brand new Regional Team in NYC. A new Regional Youth Partner, a new office location, and a brand new team of young leaders dedicated to systems advocacy and planning a mind blowing, game changing, regional youth forum. Sounds fun right? Well come on down to join me in bringing youth voice back to NYC.
116 East 16th Street, 5th Floor
New York, NY, 10003
Contact: Peterson Rodriguez
Regional Youth Partner
YOUTH POWER!
Cell: 347-880-2735
Email: PRodriguez@YOUTHPOWERNY.org
Give Input into Certified Recovery Peer Advocacy for Youth - Chance to win an iPad!
Alcoholism and Substance Abuse Providers of NYS (ASAP) and the New York Certification Board (NYCB) is partnering with YOUTH POWER!, and WRise Consulting to develop, pilot, and implement addiction-specific youth specialty that builds on the Certified Recovery Peer Advocate (CRPA) certification.
This project is funded by a grant from the New York State Office of Alcoholism and Substance Abuse Services (OASAS) with the goal to develop a career path for those interested in becoming CRPAs specializing in serving young people affected by youthful substance use. We are developing this new

Certified Recovery Peer Advocate- Youth (CRPA-Y)

with the guidance of many experts in the fields of peer recovery, youth, and addiction.
Young people are invited to provide valuable feedback into this process by completing a survey that should take approximately 30 minutes to complete.
In appreciation for your time and input, when you complete the survey, you will receive:
1 Continuing Education Unit (CEU) from the New York Certification Board, which may be applied toward renewal of your peer certification (if applicable)

Entry into a raffle drawing for a chance to win an Apple IPAD
Honor Peer Leaders in Your Community at Alternatives 2017 - Deadline July 21
Honor Peer Leaders in Your Community at Alternatives 2017

For more information and to register for the conference, check out their
website
.
The Esperanza Hope Award
honors a consumer/survivor of color who has expanded the idea of cultural competency and done exceptional work within the mental health and peer support community.
The Youth and Young Adult Peer Leadership Award is given to a youth or young adult who is exceling in providing leadership to engage more youth and young adults and who is also working on changing the system to be person centered, recovery, health and wellness focused.
The Cookie Grant and Bill Compton LGBT Leadership Award recognizes a lesbian, gay, bisexual, or transgender peer who has contributed to LGBT inclusion within the mental health consumer and survivor community.
The Howie the Harp Arts Award is presented to a consumer/survivor who is committed to creating a place for the arts within the mental health and peer support community.
Click
here
for more information about the awards and to submit your nominations! Nominations are due by
July 21, 2017
.
National Disability Voter Registration Week July 17-21, 2017
The REV UP Campaign is coordinating the second annual National Disability Voter Registration Week (NDVRW) to increase the political power of people with disabilities while also engaging candidates and the media to recognize the disability community.
Check out the REV UP Voter Resource Center for information on registering to vote, policies impacting voters with disabilities, candidates and issues in the current election, and how you can be a catalyst to make the DISABILITY VOTE count!
http://www.aapd.com/our-focus/voting/voter-resource-center/
Western NY Disability Pride Parade and Festival Saturday, July 22, 2017
Saturday, July 22, 2017
Parade: 10:30 am - 11:30 am
streets around Coca-Cola Field
(Niagara Square to Coca Cola Field)
Festival: 11:00 am - 3:00 pm
in the VIP Section at Coca-Cola Field
By Sea: 9:00 am - 3:00 pm
at Canal Side*
*To RSVP with Adaptive Water Sports, please call 716-364-8219
The first 125 people at the door will receive two free tickets to the Bison's Home Game on ADA Day, July 26th, 2017!
But First, Coffee.
Upcoming Event in the Western Region
But First, Coffee.
Who? Young Adults (18-29 yrs)
What? Poetry, Art, Music, and (OF COURSE) Coffee
Where? Grateful Grind Coffee, 3225 Main Street, Buffalo, NY
When? Friday, July 28th at 7pm
Why? Adulting is hard. Coffee helps.
Young people are encouraged to sign up to share their work; poetry, artwork, or music.
Contact: Carly Congilosi
716-886-1242 EXT. 345 | CCONGILOSI@ERIEMHA.ORG
Disability Advocacy and Protests: Reflecting on Anniversaries as the Movement Leads On

Protests are taking place across the country in the face of cuts to healthcare. In the news, you hear of "die-ins" and people with disabilities putting their bodies on the line as they protest in the offices of Senators. These protests are being organized by members ADAPT, a national grass-roots community that organizes disability rights activists. The fight for disability rights is a story that ADAPT has long since been a part of, beginning with the Gang of 19 in July 1978 where disabled activists chained themselves to buses in Denver, Colorado, to fight for accessible public transportation. This act of civil disobedience shut down the transit system and paved the way for buses to become fully accessible both in Denver and across the country.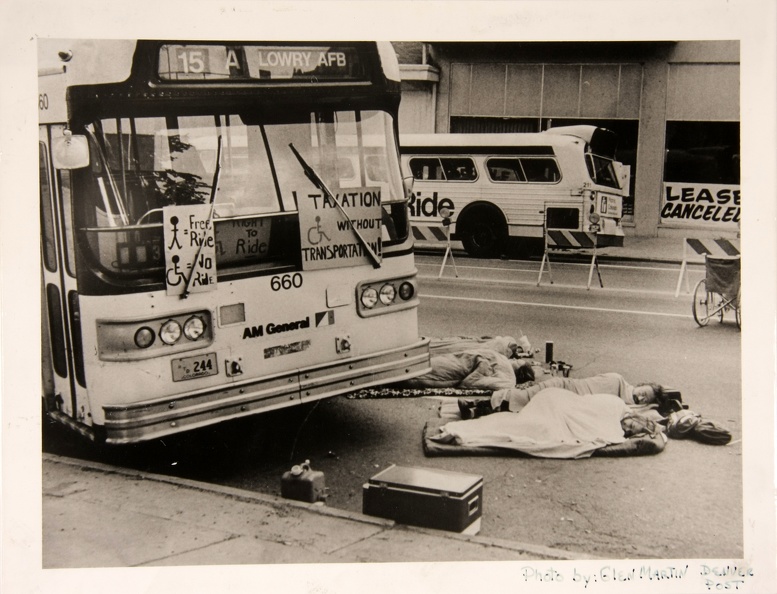 ADAPT originally stood for Americans Disabled for Accessible Public Transit and officially formed in 1983. With more work to be done, they did not stop after this victory and continued to fight for the rights of people with disabilities. Their next area of work was in accessible housing. According to ADAPT's website, there are over two million people with disabilities living in institutions. 250,000 of them wish to return to their communities. For community housing that does exist, there are multi-year waiting lists and lack of affordable integrated housing. To combat this issue, ADAPT was very involved in the Olmstead Ruling - a decision that also holds a recent anniversary on June 22. This 1999 ruling requires states to end segregation of people with disabilities and to ensure community integration. ADAPT also launched a proposal for a program called Access Across America. This program would coordinate subsidized housing and allow for more community based supports.
ADAPT's most recent actions have been taking place around the country to prevent the passage of the Better Care Reconciliation Act, bill number H.R. 1628. This bill will, among other things, bring about large funding cuts to Medicaid and completely restructure the Medicaid system. With these cuts to Medicaid, many people with disabilities will lose access to healthcare and their ability to live independently in their own communities. During "die-ins" at the US Capitol and several senator's offices, activists block building entrances and hold up tombstone-shaped protest signs to symbolize the people that may die should this bill pass. Protesters chant things such as "No Cuts to Medicaid," "No Cuts, No Caps," and "Don't touch Medicaid, save our liberty!" Many people have been arrested and the protests have gained extensive media coverage due to the brutality of the arrests, which included people being pulled out of their wheelchairs. However, this media coverage tends to neglect the purpose of the protests: that Medicaid cuts will severely hurt the disability community.
In these times, it is more important than ever to ensure the rights of people with disabilities and study the history of our movement. As anniversaries and current activism collide, learning from the past will set the stage for a better future.
For more information on ADAPT, visit their website at
www.adapt.org
Member Spotlight: Alexis Kennedy Mental Health Awareness Flash Mob
"This year, Mental Health Awareness Day was on May 4th, and I'm always the girl to be dressing up in all green to support the cause and help raise awareness. Two days in advance I came across a post about a flash mob that was being held for Mental Health Awareness, and I had to go! The event was organized by Restoration Society Inc. and was held at the Buffalo and Erie County Public Library.
Before the flash mob, there was an informational fair held in the library along with a couple of speakers who spoke about overcoming mental illnesses. The whole library was filled with people in
green shirts ready to dance and it made me feel so happy to see everyone supporting the cause, for I used to feel so alone with my mental illnesses. When it was time for the flash mob to break out dancing, I went all in with the craziest dance moves. I was already wearing a tutu and green pom-poms on my head, so I knew I had to be as enthusiastic as possible! I really love raising awareness about mental health and trying to end the stigma surrounding it.
Overall, the flash mob was such a great experience and I am definitely participating in it again next year! I even made the Buffalo Newspaper, how awesome! Participating in the Mental Health Awareness Flash Mob meant, to me, that if I could enlighten just one person on the issue of stigma surrounding Mental Heath, or make just one person feel less alone in their battle with mental illness, than it was where I wanted to be. And I sure did love dancing around in my green tutu!!"
Alexis Kennedy is a new member of YOUTH POWER! and has been an active advocate since her exposure to the Teen Support Groups through the Erie Co. Mental Health Association. Alexis will be graduating from High School this year. She aspires to be a Youth Peer Advocate and to attend college majoring in Social Work or Counseling.
AMPLIFY-NY Planning Group Meetings Getting Ready to Begin, Join Today!
The AMPLIFY-NY planning group is gearing up to plan regional youth leadership forums across the state, beginning with the pilot in the Capital District. Youth and young adults with developmental and other disabilities ages 14-24 are invited to join this group.
The planning group meets 1-2 times per month.
Questions? Contact AMPLIFYNY@YOUTHPOWERNY.org
Last call for Applicants for YP! NYISA Coordinator
LOCATION:
Best candidate in
New
York State - Telecommute or Albany Office
PURPOSE:
To establish and coordinate the
New
York Institute for Self-Advocacy and Emerging Leaders Network for people with intellectual and developmental disabilities ages 21 and above.
QUALIFICATIONS:
As someone who coordinates a self-advocacy network, the coordinator must reflect the self-advocacy community they represent. We are seeking individuals who identify as part of the disability community and as having an intellectual or developmental disability.
Bachelor's preferred. Minimum high school diploma or equivalent is required.
At least three years of experience in a non-profit organization
Demonstrates ability to engage with diverse groups
Is experienced and demonstrates ability to speak with small and large groups of people
Highly organized and able to manage a workload with multiple deadlines
Able to travel in

New

York State
Advanced skills with software packages: Microsoft Word, Excel, PowerPoint, Go-To, and Google applications
Public policy/systems advocacy experience is preferred
Team leadership and facilitation skills
Get Involved with National Campaigns!
Together, we can amplify our voices!
Below are the July awareness campaigns. Team up to Speak Up and Speak Out!
Want to get more involved in YP!'s Advocacy efforts?
You can submit advocacy tips, articles, and more on topics that affect YOU!

Team up with monthly, weekly, and national day campaigns and email submissions to

info@youthpowerny.org

!
Statewide Program Supports Foster Youth in College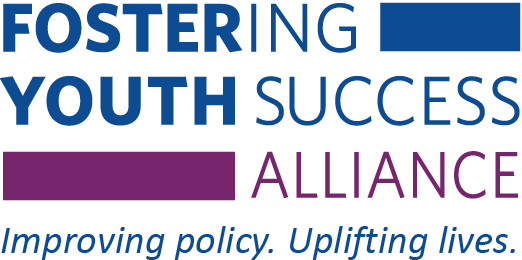 via The Foster Care Roundup
State advocates won $4.5 million in funding this year for the Fostering Youth College Success Initiative (FYCSI), a statewide program that provides funding for foster youth through on-campus educational opportunity programs. The increased funding - up from $3 million in the previous year - will support 3 cohorts of students this September, with $1.5 million supporting each cohort.


FYCSI funding supports existing EOP and HEOP programs at SUNY, CUNY and private colleges in New York (including SEEK and College Discovery programs at CUNY) allowing the programs to provide individualized support for enrolled foster youth.
The flexible funding might support removing the need for student loans for one student, or support housing or tutoring or mental health services for other students, said Jessica Maxwell, the director of the Fostering Youth Success Alliance.

Eligibility extends to any student who was in foster care after age 13 and who is enrolling in a New York school that has an Opportunity Program. When applying, students should indicate that they want to be considered for the school's opportunity program. Students who have already submitted their applications should contact their school's EOP or HEOP office to ensure they can be enrolled.
Because few people are well-versed in the college application process, Maxwell said, it can be daunting to navigate the intricacies of opportunity program applications and understand the considerations that must be taken for youth in care as it relates to the financial aid application.

"And so what we see is that many young people are being counseled by people giving them misinformation and that then impacts the decision they are making," Maxwell said.


For case planners counseling students through the opportunity program application process, Maxwell recommends reviewing each school's average student profile, published yearly. In order for students to be eligible for EOP at that school, they have to be somewhere below that average.


Monroe County Seeking Certified Peer Specialist or Peer Recovery Advocates
Monroe County has multiple Peer Specialist and/or Certified Peer Recovery Advocate positions that need to be filled.
If you have any interest, please contact:
Matthe Petitte
matthew.petitte@envolvehealth.com
Accessibility Guides for NYC Attractions and Activities
In addition to this website, The NYC Parks page has an accessibility section that outlines accessible facilities, adaptive hubs, adaptive events & programs, and all events in accessible locations. For more information, visit
https://www.nycgovparks.org/accessibility
.
The views and opinions expressed in third party messages and external links included in this eNews are those of the organization or individual mentioned. They do not necessarily reflect the official positions of YOUTH POWER!.
YP!

YOUTH POWER! is the New York State network of young people who have been labeled and are seeking change. Together, we have decided to speak up about our experiences because no one knows what it is like for us better than we do. Through peer-to-peer mentoring, we empower young people to be active citizens who are aware of government operations, their rights and the ability to use their voices to influence policies, practices, regulations and laws. We are young people helping other people, ensuring availability of self-help and peer support while changing systems so that young people get the support they need with the respect and dignity they deserve.

Nothing About Us Without Us!