LetsGo2PuntaGorda Newsletter
Happy Spring! Happy Easter! Happy Passover! Happy April's Fools!
Whatever your favorite April holiday, I'm sure we can agree everyone is happy to see the cold, bitter, gray, snowy (OK ENuff!) weather go away! I'm sure that the real estate business here is booming and surely it's been helped by the nasty winters up North. We had our share of cool days - enough to realize it's not a bad idea to hold onto a few of those sweaters!
There is a lot of new construction continuing - the builders are all very busy. Inventory remains stable but on the low side, and sales continue to beat records. Prices are going in the right direction for sellers and buyers are happy to find something in their piece of paradise.
I'll always be grateful for client referrals, it demonstrates confidence in my ability to provide the professional, reliable services you need to reach your goals. Everyone knows that real estate can be very rewarding, but the best results will always come from a good relationship - truly a priceless property.
Thanks for your support!
Take care and be safe,
Susan Hill, REALTOR?
Member of RE/MAX "Platinum" Club - 2014
Member of RE/MAX "Platinum" Club - 2013
Member of RE/MAX "100%" Club - 2012
Member of RE/MAX "Executive Club" - 2011
Direct - 941-676-1033
Cell - 941-347-8782
Welcoming a new member to the team
Please help us welcome Kate Mellion, who has moved here from Rhode Island to work with Susan. Best wishes and thanks to all who have helped with a smooth transition! Kate's direct line is 941-833-4243.

This Month's Facebook Drawing Winner
Congratulations to Kurt Christensen,
the winner of April's Facebook drawing!
on Facebook and automatically be entered for a chance to win a $25 American Express Gift Card during the month of May!
**Please note: We've had problems contacting our winners. Please provide your contact information via email to
February 2015 Local Housing Statistics
Punta Gorda Metropolitan Statistical Area
Single-Family Homes
Year-over-Year % Change: 15.3%
Condos and Townhouses
Year-over-Year % Change: 27.3%
Latest PGI Civic Association News
The Punta Gorda Isles Civic Association is a great organization and if you're new to the area, it provides a lot of valuable information about how to become more involved in the community.
You can view a copy of the latest PGICA Commentator here
- a monthly publication where you can find information about our area and the multitude of community activities available to you.
A Pantry Rescued by Lazy Susans
This pantry remodel features six lazy-Susan "carousels" that transformed a food closet from frenzied to fantastic.
"They're the best idea ever," says Emily, aka Decorchick. "I knew the carousels would be great. They make the pantry more organized, and that's just what I wanted."

Emily's "before" pantry was a riot of cereal boxes, peanut butter jars, baking goods, aluminum foil, and assorted canned goods. Items disappeared into the deep recesses of the corner cabinet, rarely to be seen again. And the pantry floor was a mess of onion sacks, cleaning tools, and supplies.


Luckily, Emily's dad, an engineer who does woodworking as a hobby, was experimenting with making lazy Susans. A pantry solution, it seems, would be a turn of fate. Actually, six turns.

Emily and Dad installed the six homemade, 20-inch diameter lazy Susans into the center of the pantry shelves. Now, stuff that had been hard to reach is always within grasp. The carousels have been loaded with pantry items for two years, and they're still in perfect condition.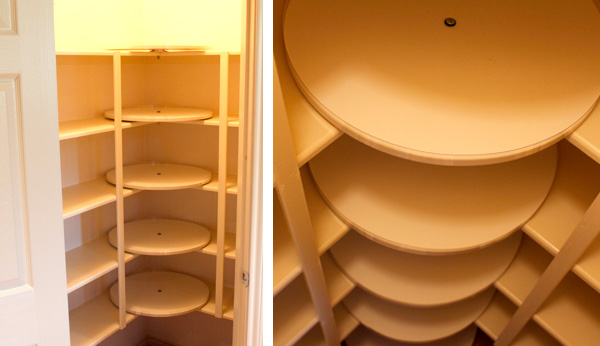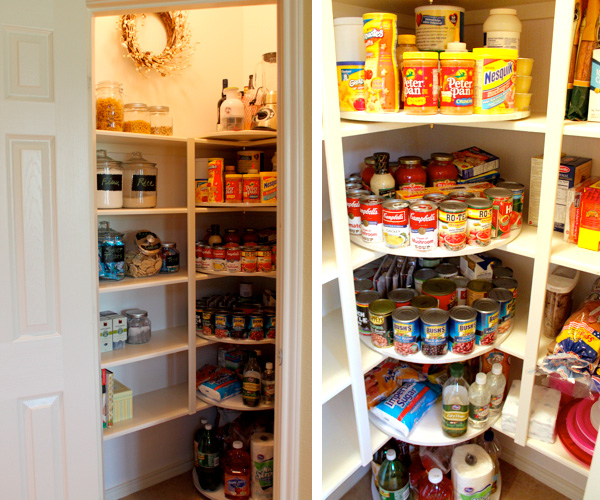 Pretty as a Pantry

Emily wanted her pantry to look as good as it operated. Here's how she further upgraded the space:
Lined the walls with paintable, faux beadboard wallpaper - fantastic! ($20 for 56 square feet)
Touched up shelves with paint.
Transferred baking and dried goods into big glass canisters, mason jars, and plastic containers ($2 to $9).
Identified canisters with vinyl labels ($9) marked with erasable chalk pens.
Spruced up the way-high space under the pantry's 9-foot ceiling with a cheery wreath she bought at a resale shop. So why not?
Now, Emily's pantry is a joy to behold.