LetsGo2PuntaGorda Newsletter

August is just sizzling - but here in Punta Gorda, FL it's not just the temperature - the real estate market is hot, hot, hot! Now is the time for you to MOVE on your decision to buy OR sell.

Please enjoy your summer and look forward to the fall ...lots of events and activities in which to take part. Have a wonderful month and if you need any help with your real estate needs, I am here to help. And remember - August is the month for Joke Day (8/16), Kiss & Make Up Day (8/25), and National Hero's Day (8/31). Be safe!

Susan Hill, REALTOR®
Member of RE/MAX "Platinum" Club - 2014
Member of RE/MAX "Platinum" Club - 2013
Member of RE/MAX "100%" Club - 2012
Member of RE/MAX "Executive Club" - 2011
Direct - 941-676-1033
Cell - 941-347-8782

This Month's Facebook Drawing Winner
Congratulations to Sharon Bango Winesett,
the winner of August's Facebook drawing!
on Facebook and automatically be entered for a chance to win a $25 American Express Gift Card during the month of September!
**Please note: We've had problems contacting our winners. Please provide your contact information via email to
Happenings Around Town
If you're looking for good eats around town, look no further than Punta Gorda!
Punta Gorda Chef Defeats Bobby Flay in Competition
Chef Jeanie Roland, owner of the Perfect Caper in downtown Punta Gorda, competed on the Food Network's popular program "Beat Bobby Flay". And that is indeed what she did! She won in a blind taste test with her signature mussels dish.
Read more here.
Local Ice Cream Shop Tops Trip Advisor's "Best Ice Cream in the Country" List
Harborwalk Scoops and Bites at Laishley Marina earns the number 1 spot this year. Enjoy beautiful sunset views all year long and be sure to try their
Toasted Coconut and Chocolatey Chocolate Chip flavors!
2nd Quarter Local Housing Statistics
Punta Gorda Metropolitan Statistical Area
Single-Family Homes
Year-over-Year % Change: 8.9%
Median Sale Price: $167,000
Year-over-Year % Change: 8.9%
Condos and Townhouses
Year-over-Year % Change: 7.2%
Median Sale Price

: $151,000
Year-over-Year % Change: 14.0%
Latest PGI Civic Association News
The Punta Gorda Isles Civic Association is a great organization and if you're new to the area, it provides a lot of valuable information about how to become more involved in the community.
You can view a copy of the latest PGICA Commentator here
- a monthly publication where you can find information about our area and the multitude of community activities available to you.
Some Ideas to Help You Use Your Outdoor Space More
These ideas will transform your outdoor space into an oasis you may never want to leave.
Go Overboard on Comfy
Make sure your outdoor seating is as cushy as your indoor furniture. Today's outdoor cushions aren't the plastic-y, sweat-inducing pillows of the past. Plus, they can handle a downpour and spring back once they dry.
Give yourself some privacy. Create natural screens with shrubs, bushes, or even bamboo reeds. Or install prefab screens from your local home improvement store.
______________________________________________
Create a Broadband Paradise

Our devices and electronics have conspired to keep us on lock down. Since we're not about to chuck our digital toys, boot up your outdoor space so you can keep texting, posting to Instagram, and watching cat videos.
Wireless outdoor Wi-Fi antennas provide an extra boost so you can stay connected.
A solar USB charging station keeps your gizmos powered.
Wireless speakers make it easy to bring your music outdoors, and mask a noisy neighborhood.
______________________________________________
Light the Way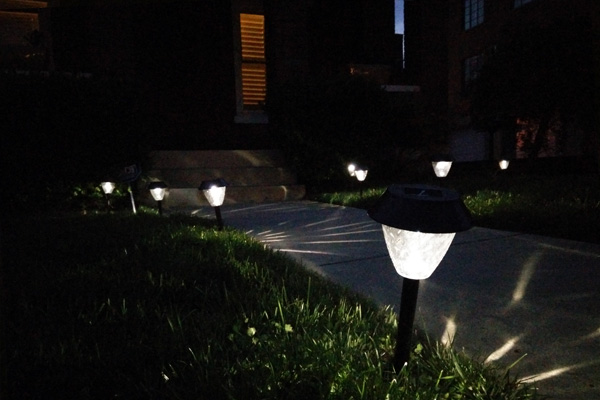 When the sun goes down, don't be left groping for your wine glass. Outdoor lighting dresses up your home's marketability and appeal (exterior lighting is buyers' most wanted outdoor feature, according to the NAHB study), makes it safer, and lets you spend more time outside.
Use uplighting to highlight trees, architectural details, or other focal points.
Add sconces or pendant lights to make evening entertaining, grilling, and reading easier.
Illuminate walkways, rails, and steps with landscape solar lights.