LetsGo2PuntaGorda Newsletter
Dear Friends,
Time to enjoy! Everyone thinks of July as a time to get together with friends and family - as summer unfolds, many people make plans for special gatherings. The more people gather, the more they talk. Eventually, they often wind up talking about where the real estate market is today, and where it is likely heading. If you would like to know more about how things are shaping up for the summer and fall markets, just give me a call. You never know when the next real estate opportunity will present itself. If you have any family or friends who need some expert real estate advice, please don't hesitate to have them call me. I'm here to help.
Being from Boston, the Boston Pops on the Commons is always a favorite - now that we're in Punta Gorda paradise - being on the water is a must and the fireworks are everywhere! Wherever you find yourself, remember that July is National Hot Dog, Blueberry and Ice Cream month!
And be safe!
Susan Hill, REALTOR®
Member of RE/MAX "Platinum" Club - 2014
Member of RE/MAX "Platinum" Club - 2013
Member of RE/MAX "100%" Club - 2012
Member of RE/MAX "Executive Club" - 2011
Direct - 941-676-1033
Cell - 941-347-8782

This Month's Facebook Drawing Winner
Congratulations to Brian Crofchick,
the winner of July's Facebook drawing!
on Facebook and automatically be entered for a chance to win a $25 American Express Gift Card during the month of August!
**Please note: We've had problems contacting our winners. Please provide your contact information via email to
May 2015 Local Housing Statistics
Punta Gorda Metropolitan Statistical Area
Single-Family Homes
Median Sale Price: $172,000
Year-over-Year % Change: 9.6%
Condos and Townhouses
Median Sale Price

: $168,400
Year-over-Year % Change: 21.2%
Latest PGI Civic Association News
The Punta Gorda Isles Civic Association is a great organization and if you're new to the area, it provides a lot of valuable information about how to become more involved in the community.
You can view a copy of the latest PGICA Commentator here
- a monthly publication where you can find information about our area and the multitude of community activities available to you.
10 Things a Burglar Doesn't Want You to Know

Successful burglars have lots in common - home owners who unwittingly give invitations to robbery. Here's how thieves thank you for your generosity.

In these thank-you notes, your friendly neighborhood burglars share advice on how to stop lending them a helping hand.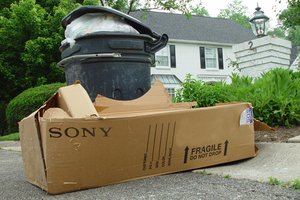 Loved your trash

Can't tell you how much fun I have driving around neighborhoods on trash day (especially after big gift holidays) when the empty boxes on the curb reveal what wonderful new toys you have. Your thoughtfulness made it possible for me to land a new laptop and a flat-screen television in one easy trip to your home!

Next time, break down the boxes and conceal them in the recycling or trash bins.

_____________________________________________
Getting carried away

Many thanks for putting your valuables into an easy-to-carry safe that I could carry right out your back door. (Nice jewelry, and thank you for the cash!)

You may want to invest in a wall safe, which I rarely attempt to open. Or, rent a lock box at your bank.

_____________________________________________
Dear BFF

Thanks for alerting a professional acquaintance of mine via your social network that you were away for the week in Puerto Vallarta, having the time of your life. Me? I enjoyed a very relaxing visit to your home with no pressure of being caught.

If only you had known that posting comments and photos of your trip on social networks is fine - but do that after you return so you won't broadcast your absence!

_____________________________________________
Su casa es mi casa!
I was sincerely relieved to find your
back door
was a plain wood-panel door. I had no trouble kicking it in (my knees appreciate how easy that was!) Imagine how silly I felt when I discovered that your windows weren't locked anyway.
You may want to take a cue from your neighbor and install steel-wrapped
exterior doors
with deadbolts on all your entries. And be sure your windows are locked when you're away.
Source: