LetsGo2PuntaGorda Newsletter
Hello!
As spring approaches, there is good reason to think ahead and start planning for the future. This is the time of year when many people consider listing their homes for sale, making it more convenient to move during the summer months.
If such a move is in your plans, or if you know of someone who is thinking of buying or selling in the future, I would certainly appreciate it if you would give me a call. When it comes to Real Estate, things can heat up very quickly.
Enjoy a safe St. Patrick's Day and if you're close to Punta Gorda, plan to visit our "official" Irish pub - the Celtic Ray! Remember the 2nd week in March is National Bubble Week and it's also National Frozen Food month!
Safe travels!
Member of RE/MAX "Platinum" Club - 2013
Member of RE/MAX "100%" Club - 2012
Member of RE/MAX "Executive Club" - 2011
Direct - 941-676-1033
Cell - 941-347-8782

This Month's Facebook Drawing Winner
Congratulations to Karen Barger,
the winner of March's Facebook drawing!
'Like us'
on Facebook and automatically be entered for a chance to win a $25 American Express Gift Card during the month of April!
January 2015 Local Housing Statistics
Punta Gorda Metropolitan Statistical Area
Single-Family Homes
Median Sales Price: $165,075
Year-over-Year % Change: 22.3%
Condos and Townhouses
Median Sales Price: $139,500
Year-over-Year % Change: 44.2%
Latest PGI Civic Association News
The Punta Gorda Isles Civic Association is a great organization and if you're new to the area, it provides a lot of valuable information about how to become more involved in the community.
You can view a copy of the latest PGICA Commentator here
- a monthly publication where you can find information about our area and the multitude of community activities available to you.
How to Keep Things Cleaner Longer
These tricks and tips will help you outsmart dirt while cutting back on housework.
________________________________________
1. Defy Dust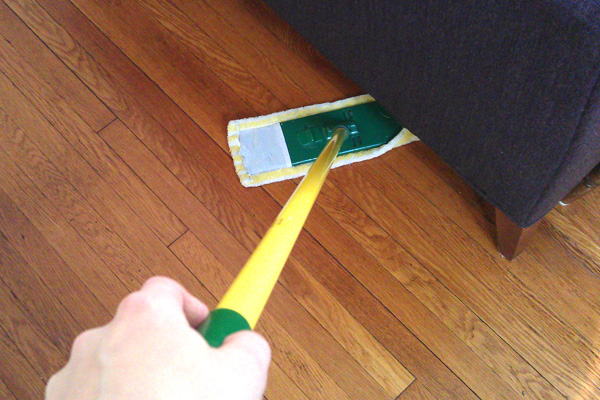 Trick: You can combat dust by adjusting your home's humidity level.


The facts: Low humidity levels cause static electricity. Not only does static attract dust, it makes it stick, so it's difficult to remove. High humidity causes problems, too - it's an ideal environment for dust mites. These microscopic critters are a double threat: They're a common allergen, and they contribute to dust production. There are as many as 19,000 dust mites in half a teaspoon of house dust, according to the American College of Allergy, Asthma, and Immunology. Yuck!
Next steps: Keep your home's humidity level between 40% to 50%. That'll eliminate static while decreasing dust mite growth.
Tip: Make it easy to keep your household vents dust free. Remove and wash them once a year with mild soap and water. After they're clean and completely dry, apply a liberal coat of car wax; then buff.
________________________________________
2. Use Rain Repellent to Keep Glass Shower Doors Crystal Clear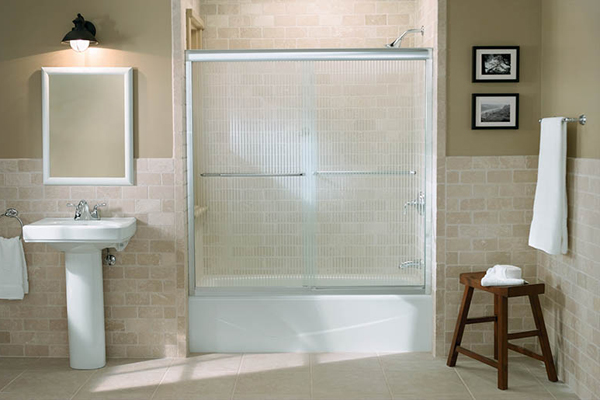 Trick: You can eliminate soap scum build-up by coating your glass shower doors with a rain-repellent product made for car windshields.


The facts: When applied to glass, products like these create an invisible barrier that causes water, oils, and debris (like soap suds) to bead and roll off.
Next steps: Find this product anywhere that sells basic auto supplies. You'll know it's time to reapply when water stops beading on shower doors. Keep in mind,
windshield rain repellents were made to treat glass, not plastic.

Tip: Automatic shower cleaners claim to let you clean your shower and tub less frequently - like every 30 days. After you finish bathing, the gadget will douse your shower and tub with a cleanser that prevents soap scum build-up while combating mold and mildew. You can buy automatic shower cleaners at most big-brand retailers, like Target and Walmart.
________________________________________
3. Give Oven-Cleaning Products the Boot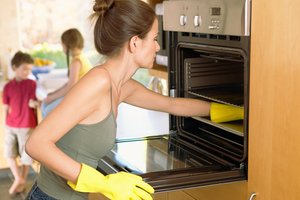 Why: Most cleaners give off noxious fumes and make a horrible mess.


The facts: The basic ingredient in many oven cleaners is lye, which can burn your eyes and your skin; it's usually fatal if swallowed.
Next steps: Use a wet pumice stone to scrape off dirt and grease. It's faster than oven cleaner and toxin-free.
Tip: Need to wipe your range or anything else down? You can bust filth faster by heating up a clean, damp sponge or cloth in a microwave for 30 seconds before wiping with or without a cleaning product. Put on rubber gloves before you pick up that hot sponge.
Source: Houselogic