LetsGo2PuntaGorda Newsletter
Happy May to everyone!
Some of you are probably saying, "Finally, Spring!", a glimpse of green grass instead of gray snow. I know from the amount of calls I've had that lots of folks are looking for property in beautiful Punta Gorda NOW in order to avoid another nasty winter. The seasonal rentals - which our office doesn't handle - are sold out we are told. With gigantic waiting lists! But why pay rent when you can own your own piece of paradise! You will be amazed at the values here! Give me a call to discuss what's right for you - or if you haven't been here yet - come check us out! You will be very happy you did!
Now - to the fine month of May! May Day and Mother's Day of course, but how about the 11th - Eat What You Want Day, or the 15th - National Chocolate Chip Day - and as a long time tapper, my personal favorite for this month has to be Monday, May 25th - National Tap Dance Day - well ok! and a shuffle, step, ball change to all of you too!
Have fun and stay safe!
Susan Hill, REALTOR?
Member of RE/MAX "Platinum" Club - 2014
Member of RE/MAX "Platinum" Club - 2013
Member of RE/MAX "100%" Club - 2012
Member of RE/MAX "Executive Club" - 2011
Direct - 941-676-1033
Cell - 941-347-8782

This Month's Facebook Drawing Winner
Congratulations to Susan Hope Bard,
the winner of May's Facebook drawing!
on Facebook and automatically be entered for a chance to win a $25 American Express Gift Card during the month of June!
**Please note: We've had problems contacting our winners. Please provide your contact information via email to
1st Quarter Local Housing Statistics
Punta Gorda Metropolitan Statistical Area
Single-Family Homes
Year-over-Year % Change: 21.9%
Condos and Townhouses
Year-over-Year % Change: 8.1%
Quote for the Month
"
Life is too important to be taken seriously."
Latest PGI Civic Association News
The Punta Gorda Isles Civic Association is a great organization and if you're new to the area, it provides a lot of valuable information about how to become more involved in the community.
You can view a copy of the latest PGICA Commentator here
- a monthly publication where you can find information about our area and the multitude of community activities available to you.
Gorgeous Landscaping for Your House Means More Than Just Looks



Landscaping is the first thing that potential buyers see, and it reflects well - or poorly - on other homes in the neighborhood. That's why homeowners associations often have exacting rules for it.


Here are the essentials for great landscaping.
Essential #1: Trees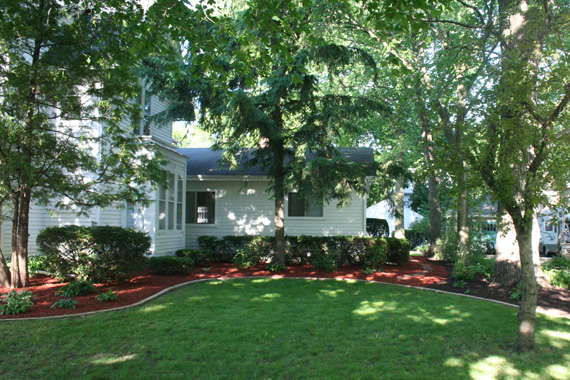 Maybe only Mother Nature can make a tree, but the National Tree Benefit Calculator can tell you what it's worth.

The calculator examines how a tree species in a particular ZIP code affects:
Storm water runoff. Trees block and suck up water running off your property, preventing pollutants from entering community waterways.
Carbon dioxide reduction. CO2 contributes to climate change.
Energy savings: Shade trees cool homes in summer; windbreaks help warm them in winter.
_______________________________________________
Essential #2: Native Plants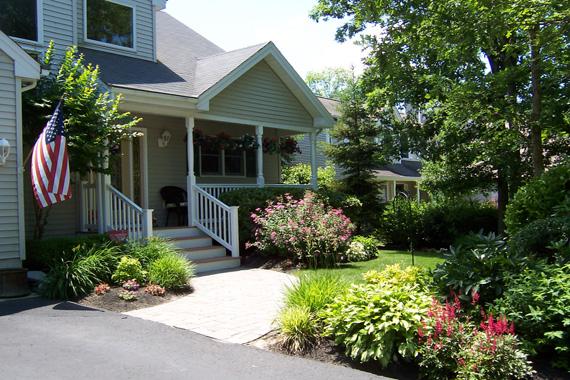 If you introduce trees, plants, or shrubs, go native. Indigenous plantings thrive without the extra TLC (read: time and money) you'll devote to anything that's forced to live outside its natural habitat.


Native plantings help wildlife, too. The National Wildlife Federation awards a special certification to homeowners who create natural backyard habitats for birds, butterflies, and other animals looking for places to roost or feed.
There's a slow but steady increase in buyers seeking these wildlife certified properties; a recent listing for a West Virginia property trumpeted its wildlife certification, restored meadow, and organic garden.
_______________________________________________
Essential #3: Outdoor Lighting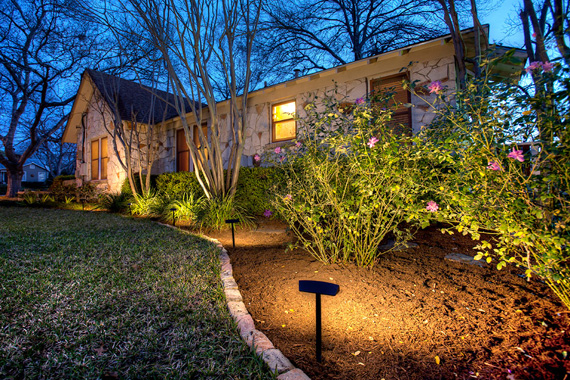 Outdoor lighting consistently tops the NAHB's list of most wanted outdoor features in its annual "What Home Buyers Really Want" survey: 41% rate it "essential;" 49% say it's "desirable."
But that's not the only reason it's a landscape essential.
Tasteful lighting paints your home at night, highlighting your other great landscaping choices and directing guests to your home's focal point - the front door.
It protects against slips and falls.
It makes a property a more difficult target for intruders. That added security can reduce burglaries, and therefore claims.
It makes your home feel homier. Soft lighting on a wrap-around porch or just a front stoop feels warm and inviting.
Source: