Limoneira - NASDAQ Listing



May 27th marked an historic day for Limoneira when company shares began trading on NASDAQ under its current symbol LMNR.

"We are pleased to list our securities on the NASDAQ Capital Market," said Harold Edwards, President and Chief Executive Officer. "This event marks a major milestone in Limoniera's long and distinguished history and will allow us to enhance the long-term value of the company. Over the years, since its founding in 1893, Limoneira has produced lemons, avocados, oranges, and other specialty crops as well as managed residential and commercial real estate operations. We are excited about our next phase of development as we strive to not only capitalize on our extensive real estate assets, but also increase our visibility in the market, improve the liquidity of our stock and expand our shareholder base."

Limoneira has retained Integrated Corporate Relations, Inc. (ICR) as our investor relations partner. Founded in 1998, ICR, Inc. is a leading financial communications consulting firm that provides unmatched counsel from vertically focused senior-level professionals. ICR has set a new standard for financial communications with a business model driven by deep, capital-markets expertise provided by a team of former Wall Street professionals, including senior sell-side analysts, portfolio managers and investment bankers. The firm represents approximately 200 corporate clients, including some of the most recognized brands in the consumer and healthy living markets.
On June 2nd Limoneira attended the 7th Annual Craig-Hallum Institutional Investor conference in Minneapolis. Initial response to our stock offering has been positive. John Mills from ICR states we're very excited to work with Limoneira, one of California's oldest and largest agribusiness companies. Over the course of its 117 year history, Limoneira has consistently demonstrated its ability to be a leader in land management including their strong commitment to sustainable farming practices. In addition to its successful agribusiness, we believe the Company's real estate and water rights assets are currently undervalued by the investment community, and we will work diligently to reveal the long-term value of these assets. With its deep heritage and strong management team, Limoneira is well-positioned for continued growth and innovation, and we look forward to working with them to maximize their long-term shareholder value."


Best Regards,

The Limoneira Team

Windfall Farms





Windfall Farms, located near Paso Robles, is a premiere master-planned agrarian lifestyle community that celebrates the best of traditional California. Limoneira is offering a limited number of investment/memberships in the new Windfall Farms founder member program.

This new community will have commanding vistas over gently rolling hills, pastures filled with wildflowers, and tree-lined lanes bordered with rustic fences. Beautiful equestrian buildings are located throughout the 724 acre community. Property owners will enjoy the best of sophisticated agrarian living. Open space will be planted with vineyards, or other agricultural plantings, operated and maintained by a master vintner/grower, and will provide income to property owners from the ground lease. Portions of the open space areas will be site-planned for a natural grass-fed cattle ranching operation that will also provide income for owners.

For more information on this exciting new community please visit

www.limoneira.com

or contact Greg Boyd (805) 239-0711 gbmonument@aol.com, or Alex Teague (805) 525-5541, x244 amteague@limoneira.com

Calavo - Limoneira's Avocado Go-To-Market Partner



Limoneira partners with Calavo, one of the avocado industry's largest marketers, to get delicious Limoneira avocados to the world's consumers and food service operators. Calavo's headquarters are located on Limoneira Ranch property in Santa Paula, further enhancing our partnership.

Over the last few years, Calavo enhanced its avocado ripening program by introducing ProRipeVIP� (verified internal pressure). This utilizes Acoustic Firmness Sensors (sound wave technology) to determine the firmness of an avocado by "listening" to its vibrational pattern. Calavo is the only avocado marketer in the U.S. to offer this newest, most innovative, and accurate, post-ripe sorting technology. By providing stores with avocados that are ready to eat, this value-added service helps boost consumption and breeds happy customers.

In addition to avocados, Calavo provides the market with tomatoes, pineapples, and papayas, as well as packaged products such as guacamole, chips, and dips. Calavo's new subsidiary, Calavo Salsa Lisa, is another new product in the company's product line. Salsa, the most popular condiment in the United States, outsells ketchup by nearly two to one. We have high hopes for a Calavo home-run on this delicious new product. Make Calavo Salsa Lisa, your party-partner. For more information on Calavo, please visit

www.Calavo.com.





Limoneira Healthy Tips

Creating a Mood with Scents:

Have you ever noticed how the warm scent of a candle wafting through the air can be uplifting, energizing, or make you cozy? Or maybe there's a certain body spray, soap, or perfume that just keeps you going through the day.

Citrus Scents provide energy: Need a pick-me-up? Grab a cup of java and light a citrus candle. Citrus scents enhance energy and boost mood so look for candles with lemon, lime, grapefruit, verbena or orange scents.

Soothing Citrus Bath

Calm your nerves and soothe your sense with this delightful mix of orange, lemon, grapefruit, tangerine and lime.

Squeeze the juice of one orange, lemon, grapefruit, tangerine and lime into a jar. Combine the peels in a blender; blend until minced very fine. Add to juice. Pour as much as desired into bath water for a soothing calming bath.

Source: Sunkist






Limoneira Lifestyle's Summer Orchard Dining Series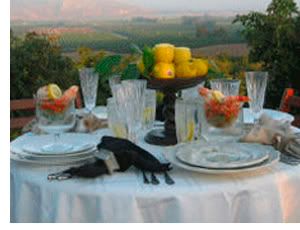 Kick back with great food, drinks and fun with your friends in two great new summer culinary experiences.
Every Friday starting June 11, the Best Chef of Ventura County series begins at Limoneira's Orchard Dining spot high above the Heritage Valley floor. Chef Jason Collis of Jonathan's at Peirano's begins the series with a four-course meal using locally-grown, farm-fresh produce including delicious Limoneira avocados and lemons, as well as great local seafood, and pairings with delicious local wines. The evening starts at 7:00 p.m. with a trolley ride winding up through the groves to the orchard dining site. Jason's chef-created passed tapas, paired with local wines, commence the evening's culinary experience.
Reservations close the Wednesday prior to each Friday event, so please make your reservations early. A minimum of 20 guests is required per event. Please call (805) 648-4853 for reservations. Visit us at
www.jstapas.com
for menu and details.
Sunday Blues, Bocce and BBQ events

Soulful summer Sunday afternoons of music, BBQ tri-tip, hamburgers, chicken, a full bar cupcakes, chocolate and shaved ice. It all happens with the Blues, Bocce and BBQ Sunday Series beginning in celebration of dad on Father's Day, June 20th, at Limoneira's 12 international regulation-size bocce ball courts.
For more information, please contact Jason Collis at (805) 648-4853 or Jeanette Rivera at (805) 525-5541.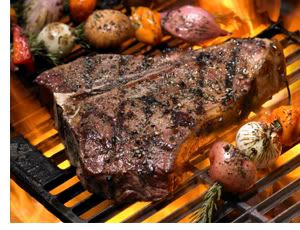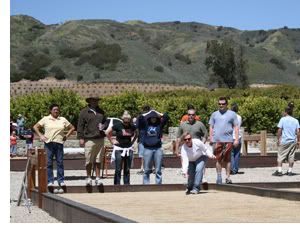 Managing Water Responsibly
As we all know, water is vital for both agricultural and urban uses. We're all responsible for ensuring that this important resource is used efficiently. As one of the largest lemon and avocado producers in the United States, we take our water use seriously. Limoneira maintains water asset ownership in the adjudicated Santa Paula Basin, the unadjudicated Fillmore basin, Santa Barbara aquifers, San Luis Obispo aquifers, Tulare County aquifers, Friant-Kern District water rights, and four water mutual companies.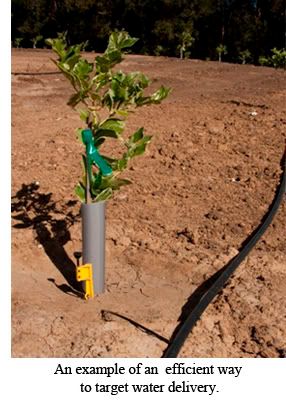 In our agricultural production, we maintain a comprehensive program of efficient water management including mulching, irrigation water analysis, irrigation monitoring and scheduling, fertilization analysis and scheduling, ground water monitoring, ground water protection, water basin management, and well efficiency testing.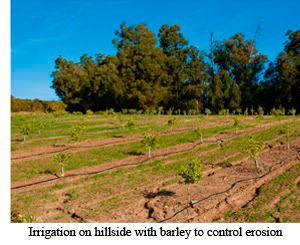 Jobs, Prosperity, and The National Export Initiative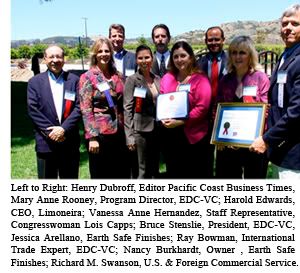 International trade is an important component in raising both world GDP and living standards. In honor of World Trade Week, Limoneira hosted "Jobs, Prosperity, and The National Export Initiative" at Limoneira Ranch on May 20th. This important Economic Development Collaborative of Ventura County (EDCVC) event raised awareness of the importance of export trade by Ventura County businesses and was well attended by leaders throughout our region.
Richard M. Swanson, Jr., Regional Director of The U.S. and Foreign Comm ercial Service Department, discussed the National Export Initiative, and Dr. Ashish Vaidya, Dean of Faculty, Professor of Economics at California State University, Channel Islands, presented "The International Trade Impact on Ventura County." Harold Edward's, CEO of Limoneira Company, shared that exports comprise 30% of Limoneira revenues. These exports help strengthen and diversify Limoneira's operations.