Limoneira Adds Northern Acreage To Agriculture Operations

Limoneira is one of California's oldest citrus growers and one of the largest growers of lemons in the United States and the largest grower of avocados in the United States. The Company also produces oranges and specialty citrus. Recently, we announced the lease of approximately 1,000 acres in the San Joaquin Valley of California, consisting of 800 acres of citrus and 200 acres of other crops

Harold Edwards, Limoneira's CEO, said, "This lease is part of our plan to opportunistically expand our plantings of oranges, specialty citrus and other crops. These crops have been profitable, and we are pursuing them to diversify our product line. Agricultural land that we believe is not suitable for lemons is typically planted with to specialty citrus or other crops. While we intend to expand our orange, specialty citrus, and other crops, we expect to do so on an opportunistic basis in locations that we believe offer a record of historical profitability."

Limoneira's Vertical Integration Benefits Customers

John Carter, Director of Global Sales, explains that Limoneira has developed core competencies in growing, harvesting, and packing for almost 120 years. "This has given us extensive time to build efficiencies into our system to benefit our customers," says Carter. "Our team approach is integrated, and we have skill sets in all areas, to provide the best fruit possible for our customers. Our growing and harvesting crews work closely with our packing operations and our sales team. We meet daily to discuss the latest information concerning the fruit on our trees and the packing schedules in our packinghouse. This lets us give our customers what they need, when they need it, to maximize their profitability. Because we own and control every aspect in the supply chain, we can make decisions quickly to deliver consistent quality and faster go-to market strategies."

Cleaning With Lemons

The citrus smell of a lemon is refreshing and invigorating. For many people a lemon smell has come to symbolize cleanliness. Most major cleaners on the market today have a lemon or a citrus scented version for consumers to enjoy. Lemons are acidic and can provide some antibacterial and antiseptic properties for cleaning.

Copper

Clean copper-bottomed pots and pans with lemon juice. Copper fixtures can also benefit from a lemon juice cleaning. Cut a lemon in half. Dip it in some salt, and clean spots from your copper.

Add To Vinegar

Vinegar can be a great cleaning ingredient, but many people dislike the vinegar smell. Adding lemon juice to vinegar when cleaning can help neutralize the vinegar smell.

Countertops

Countertop stains can be removed by allowing lemon juice to sit on the stain for a few minutes. Scrub the area with baking soda and watch the stains disappear. Don't leave the lemon juice sitting for too long. It can be powerful stuff.

Drains

Lemon rinds can be ground in the garbage disposal to freshen the drain. Hot water with a little lemon poured down a drain will also freshen the drain.

Bleaching

Lemon juice acts as a natural bleaching agent. Put lemon juice onto white linens and clothing and allow them to dry in the sun. Stains will be bleached away.

Source: Sarah Aguirre is a writer specialized in helping families clean and organize their homes. Her advice has appeared in many national publications.

Windfall Farms

Windfall Farms is an exclusive community that promotes and enhances the sustainability of local agriculture, and celebrates equestrian, ranch, and agrarian lifestyles. It is a spectacular 724-acre horse farm with one of the finest equestrian facilities in the Western United States. The farm was initially developed as the only Kentucky-style thoroughbred farm in California. It is currently operated as a horse training and boarding facility with an extensive farming operation.

Underlying Windfall Farms is a subdivision consisting of 76 lots of approximately 10 acres each. This subdivision was recorded in 1921 with unconditional certificates of compliance in place, which offers a variety of development opportunities. Lots between 10 and 40 acres are currently available. The breathtaking setting combined with the world class facilities has the potential to become an exclusive agricultural estate community in the heart of the Central Coast wine country.

Windfall Farms is situated near Paso Robles, on California's highly-acclaimed Central Coast, half-way between Los Angeles and San Francisco. A rich array of fine restaurants, world-class performing arts venues, renowned vineyards (including the 2010 Wine of the Year), exceptional golf, destination beaches, and charming coastal communities are but a short distance away. For more information visit www.WindfallFarms.net.



Zinfandel Festival - March 16-18, 2012


At the Paso Robles Zinfandel Festival, always held the third weekend in March, producers, and enthusiasts come together in celebration of everything that Zinfandel adds to your palate and your experience. Enjoy a zin-filled weekend with activities including winemaker dinners, exclusive Zinfandel tastings, winery and vineyard tours, and so much more! Attend the Zin tasting and experience Zinfandel and Zinfandel blends from over 50 wineries paired with zin-friendly foods and the opportunity to bid on truly unique items through the Wine Country Auction.

Nobu Malibu Executive Chef Gregorio Stephenson Features Limoneira Meyer Lemons In His Signature Dishes

Nobu Malibu

.part of the Nubu empire is

known for

its

exquisite cuisine They also have Executive Chef Gregorio Stephenson

has added his own delights with a Malibu twist

including Lobster Shiitake Salad with Spicy Lemon Dressing

.

Gregorio was born in Fresno, and has lived in Los Angeles and Italy, among other places. He picked up a knife professionally at age 15 and has worked with Nobu for the past 11 years. Aside from his duties as Head Chef at Nobu Malibu, Gregorio has been instrumental in the set-up and opening of most of the Nobu Restaurants in the Western Hemisphere. His approach is old-school kitchen madness with modern sophistication. He has a great loyalty to fresh ingredients and loves Limoneira Meyer Lemons

. He'll be using some of them on his upcoming culinary excursion to Moscow.

Check out Nobu's website

here

.

Lemon Pudding Cake

Makes: 8-10 servings

Ingredients:

* 1 1/4 cups unbleached all-purpose flour



* 2 tsp. cornstarch

* 1 1/4 cups sugar

* 5 Tbsp. unsalted butter, room temperature

* 2 Tbsp. grated lemon zest

* 1/2 cups fresh lemon juice

* 1 1/4 cups whole milk

* 5 eggs, separated; yolks in one bowl with whites in another

Preparation:

1. Adjust oven rack to center position and heat oven to 325 degrees. Lightly butter an 8" square baking pan. Bring several quarts of water to boil for water bath. Mix flour and cornstarch together in a bowl, set aside.

2. Cream the butter, 1 cup of the sugar and lemon zest until light and fluffy, about 2 minutes. Then, beat in the egg yolks and flour mixture, mixing until smooth. Slowly mix in the lemon juice, then stir in the milk.

3. Set the custard mixture aside and beat the egg whites until they hold soft peaks. Then, add the remaining 1/4 cup of sugar and beat egg whites to stiff, moist peaks. Gently stir a dollop of the egg whites into the custard. Then, working slowly, fold the remaining egg whites in bit by bit until they are all incorporated, but not overly beaten.

4. Pour the batter into the baking pan and place the pan inside a larger baking pan. Then fill the larger baking pan with hot water bath until it comes halfway up the side of the pan. Bake until pudding cake center is set and springs back when gently touched, about 1 hour. Remove roasting pan from oven and let pan cool for 1 hour before serving.




The Naptime Chef

; adapted from Cooks Illustrated Entertaining



Kids
As part of an overall effort to address obesity among elementary schoolaged children, the US Department of Agriculture (USDA) developed MyPyramid for Kids, a child friendly adaptation of the MyPyramid Food Guidance System. MyPyramid for Kids is designed to help children 6-11 years old understand and follow the dietary guidance of the MyPyramid Food Guidance System. Materials developed include the MyPyramid for Kids graphic with the child-tested tagline, "Eat Right. Exercise. Have Fun."; classroom materials; and an interactive computer game. Check out the website here.
Limoneira does its part by offering school tours to teach kids about nutrition in a fun way. We also offer educational children's kits such as our Master Chef Kit. These kits ensure that your child gets a jump start as the next celebrity chef. Little chef hats and aprons provide the professional career touch. Miniature rolling pin, whisk, wood spoon, spatula, and scraper - the necessities that got Wolfgang Puck and Alice Waters up and running are also here. Limoneira Kids recipes are included for preparation for the next nutritious fun family feast. View our kids products here.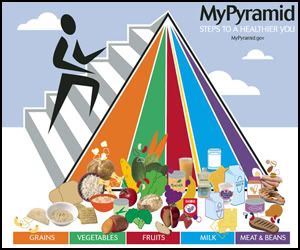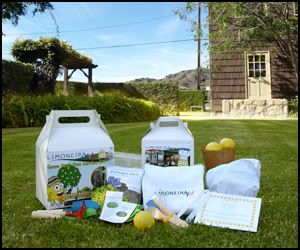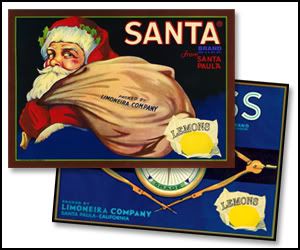 Crate Labels
Collecting the colorful artwork of California citrus packing labels is now a widespread hobby. The earliest Limoneira box labels depicted the company's six hundred foot long packing house framed with eucalyptus trees and lemons. The image was painted onto the boxes using a metal stencil. This stenciled label was eventually replaced by the now-familiar rectangular-shaped paper labels, designed by Schmidt Lithographers of Los Angeles. Max Schmidt, a native of Germany, started the company in the 1880s and is considered the father of label art.
Limoneira citrus labels (brands) are well known in many countries, particularly in the Asia Pacific region.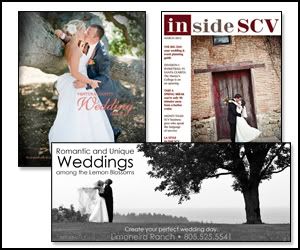 Weddings
Planning the Perfect Wedding?
A great
backdrop is one of the elements of the bride's big day. Limoneira Ranch, recently featured in both the Ventura County Wedding Guide and Inside Santa Clarita Magazine, draws couples from all over Southern California.
To quote Inside SCV "
Limoneira Ranch blends over a century of sustainable agriculture with the best in customized weddings. Orchard dining spots high above the valley floor, platforms among the lemon groves framed by magical mountain vistas, and historic interior and exterior venues come together to create one-of-a-kind memories for brides, grooms, and their treasured guests. This Santa Paula location is just a short drive from Santa Clarita - and a million miles away from the ordinary
"
. For more information or to request a site visit, please contact Limoneira at (805) 525-5541 or info@limoneira.com.
Limoneira Winner's Block
This month our lucky winner is Jason La of Los Angeles, California . As our monthly winner, Jason has won a Limoneira Orchard Fresh or Lifestlyes Gift.
Congratulations Jason!l!
For your chance to win, make sure you're on our mailing list to be entered into our monthly drawing. To join click here or visit our website at www.Limoneira.com
Be sure to check out our other contests and drawings for additional changes to win prizes.