Stop By And Say Hello At Fresh Trends At The PMA (Produce Marketing Association) Trade Show In Atlanta. We'd Love To See You.




Trends never sleep. They just keep changing according to the PMA organization, and this is a key reason why more than 18,500 people are expected to attend this year's show in Atlanta. As the association representing the fresh fruit and vegetable industry, PMA's connections reach across the supply chain and around the world. Discussing relevant and timely trends this year are Jim Donald, the former Starbucks CEO, and Terry Jones, founder and former CEO of Travelocity.

Once again, Limoneira is very happy to partner with Calavo, our avocado go-to-market partner in a dynamic exhibit. Limoneira will be introducing the Lemon Sale team's Lemon QR (quick response codes) to the trade, promoting our delicious and healthy lemons, and sampling around-the-world lemon cocktails.

Una Bella Sera "A Beautiful Evening"

Limoneira's Bocce Ball Courts were the stage for Una Bella Sera on Sunday October 2nd. The weather could not have been more Tuscan for California State University Channel Islands Foundation's premiere event. Guests enjoyed an afternoon and evening under the sky among the orchards with friends, and were treated to an elegant five-course gourmet menu created by Jason Collis exclusively for the occasion, complemented by fine wines, while Italian music floated through the air. Bellissimo!

Fantastic Fall Fun-Weekends In October At The Faulkner Farm Pumpkin Patch

Delicious food, activities, and autumn decorations await you and your family at The Faulkner Farm Pumpkin Patch each weekend in October. Mouthwatering treats will make sure your little pumpkins don't go away hungry. Cooked to perfection tri-tip, country chicken sandwiches, kettlecorn, fish tacos, fabulous burritos, beef jerky, whole pumpkin and apple pies and slices, yummy cookies and other great baked goods, and much more all from the names you already know like Laird's BBQ, Spencer Makenzie's, and Yankee Doodle Bakery. Visit with the Channel Islands Gourd Society and shop at the Country Store and Farmers Market for local produce, unique gifts, and holiday items.

Free hayrides, hay pyramid, red corn maze, animal viewing (small and large) and festive music are part of the harvest of fun. For more information please visit www.faulknerfarmpumpkinpatch.com.

Garagiste Winemaking Community To Converge For First-Of-Its-Kind Event At Windfall Farms November 11 - 12, 2011

PasoGaragiste.com, the first and only multi-media site dedicated to the community of emerging underground winemakers will hold its first annual Paso Garagiste Festival: Celebrating the Artisan Winemaker on November 11-12 at Windfall Farms in the heart of California's Central Coast, one of the world's most exciting wine regions.

Featuring high-quality, cutting-edge, small production wineries that produce fewer than 1,200 cases a year, this first-of-its-kind festival brings together many of the best and most innovative winemakers in California, pouring their hard-to-find wines and sharing their knowledge with passionate wine consumers.

"The mission of the Paso Garagiste Festival is to focus on the undiscovered artisan producers who are making some of the most thrilling wine on the planet right now," said PasoGaragiste.com co-founder Doug Minnick. "Our event is unique in the industry because it gives a home to the smaller, trail-blazing wine producers who don't have huge marketing resources, while also introducing wine lovers to winemakers on the cusp of discovery."

Hailed by leading tastemakers (including The Wine Spectator, who named a Paso wine as the #1 wine in the world for 2010) as the source of some of the country's best winemaking, Paso Robles has emerged as the go-to region for innovative winemaking and is the perfect venue for the premiere Paso Garagiste Festival. Already, over twenty-five of the region's hottest emerging winemakers, including Alta Colina, Caliza, Jalama and Vines on the Marycrest, have signed on to share their wines at the festival. Premiere festival sponsors include key Paso Robles wine trendsetters The Krush 92.5 and 15 Degrees C Wine Bar and Shop.

Windfall Farms

Situated in the heart of beautiful Central Coast wine country, Windfall Farms is a spectacular 724-acre horse farm with one of the finest equestrian facilities in the Western United States. It features stunning brick buildings with glass and copper steeples, and is surrounded by vineyards, fenced pastures, green sprawling lawns, and panoramic views of the majestic, oak-studded rolling hills of the Central Coast. For more information, please visit www.windfallfarms.net.

2011 AG Education Special Event Held On September 23rd At Limoneira

Over 50 school administrators, students, and parents attended a Back-To-School special event at Limoneira on Friday, September 23rd. Ventura County 3rd graders participated in a tour of Limoneira's packing house, demonstration orchard with over 300 citrus varieties, and solar orchard of 6400 photovoltaic panels, followed by a BBQ lunch at Limoneira Park. Mary Maranville, Ventura County Agriculture Education Coordinator, organized the event. Limoneira partners with Mary to provide high quality, unique, and locally relevant agricultural education to Ventura County school children. Click to view article.

During the 2011 school year the program reached over 1,500 school children in classrooms throughout the county. "Kids love learning about agriculture, the top ten crops of Ventura County, and sustainability," says Mary. The Agriculture Education Program is a comprehensive two-part project. Part one includes visiting a classroom during the instructional day or after school with a basket full of fresh Ventura County grown fruits and vegetables. Part two is all about getting kids out of the classroom and giving them an in-depth experience at Limoneira.

"Even in a community such as Santa Paula, with its rich agricultural history, many young students don't make the connection between the acres of farmland around them and the food on their table," says Harold Edwards, president and CEO of Santa Paula-headquartered Limoneira Company. "Mary Maranville is helping make that connection. Having kids here on tours brings it home even further."

Ghostly Lemon Cake Pops

Ingredients:

One 11- to 12-ounce plain pound cake
4 tablespoons unsalted butter, softened
1 teaspoon finely grated lemon zest
1 tablespoon fresh lemon juice
1/2 cup confectioners' sugar
18 popsicle sticks (see Note)
1/2 pound white chocolate, chopped
Edible decorating pens, for decorating

Directions:

Crumble the cake into a food processor. Add the butter, lemon zest, lemon juice and sugar and pulse to combine. Transfer the mixture to a bowl and shape into 18 mounds. Gently press them into ghost shapes and ease each one onto a popsicle stick. Stand the pops upright in a large piece of Styrofoam.
In a large microwave-safe bowl, heat the white chocolate at high power until three-quarters melted. Stir until completely melted and cooled to 88� on an instant-read thermometer. Working quickly, dip the cake pops into the white chocolate, letting any excess drip back into the bowl. Stand the pops upright in the Styrofoam and let the chocolate set. Use the edible decorating pen to draw faces on the ghosts and serve.

Make Ahead

: The cake pops can be refrigerated for up to 4 days.

Source: foodandwine.com



America In Bloom Santa Paula
Diane and Dudley Davis, owners of DoRights Nursery in Santa Paula were the visionaries behind the Santa Paula Chapter of America in Bloom, a national organization which has been a great resource and motivator to improve the image of cities across the United States. America in Bloom is a national organization which is a great resource and motivator to improve our city's public image. A number of Santa Paulans are uniting to help beautify Santa Paula. We'd love to have you join us. America in Bloom's Santa Paula project includes the installation of flower baskets along entryways to Santa Paula. Three new poles, each holding two hanging flower baskets, are currently anchored on Palm Avenue across from Carrows restaurant.
Public and/or private businesses can become sponsors for $250. Each donor receives recognition on very visible plaques. If you would like to sponsor the new baskets on Palm Avenue (installed July 21), or future baskets on Peck Road (to be installed next month), please visit America in Bloom Santa Paula on Facebook or email AIBSANTAPAULA@gmail.com.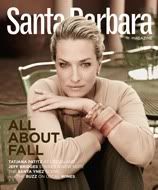 Limoneira Skin Care In Santa Barbara Magazine
Santa Barbara Magazine is one of the premier affluent lifestyle magazines for Southern California. Advertising for Limoneira Lifestyles Skin Care recently appeared in the fall issue of the publication.
Santa Barbara Magazine has a circulation of 40,000 copies, and a total average readership of 208,000. The magazine is also distributed nationwide to a network of selected retailers. Santa Barbara Magazine's readers are between the ages of 40 and 65, with a median income of over $250,000.
Cleaning With Lemon Juice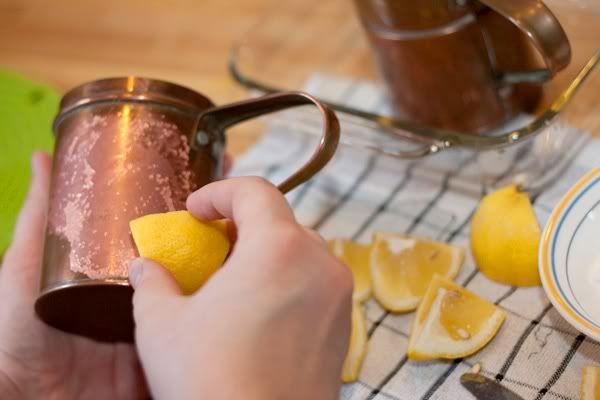 Lemons are a natural disinfectant, stain remover, and they're wonderful at polishing metal. Best of all, they're inexpensive and eco-friendly. Several examples follow:
Cleaning laminate countertops: Cut a whole lemon in half; squeeze the juice onto the counter. Using the lemon as a scrubber, work the juice over the stains. Leave the juice on until the stains disappear then rinse with water and dry. The citric acid will quickly remove the stains. Bottled lemon juice can be substituted for a fresh lemon.
Cutting boards: The same procedure works on cutting boards. Rub the lemon onto the stains and let it sit until the stains are gone. The lemon will also disinfect the board at the same time.
Cleaning copper: Cut a lemon in half and sprinkle salt (any kind - even sea salt) onto the lemon. Massage the lemon wedge onto the brass, squeezing the juice out until the tarnish is buffed off. As it stops working, add more salt to the lemon. Rinse well with water and let dry. It is important to keep copper bottom pans clean because they distribute the heat according to how clean they are on the bottom.
Cleaning brass: If a piece is brass plated, it will be brass on one side and solid black on the other side. Never use lemon on anything that is brass plated - only on solid brass. Brass plated items need to be cleaned very gently with an oil soap - never use anything acidic on them. Use the same method for cleaning solid brass as for copper - one half of a lemon with salt sprinkled on it, and rub until it is clean. Rinse well with water.
Removing rust from clothes: Put lemon juice on the rust stain and then sprinkle cream of tartar on top of the juice. Rub the solution in and let it sit on the stain until the rust is gone. The citric acid will take the rust off. Some stains are tougher than others, but 15 to 30 minutes should work just fine. Launder as usual.
Bleaching white clothes with lemon juice: Mix 1/2 cup lemon juice (or sliced lemons) with one gallon of very hot water. Soak the clothes in the solution. Do not use for silk; it is best for cotton and polyester. Let the clothes soak for at least an hour to overnight, depending on how badly the clothing needs bleaching. Remove the clothing from the mix, pour the mix into the washing machine and wash as usual. It's impossible to over-bleach using lemon juice.
Getting stains out of Tupperware: Squeeze lemon juice in the container and then add baking soda. Use the lemon as a cleaning tool and work it in. If the stains are bad, let it sit overnight before scrubbing the stains.
Source: DIY network.
Limoneira Winner's Block
This month our lucky winner is Stacy Hollister from Austin, Texas. As our monthly winner, Stacy has won a Limoneira Orchard Fresh or Lifestlyes Gift.
Congratulations Stacy!l!
For your chance to win, make sure you're on our mailing list to be entered into our monthly drawing. To join click here or visit our website at www.Limoneira.com
Be sure to check out our other contests and drawings for additional changes to win prizes.