Georgia On My Mind



This month we celebrate Atlanta, another great American City. Atlanta rose from Civil War ashes to international prominence. It's an economic engine, super sophisticated and served by some of the U.S.' largest grocery chains including Publix and Kroger.

Atlanta

Atlanta is the capital the U.S. state of Georgia, and is home to 5.4 million people and the ninth largest metropolitan area in the United States.

Atlanta was established in 1837 at the intersection of two railroad lines, and the city rose from the ashes of the Civil War to become a national center of commerce. In the decades following the Civil Rights Movement, the city earned a reputation as "too busy to hate" for the progressive views of its citizens and leaders, and Atlanta attained international prominence. Atlanta is the primary transportation hub of the Southeastern United States, via highway, railroad, and air, with Hartsfield-Jackson Atlanta International Airport being the world's busiest airport since 1998.

Encompassing $304 billion, the Atlanta metropolitan area is the eighth-largest economy in the country and 17th-largest in the world. Corporate operations comprise a large portion of Atlanta's economy, with the city serving as the regional, national, or global headquarters for many corporations. Atlanta contains the country's third largest concentration of Fortune 500 companies, and the city is the global headquarters of corporations such as The Coca-Cola Company, The Home Depot, Delta Air Lines, AT&T Mobility, UPS, and Newell-Rubbermaid. Over 75 percent of Fortune 1000 companies conduct business operations in the Atlanta metropolitan area, and the region hosts offices of about 1,250 multinational corporations. Many corporations are drawn to Atlanta because of the city's educated workforce; as of 2010, nearly 43% of adults in the city of Atlanta have college degrees, compared to 27% in the nation as a whole and 41% in Boston

Media is also an important aspect of Atlanta's economy. The city is a major cable television programming center. Ted Turner established the headquarters of both the Cable News Network (CNN) and the Turner Broadcasting System (TBS) in Atlanta. Cox Enterprises, the country's third-largest cable television service and the publisher of over a dozen major American newspapers, is headquartered in the city. NBC Universal's The Weather Channel is also headquartered in Atlanta.

Atlanta, while very much in the South, has a culture that is no longer strictly Southern. This is because in addition to a large population of migrants from other parts of the U.S., many recent immigrants to the U.S. have chosen to make the city their home, making Atlanta one of the most multi-cultural in the nation. Thus, although traditional Southern culture is part of Atlanta's cultural fabric, it is mostly the backdrop to one of the nation's leading international cities. This unique cultural combination reveals itself at the High Museum of Art, the bohemian shops of Little Five Points, and the multi-cultural dining choices found along Buford Highway.


Health Tip:






Remove Toxins From Your Body

Straight lemon water is a great detoxifier for your body. Squeeze the juice from a lemon half in your water. Cut the lemon half in pieces and put in your water for extra flavor.
Limoneira Unleashes The Natural Power Of Lemons in Atlanta
In a nod to Atlanta, the Peach state, Limoneira is linking with Atlanta lifestyle, recipe, beauty, health and green cleaning experts in August. There's plenty of talent in this diverse city and we're excited and happy to pair with this great group of professionals.
Atlanta Opinion Leaders

Laura Turner Seydel - Beauty With Lemons
Laura Turner Seydel, Ted Turner's daughter, is an international environmental advocate and eco-living expert dedicated to creating a healthy and sustainable future for our children.
She's also the chairperson of the Captain Planet Foundation, a great entity that promotes environmental education and gardens in schools as well as being the former chair of Zero Waste Zone, an organization that encourages communities working together to change current disposal methods of consumed products.
Laura is the recipient of numerous humanitarian and environmental awards, including the League of Conservation Voters Environmental Hero Award and the Healthy Child Healthy World's Mom on a Mission for Service Award.
Dr. Taz Bhatia - Health With Lemons
Dr. Taz Bhatia, is a bestselling author, international lecturer and board certified physician and the Founder and Medical Director of the nationally recognized Atlanta Center for Holistic and Integrative Medicine. She's a highly respected specialist in the practice of integrative/holistic medicine, anti aging and regenerative medicine, pediatrics, women's health and emergency medicine. Dr. Taz is well known and highly regarded in medical circles for her unique ability to diagnose, develop and apply the appropriate protocol for a variety of individual patient needs and conditions. Taz believes the synergy between women and children's health and its ultimate impact on the health of the family is at the core of her center's mission.
Jennifer Etchison - Recipes With Lemons Atlanta
Winner of a number of awards including Atlanta Magazines Best of the City Award in 2012, Prizzi, in the city's chic Buckhead area, is a contemporary Italian restaurant with a creative menu by Executive Chef Piero Premoli. Pricci is fun and stylish dining at its best. Casual and classy, Pricci has an innovative menu which combines classic cuisine with modern flair. Pastry chef Jennifer Etchison takes an academic approach while researching chef Piero's monthly regional Italian menus and applies a fine palate to the kinds of old world creations that have nothing to do with the current vogue. Her coconut cassata cake with frangelico syrup and Sicilian citrus. and Lodi style chocolate cannoli, have received raves and her creativity has enabled her to win Atlanta's Great American Baking Contest.

Sona Chambers - Lifestyle With Lemons
Sona Chambers' extensive fund raising organization-4 a Great Cause has harnessed the talent of today's best and brightest including President Jimmy Carter, Bruce Willis, Jane Fonda, Ted Turner, Tommy Lee, Martina Navratilova, Sally Field, Rosie O'Donnell and many others. Her extensive career has this 24/7 jet hopping event strategist and marketer providing her magic for Hollywood celebrities, international corporations and Emmy-Award winning television programs. Ms. Chambers has devised numerous cause marketing campaigns with a variety of large corporations including, Wal-Mart, Burger King, IKEA, David Yurman, Orvis, Tesoro, Tootsies, and Cartoon Network.

Vanessa Tanner - Cleaning With Lemons
Vanessa Tanner, Owner of Welcome Home Maids in Atlanta says that we're living amongst more and more toxic chemicals and points out some troubling statistics. She notes that the Environmental Protection Agency (EPA) claims the air in our homes is two to five times more polluted than the air outside of our homes and that the average home contains over 1,500 hazardous compounds.
Welcome Home Maids is a professional green house cleaning service, committed to providing their clients all over Atlanta with a healthy and safe home. Even beyond their all-natural cleaning methods, they keep an eye on the details: from their kind and reliable staff, to the fresh clean scent their clients come home to. They maintain a healthy environment for their clients and their families so they breathe easy. And that's the greatest luxury of all.
Harold Edwards Featured On The Street.com
On July 31st, Harold Edwards appeared on TheStreet.com TV to provide reporter Gregg Greenberg with an update on Limoneira's agribusiness and financial performance, as well as recent developments in Limoneira's real estate business.
The Street.com produces nearly 100 financial news and commentary videos weekly across 13 channels, featuring market and strategy updates, personal finance tips, executive and CEO interviews, mutual fund and ETF reports and a daily show featuring company founder Jim Cramer. The outlet targets educated, affluent investors and aims to be the leading, web-based source of market, investing and financial information.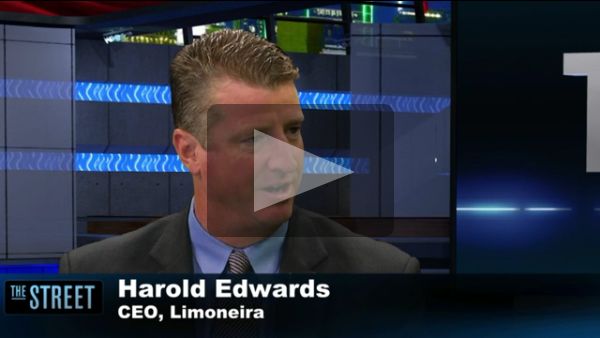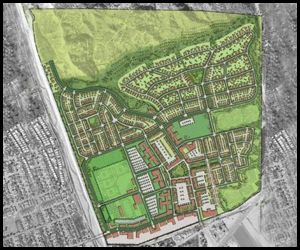 An Opportunity To Provide Input On New Home Features In What Will Be Ventura County's Newest Community Development
This new master-planned community will be built on approximately 500 acres of rolling foothills in Ventura County near Santa Paula, CA. This places the community a short drive from the Pacific Ocean and Ventura County's leading cultural facilities. It is envisioned as a distinct "new town" community in that in addition to homes, it would also include services, schools and amenities - most everything you need for day-to-day living.
Approximately 1,500 homes are planned, ranging in size from smaller townhomes and patio homes to larger detached homes on a variety of home site sizes. Corresponding to the large variety of homes will be a wide array of home prices; all of which will be appropriate for the area. The "look and feel" of the community, along with architectural styles of the homes will be planned to complement the local Mediterranean climate.
In addition to a variety of home types, the community is currently planned to include:
Walking, hiking and bike paths, not only within the community but also into bordering open spaces
A series of "walkable" neighborhoods, interconnected through a series of parks, greenbelts, paseos and plazas
New schools and community facilities
Athletic facilities including 35 acres of baseball and soccer fields
New retail, healthcare and general service facilities
Other recreational amenities still being planned
Take our housing survey here or visit limoneira.com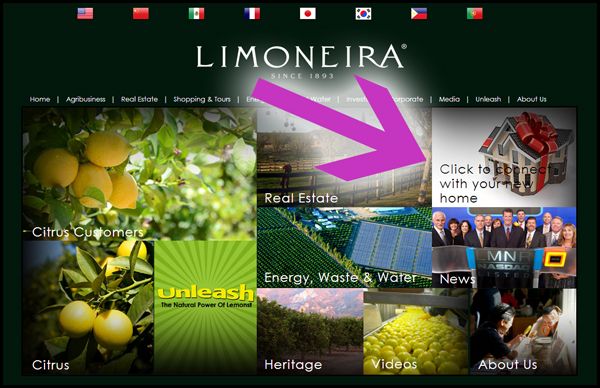 Limoneira And Hot Dog On A Stick Keep Things Cool In August In Honor Of National Lemonade Day
As the summer keeps heating up, Limoneira is proud to stand alongside Hot Dog on a Stick to promote lemonade, a time-honored classic summer beverage. As an added "thank you" to customers and lemonade-lovers everywhere, Limoneira and HDOS have sweetened the pot with an opportunity to win more than just a refreshing beverage next time the thirst strikes. Here's how it works:
1. Visit any Hot Dog on a Stick location throughout the month of August
2. Purchase any sized lemonade
3. Snap a photo of your receipt
4. Visit Limoneira's facebook page and give it a "like"
5. Upload your receipt to Limoneira's wall along with a couple of words about why you love Hot Dog on a Stick!
Winner of Best Post will receive a new Apple iPad & will be featured in a video & press release distributed to thousands of people!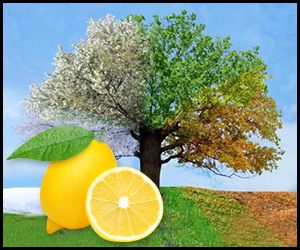 Spring, Summer, Winter, Fall-Every Season Is The Perfect Opportunity To Unleash The Power Of Lemons With Limoneira
The holiday 2013 through 2014 Limoneira Unleash promotional calendar has recently been unveiled and it's been designed to support our grocery and food service partners by linking the promotions with Limoneira's global opinion leaders.
Five promotions will take place which have been designed to help increase lemon category sales (grocery) or foot traffic (food service operators) and involve in-store merchandising, trade advertising and consumer lifestyle advertising. Additionally, Limoneira UNLEASH opinion leaders geographically located in our partners shopping areas will be actively working to help drive consumers to their locations.
Mid November To December 31, 2013
Limoneira Unleash Chefs And Bartenders Promote Lemon Recipes And Festive Drinks For The Holidays
Unleash Nutritionists Share Healthy Lemon Tips To Start Off The New Year With A Bang!
Limoneira Unleash Beauty Opinion Leaders Share Lemon Skin And Beauty Tips For Valentine's Day
March 20 To April 20, 2014
Natural Spring Cleaning Tips From Limoneira Unleash Green Cleaning Opinion Leaders
Summer BBQs, Pool Parties And Picnics With Limoneira Unleash Lifestyle Opinion Leaders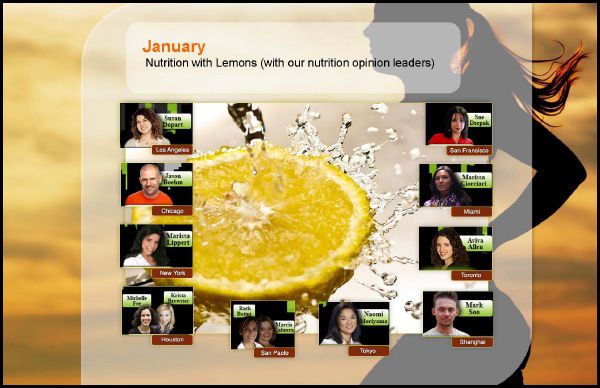 Lisa Keating, One Of Limoneira's Lifestyle Opinion Leaders Was On Hand To Promote Lemons At The Recent Citrus Classic Balloon Festival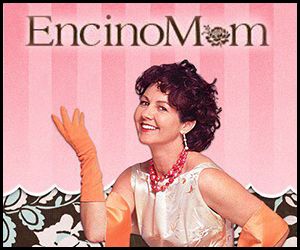 Lisa is the popular host of "ENCINO MOM"- a California Lifestyle New Media Magazine that has thousands of followers who enjoy her tastefully prepared suggestions on enjoying all things creatively Californian. She loved the balloon classic and had an opportunity to speak to the audience who enjoyed her remarks:
"Good evening! I'm so excited to be here. This is my first Balloon Glow. I can't wait to see all the balloons that are here this year! I'd like to chat with you a little bit about EncinoMom.com and Limoneira and about how today, more than ever companies are collaborating to drive results, but first I'd like to tell you a little story. Does anyone here have a lemon tree growing on their property? Front yard, back yard, balcony, ranch? Yep. Me, too!
When I was about 6 years old we had a lemon tree right outside my bedroom window. When that tree was in bloom, we slept with the windows open (this was before the invention of air conditioning) and the fragrance of the blossoms would lull me to sleep, bringing sweet dreams. You see, I believe lemons are irrepressibly cheerful. In California, we have the luxury of an abundance of lemons, enough to share with the world.
That is the essence of EncinoMom. EncinoMom is a California Lifestyle, New Media Magazine. We celebrate the wonder and beauty, the food, environment and state of mind that define California Lifestyle. My family has been enjoying the California Lifestyle for 5 generations. I decided it was time to share! Not everyone can live here, but we enjoy a unique abundance of resources, talent and style that we can afford to inspire people all over the world to find ways to live the California Lifestyle wherever they happen to reside.
And that brings us back to lemons.......
When you were a kid, did you ever have a lemonade stand in your front yard? Okay. Do you still have a lemonade stand? No? Me either. That's where Limoneira comes in, providing lemons to countries around the world. Spreading the California sunshine in the form of fruit!
Last year, after launching its new marketing campaign, Unleash the Power of Lemons, Limoneira announced its partnership with global experts in the areas of health, beauty, food & drink, lifestyle and cleaning, to promote the many, many innovative uses of lemons. These experts are passionate local opinion leaders who have paired with Limoneira to share tips, uses, recipes and more at Limoneira.com/unleash.
I am honored that Limoneira selected me as one of their Los Angeles Lifestyle opinion leaders. We both benefit from this, Limoneira promotes EncinoMom.com, our online magazine celebrating California and I extoll the virtues of Limoneira's luscious lemons - every chance I get!!
If I don't get the chance to speak to you personally about Limoneira's lemons, tonight - I invite you to drop by EncinoMom.com, the next time you're on the internet and you'll see some of the wonderful ways we Unleash The Power of Lemons!
Take a look at the video Lisa produced last year on a Limoneira Ranch tour:
California Living Tours Limoniera with host Lisa Keating from EncinoMom
Moonlight At The Ranch VII - Disco Fever-Burn Baby Burn - Saturday September 21st, 2013
Dine, drink and dance the night away at Moonlight at the Ranch! Join us for the most fun charitable event in Ventura County.
Featuring: Delicious dishes and delectable deserts from more than dozens of restaurants, bakeries, caterers and local foodie favorites. Your taste buds will thank you!!
Dance under the stars at Limoneira Ranch to live music from "Men on the Moon" and get loose with our no-host bar.
Many attendees will be rocking disco-themed attire, will you?
Advance tickets are recommended
An exciting yearly event with dozens of the area's finest restaurants offering generous tastings, live music from renowned bands, as well as great decorations, costumes and other live entertainment.
Moonlight at the Ranch is the result of a joint effort between the Santa Paula Police & Fire Foundation and our Chamber of Commerce to provide a unique celebration for the entire area. Each year a totally new theme is identified to fully transform the historic Limoneira Ranch for the attendees to escape to.
A Stroll Down Moonlight Lane - Past Moonlight Events To Refresh Your Memory And Get You Excited For Moonlight VII: Disco Fever - Burn Baby Burn:
I: "El Rancho y la Luna!" A night celebrating the rich saga of the Old West and Vaquero culture.
II: "Hollywood Nights!" The sun setting on the glamour, excitement and the most famous of film stars.
III: "Out of This World!" In the dark of night all things sci-fi gather for a trip to outer space.
IV: "The Roaring 20's!" A balmy evening, naughty speakeasy and the most notorious decade in history.
V: "Shake, Rattle& Roll!"
VI: "Creatures of the Night!"
In just a few short years, annual Moonlight's have made this celebration Ventura County's signature event. Each Moonlight has dazzled guests with theme-rich displays from vintage vehicles and space ships to shoot-outs and walking the red carpet at a film premier.
Moonlight is when the stars come out: Astronaut Buzz Aldrin, the second man to step out on the moon was Honorary Chairman for "Out of his World!"
Academy Award-winning director and actor Kevin Costner, who starred as Prohibition G-Man Eliot Ness in "The Untouchables," was not only the Honorary Chairman for "The Roaring 20's!" but even attended the event and graciously visited with guests.
Moonlight is all about our guests, many who "dress up" to reflect the theme of the event. Dozens of fine restaurants flock to Moonlight to offer their tastiest favorites, musical entertainment keeps everyone on their toes and exciting raffles feature wonderful prize; memories are made each year at Ventura County's most famous celebration.
Don't despair: You may not be able to go to the Moon, but you can bask in the moonlight... Moonlight at the Ranch!
For more information or to buy your tickets visit
MoonlightattheRanch.com
Limoneira Winner's Block
This month our lucky winner is Lisa Concepcion of Miami, Florida. As our monthly winner, Lisa has won a Limoneira Orchard Fresh or Lifestlyes Gift.
Congratulations Lisa!!!
For your chance to win, make sure you're on our mailing list to be entered into our monthly drawing. To join click here or visit our website at www.Limoneira.com
Be sure to check out our other contests and drawings for additional changes to win prizes.