German Agriculture Students From Southwest Bavaria Visit Limoneira To Learn About Sustainable Agriculture Practices

Limoneira was happy to host agriculture students from the famed Agrarbildunzentrum in Bavaria this past April. Students learned about water management practices, solar energy, integrated pest management and green waste recycling.

ABZ- A storied history

The Agrarbildungzentrum (ABZ), Agricultural Training Center has had a long and successful history. Today the ABZ hosts a variety of cutting-edge educational institutions in the field of practical agriculture, agricultural services and lab work and collaborates with the State Technical College of Agriculture and Department of Agriculture State School of Agricultural Technical Assistants.

Landsberger (mountain formation) began with three priests and 15 novices of the Order of Jesus-ites. It was founded in 1534 as an order of the counter-reformation and the development of this mountain into a "mountain of education" began. The Jesuits were tasked with instituting a renewal of faith and followed the teachings of Martin Luther. Despite draconian penalties of the Bavarian dukes, the people of Landsberger followed the new doctrine.

Buildings were established and as the centuries passed, the area developed further as an educational center. In 1872, a newly established Winter School (Agricultural College) made Landsberg to a location of agricultural education. Today the school is known throughout Germany and Europe for its technical expertise in agricultural education.
Christine Palumbo - Limoneira's Chicago Nutrition Opinion Leader Speaks With Dad Dietitians On Getting Kids To Eat Healthy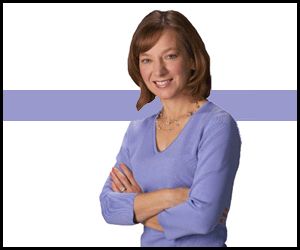 Christine Palumbo is one of Chicago's leading nutritionists. She's widely respected for her knowledge and many contacts in the world of nutrition.
Getting kids to eat healthy can be a challenge. Fathers have an enormous impact on their children's food choices. So, she reached out to four experts - dads who are registered dietitian nutritionists - to find out how they do it. Here are their thoughts.
"I make them think twice about how much they are eating; asking if they are eating, because they are hungry or bored, and making sure they get in as many fruits and veggies as possible," says David Grotto, author of "The Best Things You Can Eat" and the father of three teen girls.
Rick Hall, senior lecturer of nutrition at Arizona State University and the father of three elementary school-aged children, focuses on moderation and variety.
"We never force them to eat foods they don't want to," he says.
"They have to try everything, and if they don't like it, it's called a 'no thank you' bite. They eat what we're eating. We're not short order cooks," says Dr. Chris Mohr, of MohrResults.com and the father of a preschooler and a toddler.
Dr. Milton Stokes, assistant professor of nutrition at University of Saint Joseph in Connecticut, had to learn to tolerate messiness as the father of two toddlers.
"It's especially true for meal times, and that's fine, because kids need to feel food, play with food, and spit out food."
Value of family meals
With everyone's schedules, eating together as a family every day is very hard to accomplish, Grotto says.
"We find that we enjoy the eating experience much more when we can eat together and often have our most deep and meaningful conversations at that time."
Hall's family eats together at least once a day.
"Meal time is an opportunity to sit as a family with no distractions," he says. "We do not allow books or computer devices at the table. Meal time is an opportunity to connect."
Stokes likes to offer a snack while putting the main dinner together.
"For pre-dinner snacks, my daughter's really into diced pears and baby carrots. My son is into kiwi fruit."
Three tips to try
My kids are not allowed to claim that they don't like a food until they've tried it; and they have to try it every time we have it.
Don't overeat. When our kids say, "My tummy is full," they are allowed to be done.
Drink water. They've always known that soda isn't an option, despite what "all of the other kids do." - Rick Hall
About Christine Palumbo
Christine Palumbo is an award-winning Chicago area registered dietitian nutritionist and nationally known nutrition and health expert who partners with organizations to develop and promote balanced nutrition and active lifestyle messages. Her down-to-earth advice from the latest evidence-based research has been featured in hundreds of TV and radio programs, as well as magazine, newspaper and web site articles. Passionate about making healthy eating achievable, Christine shows how to make nutritious food simply, frugally, easily, and tasty. Christine is a columnist for Chicago Parent and a Contributing editor, Environmental Nutrition. She's also an Adjunct Faculty member of Benedictine University. She's a lemon enthusiast. Her grandfather immigrated from Greece and he raised Christine's mother, who in turn, raised Christine on all sorts of Greek comfort foods with lemon sauce such as braised lamb with avgolemono sauce. Her Italian grandparents were also lemon lovers. Christine says she raised her three children on lemons and two of them are new parents themselves and believes the tradition will surely continue. Christine's informative website is www.christinepalumbo.com.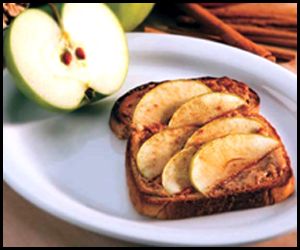 Kid's Healthy Peanut Apple Toastie With Lemon
Makes one serving
Ingredients
2 slices bread, toasted and buttered
2 tablespoons peanut butter
1/2 apple, sliced
Lemon juice
Cinnamon
1 teaspoon brown sugar
Directions
Spread peanut butter on one side of each of the two slices of toasted bread. Dip apple slices in lemon juice. Arrange apple slices on peanut butter and sprinkle with brown sugar and cinnamon. Put on a baking sheet and place under broiler. Broil three to five minutes or until lightly browned.
Nutrition Facts
254 calories; 8 g protein; 54 g carbohydrate; 6 g fat (1 g monounsaturated; 2 g saturated); 10 mg cholesterol; 5 g fiber; 179 mg sodium.
The Pink Parrot Sinks The Pink In The Drink At Hardrock Café In Chicago On May 15th - Just In Time For The National Restaurant Association Show
The National Restaurant Association (NRA) is the largest foodservice trade association in the world*-supporting nearly 500,000 restaurant businesses. The National Restaurant Association Trade show is among the largest in the industry. Limoneira sales people will be attending the show and to get folks in a festive frame of mind, a special Limoneira Pink Parrot Sink The Pink in the drink Party at Chicago's Hard Rock Café will take place on Friday May 15th.
The café's John Dexter will be mixing up Limoneira Pink lemon Drop Martini's for the crowd as well as other specialty drinks with lemons. Models in Limoneira Pink Parrot T's will be circulating and extolling the benefits of Limoneira's sustainably grown pink lemons. Remember, It's not a party until the parrot sinks the pink in the drink™.
A Little Hard Rock History
In 1971 Isaac Tigrett and Peter Morton were two shaggy-haired Americans who just wanted to find a good American burger while living in London. They opened an American style diner in an old Rolls Royce dealership and called it the Hard Rock Cafe.
The restaurant's logo was created by celebrity artist Alan Aldridge, who's best known for his work with the Beatles. It was based on Isaac's idea to model it after the simple design of Chevrolet's car hood ornament.
In 1973, Paul McCartney & Wings performed an impromptu concert at Hard Rock Cafe, a warm-up gig for their 1973 U.K. tour. Today, Hard Rocks around the world host 15,000+ live music events every year.
Currently, there are 191 Hard Rock locations in 59 countries including 145 cafes, 21 hotels and 10 casinos.
Chef Spotlight - Helena Loureiro - Restaurant Helena Montreal Restaurant


Helena is one of Montreal's most popular restaurants and Helena Loureiro is its culinary artist extraordinaire. Helena was born in Serra de Santo Antonio, a small village situated near Fatima, in the central zone of Portugal. She studied at the Hotel and Catering Institute of Lisbon and then gained experience in a number of Portuguese restaurants. She moved to Montreal and completed her training at the Institut de tourisme et d'hôtellerie du Québec and became Chef & Owner of Portus Calle Restaurant, a Portuguese fine cuisine restaurant. From this point forward, Helena has been treating her guests to her exquisite dishes, which are equaled only by her warm presence and her passion for her profession.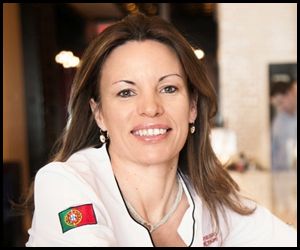 Helena Loureiro's Portuguese chicken with Lemon
Ingredients
1 1/2 kg whole chicken
1 lemon
generous pinches coarse salt
1/2 cup olive oil
1/2 cup dry white wine
1 tsp piri-piri sauce
3 large garlic cloves
1 tbsp paprika
3 sprigs fresh parsley, chopped
1 bay leaf
Instructions
Using kitchen scissors, cut backbone from chicken and discard (or freeze and save for stock). Cut off and discard any excess fat or skin. Place, skin-side up, on a large cutting board. Using both hands, press down on breastbone until chicken is as flat as possible. Place in a large, resealable freezer bag. Squeeze in juice from lemon and sprinkle with coarse salt. Squeeze air from bag. Seal tightly with an elastic band as close to chicken as possible. Massage to cover chicken with juice. Refrigerate at least 1½ hours.
When ready to roast, preheat oven to 400F (200C). Line a large baking sheet with foil. Place a rack on foil, then set chicken, breast-side up, on rack. Roast for 15 min. Meanwhile, in a medium bowl, whisk oil with wine, piri-piri sauce, garlic, paprika, parsley, bay leaf and a pinch of salt. Brush chicken with oil mixture. Continue roasting and basting every 10 min until chicken is cooked and skin is crispy, about 45 min in total. Slice into pieces and spoon pan juices overtop. Serve with fries or roasted baby potatoes and a green salad.
Hand Me Down Circus Juggles Limoneira Lemons At CPMA
If you've ever been to a trade show, you know all types of things take place (it's a visual smorgasbord). This year, to stand out from the crowd, David Louch and Bekka Rose from Hand Me Down Circus performed acrobatics and juggled Limoneira Lemons. They were a big hit with the crowd. You can watch a video of these talented performers below.
About Hand Me Down Circus
David spent much of his life studying theatre, including receiving a bachelor degree in acting from Dalhousie University. From there, his love of performance merged with his past-time of juggling and he decided to join the circus. He studied circus arts at both Atlantic Cirque in Halifax as well as graduating from L'École de Cirque de Verdun in Montreal. In the fall of 2013 he teamed up with Bekka.
Bekka was first introduced to circus at age 7 in Vancouver. As an adult, this passion led her throughout Europe and North America to perform, teach and develop her skills. She completed "Juggling And Music," a specialized juggling course at The University of Dance and Circus in Stockholm in 2009. Back in Canada, she graduated from the professional circus program at L'École de cirque de Québec in Quebec City in 2013. After moving to Montreal, she met David and together they formed Hand Me Down Circus.
Hans Hilburg - Limoneira Recipe Opinion Leader In Peru Opens El Pisquerito In Lima
Recently, celebrated mixologist Hans Hilburg inaugurated El Pisquerito in Lima, a great new bar named for the Pisquerito, a small silver cup with a handle used to taste pisco, the flagship drink of Peru. The Pisquerito was popular in Peru's colonial era.
Today there are still older Pisco residents in the province of Ica who use the Pisquerito to taste this drink and believe that only a good pisco can be tasted in a silver Pisquerito. In recent years, the designer and student of the history of Peru silver objects, Ilaria Ciabatti, revived the story and pisquerito itself, to create faithful replicas of colonial pisqueritos.
El Pisquerito, is a cozy place where anyone can come and enjoy a great cocktail made with pisco or an excellent glass of wine with their friends, enjoy music and relax. They
are proud to offer an unparalleled experience with their infinite variety of cocktails using fruits and vegetables from Peru in innovative ways.
About Hans Hilburg


Over the past 30 years, Hans Hilburg has been perfecting his craft through the development of hundreds of original and innovative cocktails. He has also been nurturing his passion for Peruvian Pisco and actively involving himself in its development, promotion and protection not only in Peru but throughout the world. He has created the cocktail repertoire for all Astrid y Gaston, La Mar, T'anta, Café de Museo and Panchita restaurants and before that also developed the cocktail menus for Bohemia restaurants and Club Nacional. Hans has worked in the United States, Peru, Spain, Mexico, Ecuador, Venezuela, Colombia, Chile and the Caribbean. He has written for many publications and also recently completed a book with his original coffee cocktail recipes and is now in the process of developing a new book of Pisco cocktails. "Espiritus del bar" or "Bar Spirits" his latest brain child is a portal for both professionals and aficionados alike. Here they can meet and exchange information about not only Pisco, but also the world of cocktails at large in Peru and abroad.
Culinary Arts & Hospitality Academy Students From Blair High School In Pasadena Visit On April 21st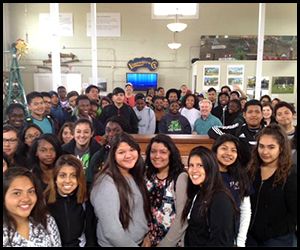 Our thanks to Michele Kolbeck for arranging a visit to Limoneira Ranch from the
Culinary Arts & Hospitality Academy at Blair High School In Pasadena in April. The Culinary Arts & Hospitality Academy (CAHA) is a California Partnership Academy. The Academy is a four year program for 9th through 12th grade students. The CAHA offers students a close family-like atmosphere, strong emphasis on student achievement, academic & career technical education, impact on high school performance, positive postsecondary outcomes, and establishes viable business partnerships.
CAHA focuses on career theme & related academic classes, voluntary selection process for interested 9-10 graders, and teachers who plan & implement programs & curriculum.
The Culinary Arts & Hospitality Academy offers four programs and two clubs for students. Programs include Careers through Culinary Arts Programs (C-CAP); Future Homemakers of America-Home Economics Related Occupations (FHA-HERO): The California Affiliate of FCCLA (Family, Career, and Community Leaders of America), The National Restaurant Association ProStart Program and Roadtrip Nation.
Green-Natural Cleaning Continues To Grow - Kathleen Bands Schindler - Limoneira Green Cleaning Opinion Leader In Baltimore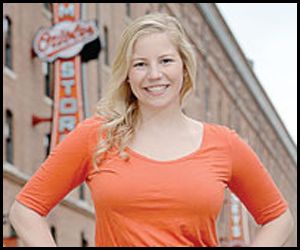 Kathleen Bands Schindler is passionate about cleaning. She's currently the Vice President at My Cleaning Service Inc. in Baltimore. Kathleen has utilized her degree in business management to institute improvements to keep this cleaning leader at their industry's forefront. She has been instrumental in upgrading the Company's technology, quality control and account management, and she believes that cleanliness is paramount for personal health and a sustainable environment.
She was recognized by the Maryland Daily Record's "20 IN THEIR TWENTIES" as an up and comer who are successful by or before the age of 30. This edition recognizes honorees on the basis of professional accomplishment, civic involvement and achievement.
MCS has grown over the past 40 years to be among the top 10% of janitorial companies in the United States (ranked by sales), and they now clean more than 5,000,000 square feet of space in the Baltimore area daily. (www.mycleaningservice.com)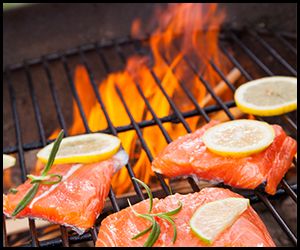 Summer Time Is Upon Us. Thrill The Grill With Limoneira Lemons
Ahhh, Summertime. Grilling-Friends-Good times. Enjoying BBQ's with friends and family is an American tradition-all great with the exception of cleaning the grill which can be a tedious and messy chore. Chemical cleaners can be toxic and leave residue on the grill. This residue can be harmful when cooking meat and the chemicals could make guests ill.
We'd like to suggest something simple and natural for this task. Cut a lemon in half, press the open half into a plate of coarse salt then use the salted lemon to scrub. Voila-Thrill the Grill.
Limoneira Winner's Block

This month our lucky winner is

Linda Miller Nicholson from Seattle, Washington

. As our monthly winner,

Linda

has won a Limoneira Orchard Fresh or Lifestlyes Gift.

Congratulations

Linda

!!!

For your chance to win, make sure you're on our mailing list to be entered into our monthly drawing. To join click here or visit our website at www.Limoneira.com.

Be sure to check out our other contests and drawings for additional changes to win prizes.