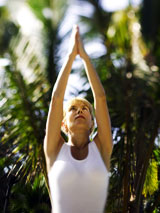 This class is perfect for the new yoga student wishing to start at the beginning and learn the foundations of yoga asana practice and philosophy. Offered as a 4-week series of classes and specifically designed for those who are new to the practices of yoga the emphasis will be on developing body awareness - learning to notice and experience sensations in the body while doing basic yoga postures.
> establish a deeper inner spiritual connection
> stabilize your emotional responses
> develop focus and concentration
> release stress
> build strength
> increase flexibility
> improve your posture
> prevent injuries
> improve your mental outlook
> strengthen your immune system
No previous experience is necessary. This class is for every body type, level of strength and flexibility. Come as you are.
Sept 7, 14, 21 and 28
Wednesday 9:15-10:30 with Susan
Wednesday 5:30-6:45 with Rebecca
Sept 10, 17, 24, Oct 1
Saturday 3:00-4:15


Please pre-register.
To enroll, call 864-4132 or