Greetings!
If you haven't heard the news, Chris Adams is heading to "The Big Apple" and he wants you to join the adventure!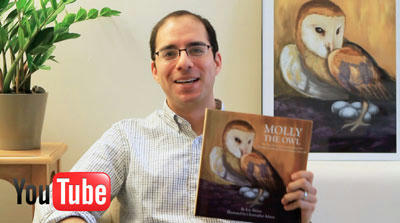 Click to watch Chris share the exciting news!
The Nautilus Awards has asked Molly The Owl Illustrator, Chris Adams, to join them at the BookExpo America Conference in New York next week.

BookExpo America is the largest book and publishing event in North America, with industry leaders from across the U.S. in attendance.

Chris will be signing books and sharing the Molly The Owl story with conference attendees and fellow book lovers.

To celebrate, we will be doing a LIVE Ustream broadcast on The Owl Box Channel, May 25th from New York City while he is at the BEA.

For dates and times stay tuned to MOLLY's BOX blog.
www.mollysbox.wordpress.com/blog

or tune into THE OWL BOX on USTREAM.
www.ustream.tv/theowlbox

We look forward to seeing you in New York at BookExpo America!
MOLLY THE OWL
By Eric Blehm & Chris Adams
In case you missed it, Molly The Owl has won a national medal from Nautilus Book Awards!
The enchanting book chronicling the true story of this unforgettable event will be honored with either the Gold or Silver Award in the category of Children's Nonfiction.
Now celebrating 11 years, the unique Nautilus Book Awards recognizes books that promote spiritual growth, conscious living & positive social change, while at the same time stimulating the "imagination" and offering the reader "new possibilities" for a better life and a better world. Authors and publishers and their books CAN and ARE making a difference.
Gold Medal winners will be announced by May 24th on the Nautilus Book Awards website. Stay tuned!
Click here for more information about Nautilus Book Awards
MOLLY THE OWL
By Eric Blehm & Chris Adams

To celebrate, we're extending the 25% off sale. There's still time to be one of the lucky few to own and share this acclaimed first edition, sure to become a classic.
Learn more
FREE MOLLY KEYCHAIN!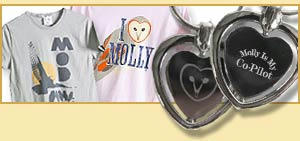 Help spread the word! For a limited time, when you purchase a Molly The Owl T-shirt, you will receive a free"Molly Is My Co-Pilot" Keychain.
Learn more
Molly the Owl Books is a family owned publishing house, inspired by Molly, McGee, and their owlets. Our passion is also our motto: to create "Inspiring Adventures for Kids of All Ages."
We strive to fulfill your needs as readers, educators, consumers, and retailers with high-quality books and related products-backed by personal customer service.
Sincerely,
Eric and Lorien