Some great stats came from
National Right to Life
this week that show
pro-life voters were heard loud and clear.
A poll
taken on election day
reported
that 49% of voters nationally said that abortion affected their vote. Within that 49%...
31% said they voted for candidates who opposed abortion.

18% said they voted for candidates who favored abortion.
These figures represent a 13% advantage for the pro-life side!
Remember how close the election ended up in states like Pennsylvania? Pro-life voters made a difference in 2017.
In Louisiana, the trend of candidates arguing about who is the most pro-life continued this year. That's a clear sign that voters like you and me are making life a priority, and therefore candidates are striving to be pro-life. They are a reflection of where we stand!
Let's remain engaged in 2017 with our new elected officials so they know we pay attention after elections as well!

For a Pro-Life Louisiana,
Benjamin Clapper
3 Life March Events Planned in Louisiana; Mark Your Calendars!


Will you march with us in 2017 and take a stand for mothers and their unborn children? There will be three Louisiana Life March events in Louisiana in 2017, and one is sure to be close to you.


The Louisiana Life March South is Jan. 21, 2017, in Baton Rouge, with marchers going from the Old State Capitol to the State Capitol. The Louisiana Life March North, from Bossier City's Boardwalk to Shreveport's Festival Plaza, is Jan. 28, 2017, and the Louisiana Life March Central, from Louisiana College in Pineville to Alexandria's ampitheatre, is Feb. 4, 2017.



Click below for details and downloads:


Saturday, Jan. 21:
Saturday, Feb 4:
If you would like to request materials to help publicize the events, please contact our office at 1.866.463.5433 or email info@prolifelouisiana.org.
Stop By and Visit
Our Little Library


Swing by the Louisiana Right to Life office in the Lakeview area of New Orleans at 200 Robert E. Lee Blvd. and check out our new Pro-Life Little Free Library.

The library features books, movies, and some resources to borrow and share. We hope you will take advantage of this pro-life resource!
Green Joins La. Black Advocates for Life team


Abortion in the black community continues to be a problem locally, and Louisiana Black Advocates for Life is determined to change this culture through education, activism and outreach. The group has recently named
Loretha Green lead coordinator for Black Advocates of Southwest Louisiana.
Dr. Kathy Allen, state director of Louisiana Black Advocates for Life, said this partnership, along with a similar one in the Shreveport-Bossier area, provides greater opportunities to expand the pro-life movement in the black community.
Loretha is a native and resident of Lake Charles. She is founder of Single Mothers of America Inc., and is a dedicated mother of six children. She is passionate when it comes to empowering other single moms facing the same challenges she had to face, and she truly believes this is her life's mission.
Loretha has been counseling and encouraging women in crisis pregnancies at pregnancy resource centers for many years, including at locations in in Lake Charles and Baton Rouge.
She can be contacted at

Sen. Vitter to Be Honored at Proudly
Pro-Life Dinner


There are still tickets available for the 18th annual Proudly Pro-Life Dinner, sponsored by

New Orleans Right to Life, scheduled for

Thursday, Jan. 19, 2017, at Chateau Country Club in Kenner.
This year's recipient of the Proudly Pro-Life Award is Sen. David Vitter. From his days in the Louisiana House of Representatives to his time in the U.S. Senate, Vitter has been a champion for life. As a U.S. Senator, Vitter has authored numerous pieces of pro-life legislation, helped secure funding for pro-life service agencies, and fought to advance the culture of life. Without question, Sen. David Vitter has been a proudly pro-life public servant.
Attention Youth!


If your group is attending the March for Life in Washington, D.C. on Jan. 27, you are invited to Geaux Forth, Louisiana Right to Life's large youth rally, the day before on Jan. 26. Contact Us!
Wallace Writes About New UNSAFE Report

Former Legislative Director Deanna Wallace, now staff counsel for Americans United for Life in Washington, D.C., had an article published this week by The Federalist on AUL's new report, UNSAFE, which features a detailed analysis of hundreds of reports from state health inspectors, showing that abortion clinics have been routinely cited for risking women's health and safety.


3 Pro-Life Candidates Win
Louisiana Runoff Elections
Issue Remains Important to Voters

Louisiana is sending three new pro-life legislators to Washington, D.C. Together with November's election outcome, this runoff election shows that the pro-life issue is indeed an important one to Louisiana voters.
State Treasurer John Kennedy won the Senate runoff over Public Service Commissioner Foster Campbell; State Rep. Mike Johnson beat Democrat Marshall Jones and will represent the 4th Congressional District in Congress; and Clay Higgins, a longtime law enforcement officer in Acadiana, will represent the 3rd Congressional District. Higgins beat fellow Republican and state Public Service Commissioner Scott Angelle in the runoff.
Following the election, Louisiana Right to Life Executive Director Benjamin Clapper offered his thanks to Louisiana voters for remaining committed to electing candidates for office who are proudly pro-life.
Kennedy, for example, dedicated a strong portion of his advertising budget during the campaign to letting voters know where he stands on pro-life issues. He answered Louisiana Right to Life's questionnaire 100 percent pro-life and was endorsed by National Right to Life.

"John has been clear about his pro-life position from day one of this election cycle," Clapper said. "He made strong commitments through his questionnaire responses, both to Louisiana and National Right to Life. We look forward to his pro-life votes in the U.S. Senate to confirm Supreme Court justices, defund Planned Parenthood, protect unborn children, and more. We are thrilled that Louisiana will continue to have two pro-life U.S. Senators in Washington, D.C."
Clapper said Johnson is a proven pro-life leader who has a bright future in Congress. He said he is looking forward to working with both Johnson and Higgins, who will provide solid pro-life votes in the U.S. House.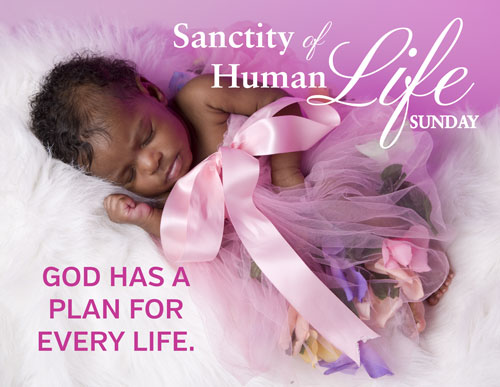 Louisiana Churches:

Participate in Sanctity
of Human Life Sunday!
Date:
Jan. 15 or Jan. 22, 2017

What is It? On Jan. 22, 1984, President Ronald Reagan designated the third Sunday of January as National Sanctity of Human Life Day. Churches around our country still use this day to raise awareness about core life issues, such as abortion, euthanasia, assisted suicide, embryonic stem cell research, infanticide and more. Pastors can take this opportunity to teach what the Bible says about the sanctity of human life and what the church can do to minister to the vulnerable in our society.


The
third Sunday of January was chosen because it falls in close proximity to the anniversary of the Roe vs. Wade Supreme Court decision, handed down on Jan. 22, 1973, and legalizing abortion in all 50 states, in all nine months of pregnancy, and for virtually any reason (or no reason at all).

Why 2 Dates? Because the Jan. 22 anniversary of the Roe v. Wade Supreme Court decision falls on a Sunday this year (it is the fourth Sunday), the Southern Baptist Convention has chosen to honor the Sanctity of Human Life on that date.

We encourage your church to participate in Sanctity of Human Life Sunday. We have online resources at ProLifeLouisiana.org/Sunday to make your observance of SOHLS even more special. You can order free Sanctity of Human Life Sunday bulletin inserts to distribute and download our Sanctity of Human Life Pastor's Handbook, which includes information to help pastors discuss the Sanctity of Human Life more effectively with their congregations. Please take advantage of these materials. Traditionally, Southern Baptist churches observe Sanctity of Human Life Sunday, but our materials are open to all Christian churches.

How Can You Help Protect Life in Louisiana?
Christmas Shop with Us!
Support Us on Amazon!
Give a Year-End Gift!
Looking for that perfect Christmas gift for someone special? Look to us! You can purchase a 2017 Celebrate Life wall calendar, pro-life merchandise or a Luminary membership, or you can make a donation in someone's honor. All money raised goes toward defending life in the Louisiana through education, legislation, activism and service.


Purchase a Luminary Membership
***


If you shop on Amazon you can support Louisiana Right to Life, at no extra cost to you! Be sure to start your shopping at Smile.Amazon.com for your purchase to count.



Click Here to Get Started!

***

Will You Help Us Further Our Pro-Life Efforts in 2017?


2016 is coming to a close soon, but you still have plenty of time to make your 2016 year-end gift. Act now and take full advantage of tax-deductible charitable giving to Louisiana Right to Life.



Your support is very important to us. Whether it's $5 or $5,000, your gift matters. We could not defend life in Louisiana without your support!