Links:
The Black Star Project's website:
Like us on Facebook:
Follow us on Twitter:
Much Love, Respect and Prayers for Mama Pat Hill, the Warrior Queen, Who Is Resting
High School and College Track Star, Teacher, Police Officer, Mayor Harold Washington's Security Detail, President African American Patrolman's League, Black United Front Member, Reparations Enforcer, Human Rights Activist, Social Justice Advocate, College Professor and HistoryMaker!
Mama Pat Hill with Dick Gregory
(l to R) Robert Starks, Mama Pat Hill and JR Flemming
Mama Pat Hill
Mama Pat Hill - HistoryMaker
Biography provided by The HistoryMakers
-
The oldest of three children, Patricia Lynne Hill was born on July 10, 1951 in Chicago, Illinois. Her parents, Lucille Fleming and Hercules Richardson, migrated from the South. Hill (then Richardson) earned a diploma in 1968 from Harlan High School. As a youth, Hill excelled in athletics, touring the nation with Chicago's Mayor Daley Youth Foundation track team, where she was mentored by Olympians Willye White and Ira Murchison. Hill barely missed making the U.S. Olympic Team in 1968 at the finals in Pomona, California. In the 1970s, she was a pioneer in women's professional basketball as a member of the Chicago Debs.
Hill attended Northern Illinois University in DeKalb, but moved back home to finish her B.S. at Chicago State University. She spent her last year as a physical education instructor in the Chicago Park District, and then used her degree to become a public school teacher in 1974. Finally, Hill turned to a career in law enforcement in 1986, serving as a bodyguard to Mayor Harold Washington in 1987.
An outspoken community-oriented police officer, Hill served as both president and executive director of the African-American Police League. She brought her views on racial profiling of drivers and controversial shootings of civilians by police officers to such venues as the Medill School of Journalism and the Chicago Headline Club. She is a sounding board for the black media on important crime and safety issues.
A member of the Black United Front and the National Black Police Association, Hill has also worked with Demico Youth, a cultural arts program serving the Cabrini Green housing project, where she developed the now famous Near North Little Leagues. She threw her hat into the political arena in 1999 when she unsuccessfully ran against Dorothy Tillman for the Third Ward aldermanic seat. Hill has three adult children: Trennie, Stacy and Ronald.
An Evening with Stedman Graham
----------------------------------------------------
Stedman Graham Invites
Teen and Young Fathers to Discover Who They Are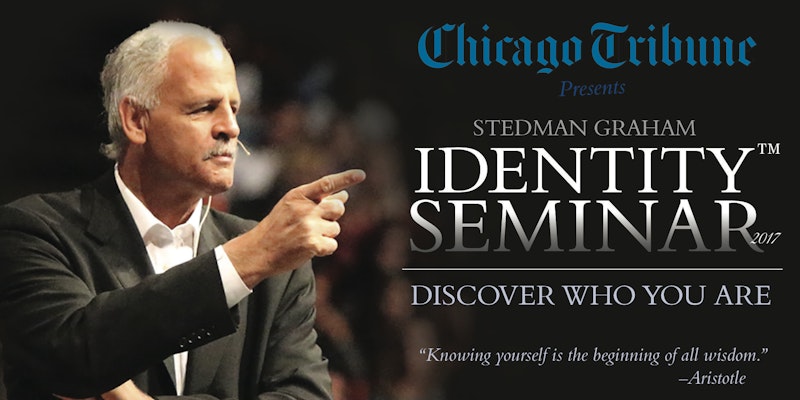 Wentz Concert Hall at the Fine Arts Center
171 E Chicago Ave
North Central College
Naperville, IL 60540
Regular Cost $99.00

A line of support
Men encourage returning Farrell students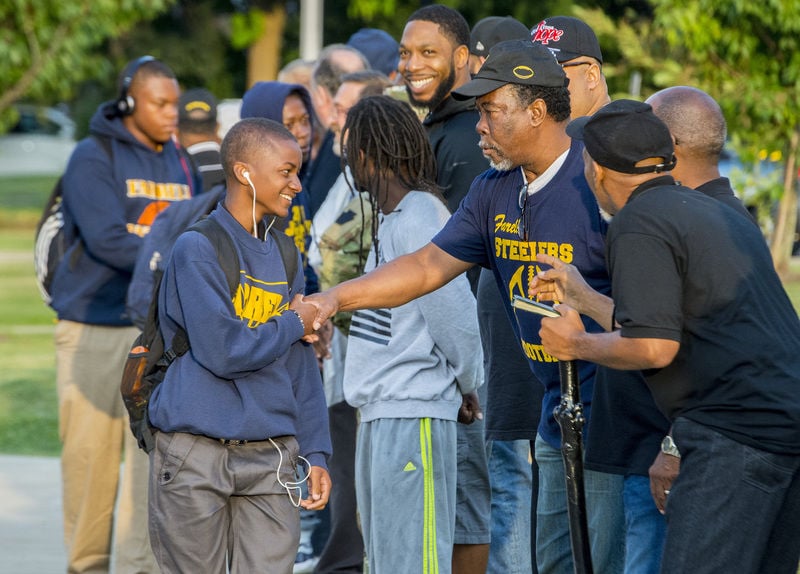 (CORY BYKNISH | Herald) -
Farrell senior Tristin Ross shakes the hand of a man who was among many who lined the street in front of Farrell Schools Monday to greet and encourage returning students.
By T.L. Miller
August 29, 2017
Farrell, Pennsylvania - But they all had smiles on their faces as they listened to the cheers, returned the fist bumps and accepted good wishes from those who lined Roemer Avenue.
And the men, and others, who arrived bright and early outside the schools were there for one purpose - to let the students know that they, and their education, matter.
The gathering was an offshoot of the Million Father March - an effort that has populated the internet with videos of men gathered outside schools across the country, Farrell Superintendent Lora Adams-King said.
She said the local effort was equally as inspiring.
"We've got fathers, grandfathers, uncles, big brothers, cousins, coaches, pastors, policemen, service men in uniform and teachers came out just to support our students," she said. "We had a great turnout. I'm so pleased with how the community responded."
Adams-King said she learned about The Black Star Project, an organization "committed to improving the quality of life in black and Latino communities" and the Million Father March and shared the idea with her administrative team.
The march was started by the organization for "black men to show their commitment to the educational lives of their children on the first day of school and throughout the school year."
The idea of a march on the first day of school was well-received, Adams-King said.
"They all thought it was a great idea, and they have taken it and run with it," she said. "I'm ecstatic."
Adams-King said she could hear the men clapping as each student went into the building along with words of encouragement.
"Our kids were so excited," she said.
"They were telling the kids to, 'Have a great year, we are supporting you.' I heard some say, 'We are expecting greatness from you.' Just all kinds of positive messages for the kids."
Henrietta King, who lives in Sharon, said she wanted to attend the march to help support the students on their first day of school.
"It's wonderful," she said. "I am so proud of all the men who came out."
She hopes the event spreads to other communities in Mercer County.
"It would be wonderful for those kids, too," King said.
Domoniqe Milhouse stood outside the school with a number of men participating in the march.
Her son attends first grade at Farrell.
"It's excellent for the kids to see," Milhouse said. "To see the community coming together as one."
Tino Carthorn of Farrell said it was nice to see so many people attend the march, especially police officers.
"The kids need to meet police when they are young," he said.
"So they can learn their jobs are to serve and protect. What the kids need is to see them smiling and shaking hands and being cordial to the parents."
Bryan Keller said the most important thing about the march is the message it sends to students.
"That the community cares about them and is behind them about school," he said.
Click Here
to See the First Day in Farrell, Pennsylvania
The Children of Chicago Lead America in Demanding that
Colin Kaepernick Plays Football
Black Star Students in Chicago Raise Their Fist for Colin Kaepernick.
Chicago Children "Took a Knee" for America, Kaepernick and Heather Heyer on Thursday, August 24, 2017. Encourage your children to "Take A Knee" and join them.
------------------------------------------------------------
Chicago Kids Take a Knee to Support Kaepernick
By Trina Orlando
August 24, 2017
Some Chicago kids say the events in Charlotteville left them feeling uncomfortable about race relations and they wanted to do something about it.
Thursday night they gathered to stand in support of Colin Kaepernick.
Young people with the Black Star Project gathered on the South Side to take a knee in support of Kaepernick. They also read letters to NFL Commissioner Roger Goodell.
They're message clear-they want Kaepernick back on the field.
New York City Police Officers Raise Their Fist for Colin Kaepernick.
"Colin Kaepernick took a knee because black kids are getting shot by the police," one letter read.
This comes just one day after a large protest outside NFL headquarters in New York.
The protest was staged by those who believe Kaepernick has been sidelined for taking a knee to protest police brutality.
Prior to the backlash the quarterback took the 49ers to the Super Bowl in 2012, but he is now without a team for the 2017 season.
Something his supporters say is retaliation for taking a stand.
Colin Kaepernick, center, with teammates, "Take A Knee" for America and for justice for young Black men.
"The NFL may well look back and say hey we missed something at a crucial moment," said Sports Illustrated's Tim Rohan.
Kaepernick tweeted thanks to those who are supporting him.
A message heard loud and clear-back in Chicago.
"If Colin don't play football, I will never watch football... let Colin play," one attendee said.
Two South Loop bars are also taking a stand in support of Kaepernick. Velvet Lounge and the Bureau Bar posted to social media they will not be airing any NFL games.
Young people from Black Star "Take A Knee" for Kaepernick, America and Heather Heyer.
Sample Letters:
Dear Commissioner Roger Goodell,
I believe that Colin Kaepernick should play football because he's good at what he does. I believe that it is wrong that he got fired for standing up for his people. Colin Kaepernick should be getting paid $25 million instead of $14 million. Colin Kaepernick did what was right for his people. If Colin Kaepernick don't play, I will never watch football. Keep calm and play football!
The Black Star Project's Saturday University
------------------------------------------------------
Colin Kaepernick should be playing football because he stands up for Black people and showed respect for others. He is a good quarterback. It was a reason he "kneed down" because Black people get no respect from others. He helped people by supporting them and showing respect.
The Black Star Project's Saturday University
------------------------------------------------------
Dear NFL Commissioner Roger Goodell,
Colin Kaepernick should be playing is because he was scoring for you and he was the fastest player. He stood up for himself. Give him more money. He is a baller.
The Black Star Project's Saturday University
------------------------------------------------------
Dear NFL Commissioner Roger Goodell,
I want Colin Kaepernick to play football again because he stood up for Black kids that got shot by police. Colin Kaepernick thought police never should have shot the Black kids. I am Black. I agree that Colin Kaepernick is right, the police shouldn't shoot the Black kids.
The Black Star Project's Saturday University
------------------------------------------------------
Dear NFL Commissioner Roger Goodell,
I would like Colin Kaepernick to play Football again because he is the best QB on the 49ers and he is the greatest at rushing and he is one of the top 20 all-time best QB's and Colin Kaepernick has a 4- to 1- touchdown to interception ration each game. Colin Kaepernick took a knee because Black kids are getting shot by the police and if you won't put Colin Kaepernick back in football again, I will not watch or play football. Please let him play again. Thank you.
Anthony, Jr., 9 years old
The Black Star Project's Saturday University
------------------------------------------------------