The EP's Corner
At this past presbytery meeting, we talked about "passion" for the gospel and passion in our lives as disciples of Christ. I had an opportunity to present and lead a discussion about flourishing with a few of our churches and presbytery leaders.
This month, we have an opportunity to talk about "passion" and "purpose" with Rev. Dr. Diane Givens Moffett, our Executive Director of the Presbyterian Mission Agency. Save the date for March 23rd, 9:30-11:30 am at the presbytery office as she will talk to us about what it means to be a Matthew 25 church. Space will be limited to 50 people.
Be on the lookout for more information.
During this season of Lent, may we draw close to Christ's love and passion for us. And may that fire ignite more love, mercy, justice, and compassion for the world.
Highlights of the February 10, 2019 Stated Meeting of Presbytery
by Donna E. Wells, Stated Clerk

The Presbytery gathered at Trinity Presbyterian Church of Atlanta on a crisp Saturday morning to the warm greetings by the many volunteers! As always, Trinity Church is such a gracious host for which we are always thankful. Here are some of the highlights:
We were treated to the incredible music of the Trinity choir and organ pieces throughout our time together.
The Bills and Overtures Committee presented the 10 overtures from the General Assembly for our consideration.
We celebrated the retirement of Rev. Dave Pearce, pastor of Austell Presbyterian Church.
We welcomed two inquirers into candidacy: Rachel Breyer from Shallowford and Sarah Lane from Decatur.
We welcomed six new ministers into the Presbytery: Katelyn Nutter Dowling at First Peachtree City; Tully Fletcher who will serve Smyrna, PC of the Resurrection and Conyers churches; Amantha Barbee serving Oakhurst Church; Bradley Kibler serving Shallowford Church; and two validated pastors in hospital chaplaincy Holly Reimer and Seung-eun Rhee.
The presbytery approved the budget with no changes.
We recognized the accomplishment of Jeanne Simpson who received her Certified Educator Certificate.
We installed our new Moderator, Elder Mardee Rightmyer, and heard closing remarks from outgoing moderator Rev. Rick Neale.
We received an offering of over $2,300 for our mission workers serving overseas.
And the highlight of the day, welcoming Rev. J. Herbert Nelson the Stated Clerk of the denomination. Rev. Nelson preached on Romans 14:13-23...When Judgment gets old and our need to stop passing judgment upon on another. It is not about our judgment and struggle about who is in and who is out; judgment belongs to God. The challenge of the church is to promote and preach of the power of Jesus Christ. There is no left, no right and no center.
J. Herbert Nelson entertained conversation from questions posed by commissioners, to end our time together.
Next Stated Meeting is Saturday, May 4 at North Avenue Presbyterian Church. Our time together will focus on "Prayer."
Clark Simmons Receives Board of Pension's Highest Employee Honor
published by the Board of Pensions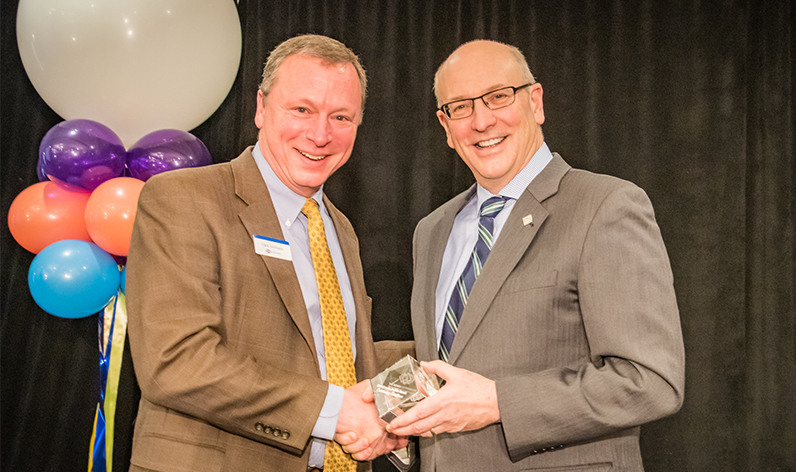 There are a lot of folks working at the Board of Pensions who are unknown to those they serve. Clark Simmons is not one of them.
For two decades, Clark has been the face of the Board throughout much of the South. He arrived at the Board in 1998 to serve as one of the agency's Regional Representatives, now known as

Church Consultants

. They are geographically assigned so they can personally assist churches and mid councils with the Benefits Plan, Assistance Program, and other Board programs.
Clark knows his people - their ministries and their challenges. He has been both counselor and adviser on benefits and church vocation matters. And on January 11, 2019, he became the recipient of the Board's Ernesto Badillo Award for Hospitality through Service. Presented each year at the Annual Employee Recognition Luncheon, it is the Board's highest employee honor.
Clark's colleagues filled the room with applause, cheering his selection for the award that memorializes the Reverend Ernesto Badillo Jr., a beloved Regional Representative. "Clark's care for those who serve the Church makes him the personification of the Board's commitment to serving church workers so they can devote their best gifts to ministry," Board President Frank C. Spencer said. Click here to continue reading the article.
A Sabbatical Celebration
by Cassandra D. Morrow, Congregational Consultant, Presbytery of Greater Atlanta

Thank you for the opportunity to serve as your Congregational Consultant for Church Growth & Vitality. In 2019,
I have been privileged with serving here at the Presbytery of Greater Atlanta for 18 years and celebrate with joy the gift of a 3-month sabbatical, March 1 - June 1, 2019.
The word sabbatical is rooted in the Biblical idea of Sabbath which involves ceasing, rest, worship, play and reflection. Sabbatical in its original form was the ancient practice in Israel of letting the land lie fallow for an entire year after seven years of activity (Exodus 23:10-11). This strategy allowed the earth to replenish itself so that it could continue to bear fruit. Throughout church history ministry leaders have retreated for periods of time to connect in deeper and restorative ways with the Lord. I am simply following in their footsteps.
My time away will be a period where I too can "lie fallow" with the express purpose of returning back to my responsibilities as Congregational Consultant replenished and readied for a new season of fruitfulness.
Please join Kevin and me in celebration as this marks my 25th year of being a Multiple Sclerosis (MS) survivor. I look forward to spending time at the Marilyn Hilton MS Achievement Center exploring a new paradigm underlying the cause of Multiple Sclerosis and user-friendly therapeutic approaches to healing for total recovery. In addition, my time away will be one of spiritual soul formation, rest, renewal with family and friends, and travel.
While I am away, I have an amazing sabbatical team. Each church has received communication of whom to contact during my absence. If you need to know where to start in contacting someone, please reach out to Joy Fisher, Congregational Consultant,
jfisher@atlpcusa.org
, (404) 990-0450.
I thank you for your prayers, sabbatical support, and your continued dedication to the ministries of the Presbytery of Greater Atlanta. I can assure you that the most exciting and fruitful years for our shared ministry together are ahead of us.
Coordinator of Pastor to Pastors Pastoral Team Opening
The presbytery's Pastor to Pastors Pastoral Team is seeking a coordinator. The Coordinator is responsible for the Pastoral Team and coordinates meetings and activities and serves as ex-offico on the Committe on Ministry. Click here to view the position description. Resumes can be sent to resumes@atlpcusa.org.
Nehemiah Project
by

Yeonkwon Jeong, Organizing Pastor, Atlanta Good Church



With a new year upon us, Atlanta Good Church (AGC) launched the "Nehemiah Project." Alongside the New Church Development Commission (NCDC) and Property Committee of the presbytery, the Nehemiah Project works to rebuild the once-collapsed church community with the heart of God.
AGC, the project leader, is a church pioneered in March 2018. For the first year, the congregation has gathered in Johns Creek Presbyterian Church for worship and fellowship. Although short in history, AGC is deeply committed to seeking God's great vision
Starting March, AGC will relocate from Johns Creek to Doraville to rebuild what was previously known as Church of the New Covenant. Like Nehemiah, AGC first commits to repairing the collapsed church building. Then, AGC plans to open the doors of the closed church and call on the scattered people to restore worship. Through this project, AGC prays for "glory in heaven, good news in Doraville."
New Church Location: 3330 Chestnut Dr, Doraville, GA 30340
JOIN US IN REACHING OUR

$40,000

FUNDRAISING GOAL FOR HUNGER WALK/RUN 2019!
The Atlanta Community Food Bank also has a new goal - By 2025, everyone in ACFB's 29-county service area will have access to the nutritious meals they need when they need them. Imagine what it would mean for Atlanta to be the first city to close the hunger gap! The Presbytery of Greater Atlanta has the opportunity to make a big impact on this transformative social shift.
Find out more about the PGA's
response to hunger through our participation in Hunger Walk/Run
here
.
As a benefiting partner, we keep 60% of the funds we raise to fund our P.A.T.H. Grant Program (Presbyterians Answer to Hunger). You can find out more about the
P.A.T.H. Gr
ant
here.
Over the past 5 years, the youth of our Presbytery have raised close to $140,000 for hunger relief, nearly $35,000 last year alone.
Our youth have built a powerful grassroots ministry, and

it's time for the rest of the presbytery to join with them.
HOW TO BE INVOLVED
College Park Presbyterian Church Inventory Available
by

Joy Fisher, Congregational Consultant



We give thanks for the life of the College Park Presbyterian Church and over 100 years of faithful service! On Sunday, September 30, 2018 CPPC celebrated their final worship service, recognizing the vital ministry they were able to accomplish, becoming an intentionally multi-cultural church, establishing a thriving after-school program for children whose families do not speak English, and on and on. They continued to grow in membership, even as their finances did not allow them to continue in ministry in that place. The members continue to bless in the new churches where they have landed. The proceeds of the sale of their building will be used for new worshiping communities and revitalization grants for existing congregations. And many of the items from their building are now available to go to our other congregations and new worshiping communities.
There will be a College Park Presbyterian Inventory Give-Away date on Saturday, March 30th from 9-2, 1540 Mercer Ave, College Park, GA 30337.
Click here
for a list of items available. Items not listed include choral anthems, cantatas, and a set of handbells. All items will be available on a first come, first served basis.
Join the Coalition of Immokalee Workers in Atlanta
Monday, March 11th
by

Rev. Noelle Damico, former national spokesperson for PCUSA's Campaign for Fair Food Program



The
Coalition of Immokalee Workers
- the farmworker-based human rights group that is internationally recognized for their achievements in social responsibility, ending gender-based violence, and preventing modern-day slavery - will be coming to Atlanta on Monday, March 11th! A dinner will be held at Grace UMC (458 Ponce de Leon Ave., Atlanta, GA). The is NO CHARGE for dinner! We are asking people to register so Grace will know how many to expect.
Click here
for the Facebook page and registration.
This is a wonderful chance for Presbyterians young and old to meet the farmworkers and learn more about the CIW's
Fair Food Program
that Harvard Business Review named "among the most important social impact stories of the last century."
The Fair Food Program is a ground-breaking collaboration among farmworkers and retail food corporations and is a market-based engine for human rights. Currently, fourteen corporations - including McDonald's, Burger King, and Walmart - are using their purchasing power to require growers to uphold farmworkers' rights or lose the ability to sell to them. In record time, the Program has ended forced labor and sexual assault in the fields and is guaranteeing the rights of tens of thousands of farmworkers in seven states (including Georgia!)
Click here to continue reading
.
PCUSA-Evangelical Church of the Czech Brethren Gathering
April 1-5, 2019
by

Mark A. Douglas, Professor of Christian Ethics, Columbia Theological Seminary



Join us for networking, building bridges and relationships! Along with Covenant Presbyterian Church of Athens, GA, Columbia Theological Seminary will co-host a gathering of pastors, scholars, PGA leaders (including our EP, ED for New Church Development and Consultants), laity, and denominational leaders from around the Presbyterian Church (USA) and our sister communion, the
Evangelical Church of the Czech Brethren
. The ECCB is the largest Protestant denomination in the Czech Republic and historians among us may remember that the ECCB can trace its reformed roots to a time before there even was a reformation:
Jan Hus
was a fifteenth century Czech theologian and philosopher at Charles University in Prague whose thought would help instigate the Protestant Reformation and who shaped Protestantism in the Czech Republic.
Under the auspices of the
Czech Mission Network
, representatives from the two denominations gather together every three years to explore a common theme together. This year's theme is "Hoping Together" and among our activities will be learning from scholars coming from both sides of the Atlantic, hearing from existing partnered churches, exploring Atlanta, and dreaming of ways to continue to build relationships between the two denominations as we hope our way into the future. Three years ago in Prague, participants worshipped in one of the first church in the world to offer Protestant communion (1414):
St. Martin in the Wall
. Atlanta may not have any buildings that old, but we do have the King Center and some pretty amazing barbeque!
Anyone interested in participating in this gathering should contact Mark Douglas at
DouglasM@ctsnet.edu
.
Speaking the Gospel in Public - New Johnson C. Smith Program
by Paul Roberts, President of Johnson C. Smith Theological Seminary

In light of current cultural and religious realities, it is necessary for faith leaders to engage in Christian reflection, proclamation, and action in a way that moves beyond the four walls of the church. The purpose of this competency is to equip pastors, laypeople, and activists to engage the Church's theology and practice in arenas beyond the church premises in pursuit of justice and societal transformation. For more information or to enroll, visit

www.smithseminary.org, and click ENROLL.
Pastor Group
by Chip Blankinship, Director of Operations

This month, Pastor Group will meet on March 14 at 10:00 a.m. and will cover chapter 7, "Culture and Team Building." Our discussion will be on the topic of polity and parisioners. Rev. Donna Wells will be presenting.
We have long believed that the best way to have healthy congregations is for our congregations to have healthy leaders. This season, we are studying together Peter Scazzero's book
The Emotionally Healthy Leader
. Each month, we will begin with a brief discussion summarizing a chapter of the book. Then we will have a presentation and discussion around a related topic, given by leaders within our presbytery and beyond.
Mar. 14 - Pastor Group @ St. Andrews PC
April 11 - Pastor Group @ St. Andrews PC
May 4 - Stated Meeting @ North Avenue PC
May 9 - Pastor Group
Click here for the Calvin Center's programs.
The next newslett
er
will go out March 30. Articles will be accepted through March 18. The following newsletter will go out April 30. To request space for an article, email your Congregational Consultant or Mark Sauls at
msauls@atlpcusa.org
. Click here to view submission guidelines.