March 2020 | vol. iii, #3
_________________________________________________________________

_________________________________________________________________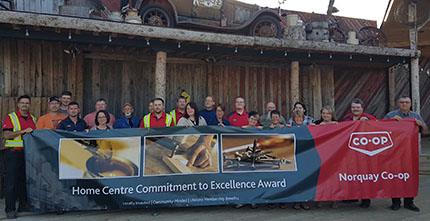 SERVING THE COMMUNITY SERVES THIS CO-OP WELL
Norquay Co-op, a Federated Co-op member in Norquay, Sask., has a reputation for customer service so strong that it has spread far beyond its own community of 500 residents.
Manager Justin Petelski says, "We have customers coming in from communities all around us to check out the Co-op in Norquay, and then they come back and tell their friends about us."
The company vision at Norquay Co-op is to be the best retailer in the region. Justin says everything they do is done with the best interests of the people and the communities they serve in mind. In Norquay, agriculture is the major industry.
One of the largest parts of the store's success has been the growth of its farm shop business—the store builds and then sells pole shed cold storage and insulated storage buildings to farmers. Several years ago, they noticed there was a gap in the market—while they had been providing quotes for materials for these buildings, farmers often struggled to find contractors to construct them. So the store teamed up with a contractor who is an expert in farm building construction. By dealing with the contractor through the store, customers have one less thing to worry about.
Farmers will often refer other farmers because of how easy the process is for them—they've even sold these buildings two provinces away. Over the last seven years, the store has built more than 45 shops a year.
And that resourcefulness has helped Norquay find even more success. Until four years ago, Norquay Co-op's retail business functioned as a single department. Today, it has five retail departments—lumber, hardware, petroleum, agriculture and a convenience store—each with its own specialized team. That's meant higher sales, which allowed the Co-op to add 3,500 feet of retail space and separate service counters for each of its departments.
_________________________________________________________________
_________________________________________________________________

WHEN IS THE RIGHT TIME TO PLAN FOR SUCCESSION?

"The best time to start your succession planning is immediately," says Dave Ryan, vice president/financial planner with PIB Financial. PIB, which is owned by Home Hardware, advises Home dealers across the country in all aspects of investment, wealth management and insurance.
The first step, Ryan says, before even thinking about succession is to make sure the structure of the business is sound, and that all its aspects are set up correctly and run smoothly.
"We often get a call where someone says, 'We've got a deal on the table. Can someone have a look at our business structure?' Well, in many respects, that's too late," says Ryan. "Because then you can't take advantage of some of the things that would otherwise be available to you."
The best plan, Ryan says, is to have a very profitable and attractive business. For PIB's part, that means asking Home Hardware dealers if they're taking advantage of all the programs the banner offers, if their store is merchandised properly, if they're up to date on signage and if an outsider would say the business is being run "well," regardless of their projected timeline for retirement.
"I always say that you need to have the end in mind, even if you're near the beginning," says Ryan.
_________________________________________________________________
_________________________________________________________________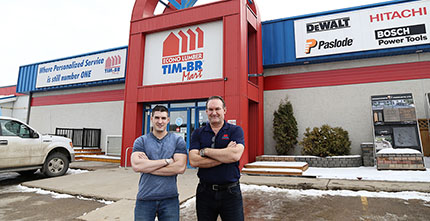 TECH HELPS THIS COMPANY FIGHT SHRINKAGE
Econo Lumber is the largest lumberyard in north-central Saskatchewan, with a 60,000-square-foot store, a 40,000-square-foot outdoor storage area, and a 26,400-square-foot drive-through warehouse.
The Prince Albert-based company has a network of 25 high-resolution cameras that provides video that, on several occasions, has resolved disputes with shoppers. Angelo Minier, Econo's director of corporate finance, notes that a customer recently came into the store claiming that he hadn't picked up the 2x4s he bought the previous day, even though the store's paperwork showed otherwise.
"We looked at the camera footage and saw that he did, in fact, take the items." Upon reviewing that footage, the customer "realized that he had 'forgotten' that he picked up [the lumber]," says Minier, who notes that video surveillance is also useful when accidents in the yard occur.
Minier says Econo Lumber has found that "human error"—such as shipping or loading mistakes—is the primary cause of shrinkage. Consequently, no customer gets loaded without proper paperwork. If there's a discrepancy in the order's unit count or billing, the customer needs to go back into the store to resolve the problem.
________________________________________________________________