March 2019 | vol. ii, #3
_________________________________________________________________

_________________________________________________________________



DEALERS CAN EXPECT NEW CHALLENGES, SAYS TORBSA GM
Last year may have been a strong one for many dealers, but the year ahead is likely to have its challenges.

That's the outlook from one industry leader, Bob Holmes, general manager of the Ontario-based buying group, TORBSA. "Yes, 2018 was very good for TORBSA," he affirms. "We had significant growth across all our members." The group has 25 dealer members representing 49 locations, most of them in Ontario, with one in Richmond, B.C.

"I think we outperformed the market," he says, of the group's sales growth in 2018.

But looking ahead to the remainder of 2019, Holmes takes a more cautious approach. And the root causes run deeper than just key indicators such as the decline in housing starts. He anticipates even more profound changes. "I think it's a totally different business."

Last year, the big concern among his members was securing adequate supply as shortages and tariffs put a pinch on commodities. At the same time, prices rose, helping correct a market that had seen prices remain static in recent years—despite increased demand and rising costs. One challenge he anticipates is simply holding onto those increases, "making sure those prices don't erode."

Holmes also expresses concern about ongoing consolidation in the industry, especially as U.S. interests continue to invest north of the border. "Companies like FBM [Foundation Building Materials] and GMS are knocking on the doors of independents who don't have a succession plan," he says. "That's going to be a marker in 2019."
_________________________________________________________________
_________________________________________________________________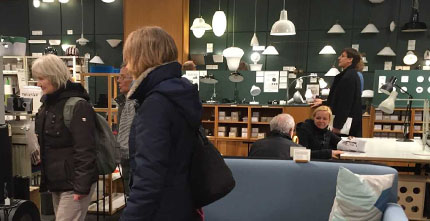 BIG PROFITS IN LUXURY MARKET SALES―IF YOU'RE WILLING TO STEP UP

The high-end luxury market isn't restricted to the wealthy. A lot of people on their way up the ladder are eager to spend big.

Market researcher and speaker Pam Danziger has identified a group she calls the "HENRY" phenomenon. These "high earning, not yet rich" professionals have the means to dabble in luxury goods and services but aren't yet living such an elevated lifestyle full-time.

In her latest book, Shops that POP: 7 Steps to Extraordinary Retail Success, Danziger explores the factors that drive thriving independent retailers.
She offers a number of steps to help build that ideal customer relationship:
"Involvement" and "curiosity" cover efforts to draw customers in and to give them an opportunity to interact with the store.
Appeal to all five senses, focusing on a specific area of expertise and using the storefront to arouse interest.
"Create a contagious, electric quality" that includes hiring passionate staff. And stick to inventory the team can get excited about.
"Convergence" involves making store design tell a coherent story that drives the product.
"Authenticity" of concept means having a mission beyond simply moving product—for example, not simply selling paint or décor, but helping the customer to invent their personal style.
However, Danziger's steps don't neglect the basics: price and value are still important. That means targeting the right customer profile, emphasizing value and making judicious use of strategies like discounts.
_________________________________________________________________
_________________________________________________________________


LEARN HOW A PRIVATE LABEL IS DRIVING GROWTH FOR THIS WESTERN WHOLESALER
Coast Distributors is adding to its team and its distribution network as it expands its reach in the West. The Nanaimo, B.C.-based hardware wholesaler has opened a second distribution centre in Surrey, B.C. Both facilities in that community are designed to better serve Coast's direct import program and its customers in the Lower Mainland.

Coast also has two main DCs, in Nanaimo and Kelowna, which serve all of British Columbia and Northern Alberta.

These expansion efforts will, in part, support the push that Coast is making on its own private-label lines. Under the "TerraTuff" name, the company offers more than two dozen lines, including hand tools, paint brushes and paint accessories. Coast's full range of products also includes electrical and plumbing, garden supplies, automotive accessories and housewares.
________________________________________________________________