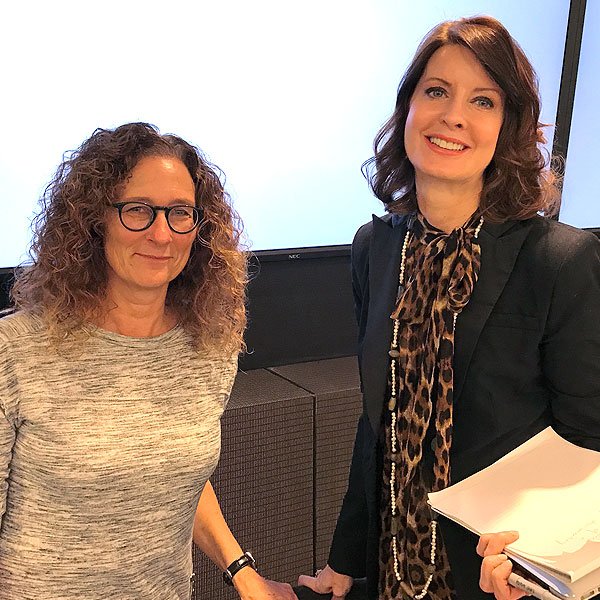 Our "Marketing a Movement" co-presenters, Katie Feifer (left) and Anne K. Ream.
Photo: Javier Otero 2016
Using communications and storytelling to create a better world: The Voices and Faces Project's "Marketing a Movement" program.


"In a communications crisis, the true prophets are the translators," cultural critic Ellen Willis once said. Her words have special meaning for our team at The Voices and Faces Project. That's because translating what we know about human trafficking and sexual exploitation into messages that change minds and hearts is what "Marketing a Movement," our newest Voices and Faces Project half-day workshop, is all about.

A training on how to use messaging and survivor storytelling to create lasting social change, "Marketing a Movement" is grounded in The Voices and Faces Projects' award-winning "Ugly Truth" anti-trafficking campaign, which has traveled to six US cities, made over 500 million audience impressions, and been recognized by the European Union as one of best gender-justice campaigns running worldwide. Special thanks to our "Marketing a Movement" partners at World Without Exploitation, Brew Advisors, and NoVo Foundation.
Our 2017 "Marketing a Movement" Schedule

New Hampshire (location TBD)

September 12
In partnership with Traffic Free Coalition and
Bags of Hope



Reno, NV

September 26



Las Vegas, NV

September 27



Philadelphia, PA

October 13
In partnership with Villanova Law Institute to Address Commercial Sexual Exploitation



Atlanta, GA

November 7
In partnership with the Carter Presidential Center



Chicago, IL

November 14
In partnership with the Jewish Women's Foundation of Chicago


Milwaukee, WI

November 30
In partnership with the Wisconsin Department of Justice Trafficking Resource Center



Chicago, IL

April 8 (2018)
At the End Violence Against Women International Conference

The Voices & Faces Project | The Stories We Tell
Heshima Kenya, here we come: Our "Stories We Tell" writing workshop is heading to Nairobi.
Thanks to a generous grant from Manaaki Foundation, and through our ongoing partnership with Heshima Kenya, we're bringing our "Stories We Tell" testimonial writing program for survivors of gender-based violence and other human rights violations to refugee girls in Nairobi, Kenya. This all-new initiative will include a two-day writing workshop for Heshima girls (with a focus on world-changing African literature and activist voices), and a teacher training for Heshima staff seeking to integrate trauma-sensitive testimonial writing into their regular course curriculum.

Special thanks to Heshima's Alisa Roadcup for being ground zero for this collaboration, and Sue Crothers Gee for recognizing the power and purpose of our Voices and Faces Project storytelling work early on. See you in Kenya!


The Voices & Faces Project | The Stories We Tell
Writing to create change: "The Stories We Tell" returns to Chicago's Cook County Juvenile Temporary Detention Center.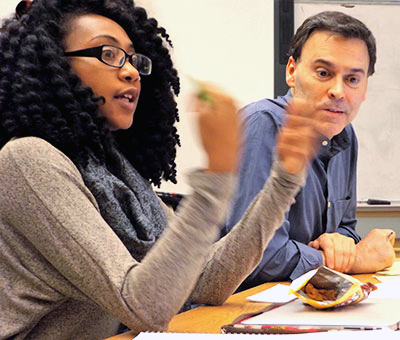 Workshop mentor Marline Johnson with instructor R. Clifton Spargo.

We believe in the power, purpose and unique voices of girls. So we're excited to bring "The Stories We Tell" back to Cook County's Juvenile Temporary Detention Center this July. With a focus on spoken word, poetry and creative non-fiction, this reading and writing-focused program will support at-risk Chicago girls as they strengthen their voices and gain new skills. "By providing a window into a world where income inequality, police brutality, sexual exploitation and failing schools are far too common, our JTDC writers are finding positive ways to change their communities, even as they change themselves," notes Cami DiMauri, one of our workshop mentors.

Special thanks to the JTDC Foundation for helping make this workshop possible, and Anna Buckingham, Christa Desir, Deb Andrews, Cami DiMauri, Marline Johnson, Anne K. Ream, and R. Clifton Spargo for being the driving forces behind this ongoing program.
We can't do it without you:
Support our "Stories We Tell" Scholarship Fund.
Find out more about giving the gift of change by donating to our workshop scholarship fund. Every $500 raised provides a full two-day scholarship for a survivor waiting to take part in our program.