National Day of Prayer: May 4th

Now as never before, Americans need to be in prayer for our country and its leaders in all spheres of influence. Your partnership is vital to the National Day of Prayer Task Force as we seek to fulfill our ongoing mission of bringing millions of people throughout this land before God's throne in humble intercession. Join us on Thursday, May 4, 2017!

COGIC Member Selected for Time Magazine's 100 Most Influential People List
Bernard J. Tyson is one of the leading authorities on public health in America. He is smart, gifted, thoughtful and a highly respected voice in the struggle to make high-quality health care affordable for every American.
Read more
(COG) Executive Council Meets in Joint Session
Cleveland, Tenn.-The Church of God International Executive Council, gathering for their regularly-scheduled April meeting, joined with the Administrative Ministries Council at the International Prayer Tower at the North Cleveland Church of God. The International Executive Council is the highest-ranking elected body of leaders in the Church of God and consists of the Executive Committee and the Council of Eighteen. The Administrative Ministries Council (AMC) includes directors and coordinators who lead the day-to-day ministries and departments at the International Offices.
Read more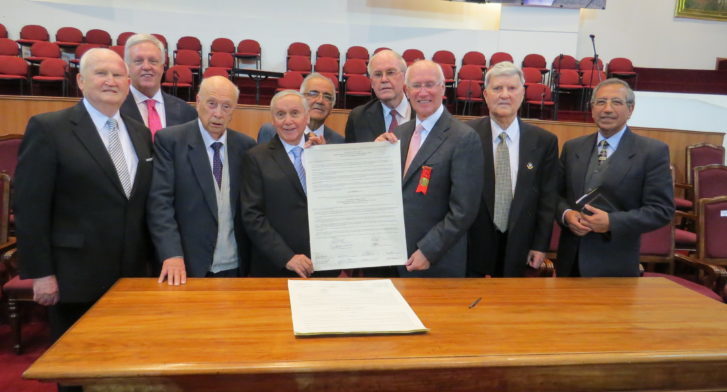 The International Pentecostal Holiness Church and the First Methodist Pentecostal Church of Chile Celebrate 50 Years
SANTIAGO, Chile - The International Pentecostal Holiness Church (IPHC) and the First Methodist Pentecostal Church (PRIMP) of Chile met in Santiago, April 23, at the Jotabeche Church to celebrate 50 years of their affiliation and to reaffirm their commitment to work together to proclaim the gospel of Jesus Christ.
Read more.
(AG) Convoy of Hope Responds to Missouri Flooding
Convoy of Hope, acting as a compassion partner for the Assemblies of God, is responding to historic flooding in Missouri following days of torrential rain. Governor Eric Greitens has declared a state of emergency as flash flooding continues in many areas.
Read more.
| | |
| --- | --- |
| | |
| | |
For centuries the church of the West denied the charismata (grace gifts) of the Spirit. Called "cessationists" by historians and theologians, these streams of Christianity refuted
contemporary manifestations of the miraculous power of God, as demonstrated by the apostles in the New Testament.
The pendulum has swung widely and rapidly in the opposite direction, favoring the authenticity of modern day miracles and gifts of the Spirit. Pentecostals and charismatics are leading the way, for individuals with a personal experience are never at the mercy of organizations with an argument.
PCCNA, in partnership with BroadStreet Publishing, is in the process of documenting the presence and power of God in our movements, as attested to by leaders and laity alike. Dean Merrill, award-winning author, is writing the stories submitted by our member organizations.
The new book, to be released in February, 2018, at the PCCNA annual meeting, is 50% complete. It is amazing...you will be deeply moved and overcome with joy! We want it to inspire faith and bring hope to myriads of readers.
ATTENTION: only members who have stories included in the text will be recognized in the appendix. An entire page will be devoted to profile and recognize the member group. It is our desire that EVERY church network, denomination, and parachurch organization in PCCNA be represented. Please contact Dean Merrill at
deanmerrill@comcast.net
with story ideas from one of your pastors, churches, or people. Or...maybe it is your story?
"But you will receive power when the Holy Spirit comes on you; and you will be my witnesses in Jerusalem, and in all Judea and Samaria, and to the ends
of the earth." Acts 1:8 (NIV)
Jeff Farmer, President

Pentecostal/Charismatic Churches of North America